Aqui Estamos (Here We Are); Cuban Art, at H&F Fine Arts (3311 Rhode Island Ave., Mount Rainer, Md.).
This exhibit runs through Nov. 30. The gallery hours are from 11 a.m. – 7 p.m. on Thursday and Friday, Saturday from 10 a.m. – 5 p.m., Sunday 11 a.m. – 3 p.m. The gallery is closed Monday – Wednesday. Call 301-887-0080, or visit www.hffinearts.com.
Cuban art shows are fairly rare events in the U.S., for obvious reasons. Having only seen two previous Cuban art shows, this is the second one curated by F. Lennox "Lenny" Campello, one of the most well known faces on the local art scene. Campello is a dealer, curator, and blogger (dcartnews.blogspot.com/) covering the art scene in D.C., Baltimore and Philadelphia.
That being common knowledge in the art world, less known is Campello's Cuban roots. His father was a political prisoner under the Castro regime, which led to the family's arrival in New York City when Campello was 10 years-old. Needless to say, he can speak firsthand to Cuban oppression and the resulting exodus.
H&F Fine Arts, located just over the D.C. border in the emerging Mount Rainer arts district, hosts this showing of 26 art works by seven Cuban artists. It's an interesting mix of disciplines that revolve around the inescapable subjects of repression, indoctrination and the Cuban exodus – past, present or longed for.
Americans often take their freedom of speech for granted, but the Cuban artists must tread lightly when dealing with dissenting opinions about the regime in power. "Illumination" is often used as code for indoctrination, especially of the Cuban youth. Aimeé Garcia Marrero does so by painting a large-scale upside down portrait of a child's head as light bulb in her canvas titled "Aliento (Breath)." Sandra Ramos uses her mixed media etching to depict an outstretched mother mimicking the shape of the Cuban island itself. Floating below her is a child tethered by umbilical chord representing the isle of youth, overlaid with nine lit candles. The isle of Pines, renamed the Isle of Youth in 1978, was where Castro was imprisoned before the revolution, and where political prisoners were held after the revolution. Now it is the location of international schools for Cuban children.
While few, if any of these artists are known to us; they are known Cuban artists who have had major shows outside of Cuba. Curiously, trade embargoes affect art materials even for these artists. Aimeé Garcia Marrero's three large scale canvases use an oddly dark and muddy palette – seems she's had trouble obtaining brighter paint colors. Similarly, she also has two digital photos here that suffer badly due to poor printer quality … the best available to her in Cuba.
One of the most insightful images here is "El Boat (The Boat)" by Ramos. This time we see a row boat/raft adrift under a star filled night sky. Sitting quietly in the boat, with her back to us, is a young Cuban girl dressed in the official red school jumper uniform. Too small to reach both oars, and thus making her escape useless, she helplessly looks off into the night sky dreaming of things to come.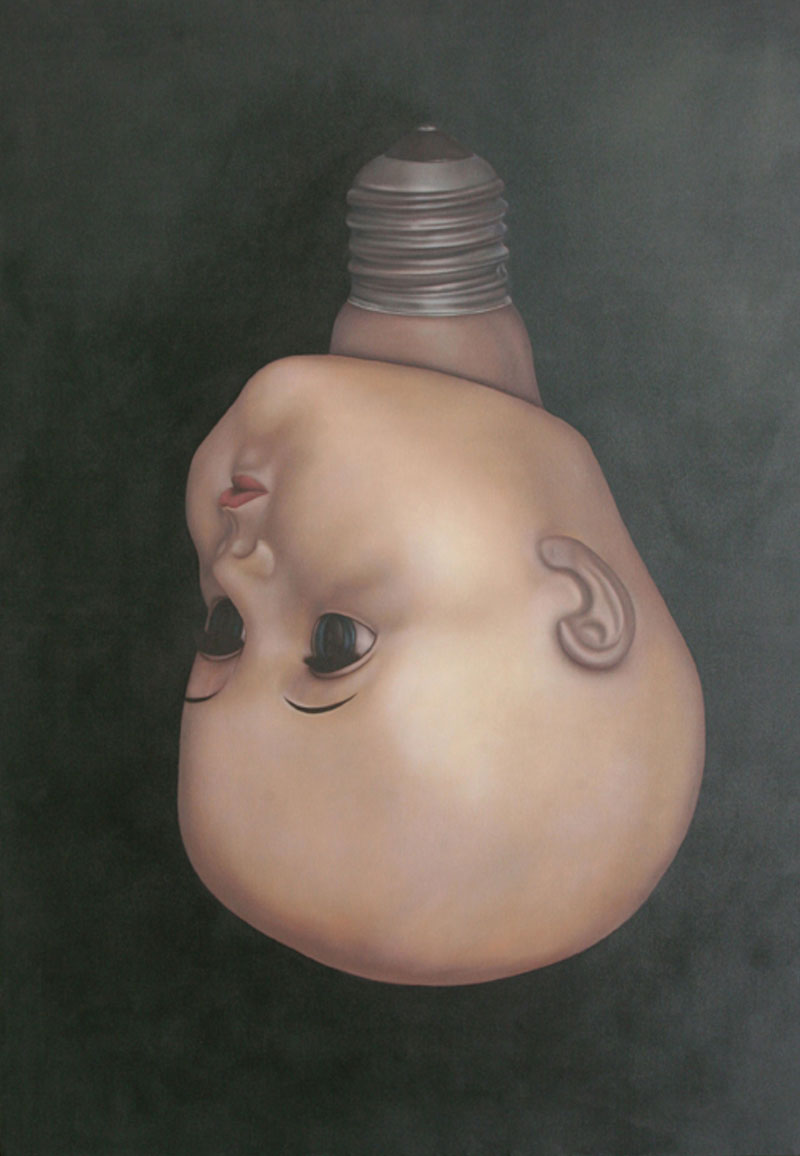 Jean Barrett Landscape Paintings at the Arlington County Education Center Office Building (1426 North Quincy St., Arlington). This exhibit runs through Dec. 3. The opening reception is from 4 – 8 p.m. this Friday evening, Nov. 21. Regular viewing hours are from 8:30 a.m. to 5 p.m. from Monday – Friday.
Jean Barrett continues to be the most promising landscape painter from the D.C. area on my radar screen. Barrett now focusing on the urban-suburban matrix in which we live.
Raw hunks of red under-painting peek through in loose, haphazard fashion. The resulting images have a sense of motion and reality unavailable in more traditionally rendered depictions. An edgy sense of coloring outside the lines befits her years of experience as an elementary school art teacher for Arlington County.
The best of these 16 latest paintings is a seemingly half-finished depiction of a house façade. It eloquently speaks to misplaced priorities, and to the way public façades can be maintained despite the neglect behind them. The red under-painting bleeding out beyond the façade seems to offer a sort of general warning to stay away, or as an alarm pleading for help.
This is a perfect example of knowing when to stop working on an image. Additional painting here would destroy the effect, which in this case is substantial. The fished public façade, and raw structure behind it, offers a sense of deceit, as well as a creepy sense of menacing foreboding. We can't tell what goes on behind these walls, but it's fairly certain you wouldn't want to be a child in this household.
Book Signings by Shooters, a part of "Foto Week D.C." at the Fraser Gallery Bethesda (7700 Wisconsin Ave., Suite E, Bethesda, Md.). Call 301-718-9651). The Fraser Gallery will host a rapid fire series of book signings by photographers from noon – 5 p.m. this Sunday afternoon, Nov. 22. A medley of works by are currently on view in the gallery. Maxwell MacKenzie's large-scale black and white photo of a leaning barn in a static landscape seems the best of all.
Noon – 1 p.m.. – Joyce Tenneson "A Life in Photography: 1968 – 2008″
1 – 2 p.m. – Frank Van Riper and Judith Goodman "Serenissima"
2 – 3 p.m.. – Maxwell MacKenzie "Markings," "Abandonings" and "American Ruins"
3 – 4 p.m. – Karen Keating "Cuba: Watching and Waiting"
4 – 5 p.m. – Danny Conant "Vanishing Tibet"