James (Jim/Jumbo) B. Gathercoal, 52, a member of the George Mason High School Class of 1973, All District Football Player and Master Carpenter passed away on Wednesday, October 22, 2008.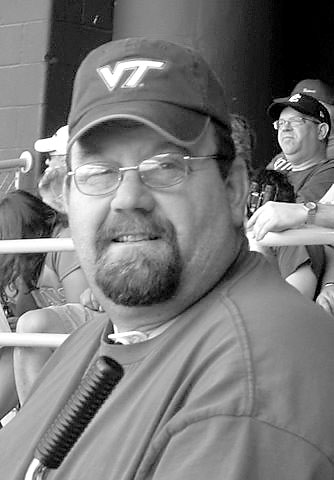 Jim had recently moved to Las Vegas to pursue employment to fund a dream of owning a tow truck company. Prior to his move, as President of American Carpentry, he spent thirty years building and designing both commercial and residential projects. His talent for completing large projects on time quickly earned him a respected reputation as a well organized superintendent. Throughout his career, he had a talent for making each client feel at ease with project decisions based on genuine concern for customer satisfaction.
While attending George Mason High School, Jim helped to lead the football team to the District Championship in 1973. His ability as a tight end to gain tough yards after the catch earned him All District Honors. In addition to football, Jim also was also a defensive force to be reckoned with on the basketball court.
After high school, Jim enrolled at Youngstown State for a short while before joining the military. His service to our country included enlistments in both the Army and the Marine Corps. While traveling to various parts of the world, Jim's favorite deployment was in Panama where he was stationed for two and half years. During his service, he earned the National Defense Service Medal.
In addition to his beloved Dallas Cowboys, Jim's hobbies included playing cards, fishing, sports, chess, spending time at the American Legion Post 176 of which he was a member. Jim's ability to easily and quickly make friends was largely due to extraordinary wit and amazing sense of humor. His presence and unique perspectives will be greatly missed by those who love him.
Jim was survived by his four siblings, Kathy Beth Hansens, Joseph Roger Gathercoal, Karen Lynn Brown, Michael Thomas Gathercoal, and thirteen nieces and nephews. Jim is preceded by his brother William Jesse Gathercoal, and parents Roger Allan and Alice Gathercoal.
Services will be held Friday, November 7 at 7 p.m. at American Legion Hall Post 176, 6520 Amherst Avenue, Springfield, VA 22150. Internment will be Saturday, November 8, 2008 a noon at St. James Cemetery, Fowler Street & West Street, Falls Church City. In lieu of flowers, memorial contributions can me made to American Legion Post 176.