F.C. Rotary Discusses Youth Programs
John Freeman will be speaking on "Kingsley Commons Youth Programs" at the Falls Church Rotary Club meeting at 6:30 p.m. on Thursday, Oct. 30 at the Harvest Moon Restaurant (7260 Arlington Blvd., Falls Church). Dinner costs $11. For more information, call Joe Scheibeler at 202-268-5089.
Come Shake Your Bones At The Spook Shack
Clare and Don's Beach Shack will transform into "The Spook Shack" for Halloween from 9 p.m. – 1 a.m. on Oct. 31. DJ Puerto Roc will be mixing the music for the evening party. Join the Halloween night activities at Clare and Don's Beach Shack (9130 N. Washington St., Falls Church). For more information, call 703-532-9283.
M.C.C. Invites Children to Flea Market
Children ages 3 – 12 can sell new and gently used toys, clothes and other household items at McLean Community Center's Flea Market. Children will be able to set up their own booths from 9 – 11 a.m. on Saturday, Nov. 1. Registration costs for selling space includes an 8 by 3-foot table and a 7 by 8-foot booth. The cost is $50 for general registration and $45 for McLean residents. Registration is on a first-come, first-serve basis.
The sale will be held at 11 a.m. at the McLean Community Center (1234 Ingleside Ave., McLean). Admission is free. For more information, contact Sharon Harrison at Sharon.Harrison@fairfaxcounty.gov or Michael Fisher at Michael.Fisher@fairfaxcounty.gov or call the Center at 703-790-0123, ext. 711.
Saint Luke Festival Choir Sings for All Souls Day
The Saint Luke Festival Choir, led by artistic director Paul Skevington and conductor Cheryl Branham, will perform "Rutter Requiem" and "Barber's Adagio" for strings to honor the deceased on All Souls Day. The program features choir, organ, cello, oboe, flute and harp. The concert will be held at Saint Luke Catholic Church (7001 Georgetown Pike, McLean) at 4 p.m. on Sunday, Nov. 2. Admission for adults is $15, and $10 for seniors or students is $10. For more information, call 703-356-0670 or visit www.musicinmclean.org.
Dominion Hills House Presents Craft Show
The Fifth Annual Dominion Hills Fall Craft Show will present 12 local artisans featuring water-media paintings, jewelry, fine woodturning, paper-cutting, table linens, mosaics and stationery, decoupage boxes, handbags, pottery, home accessories, body care products and gourmet foods. Some refreshments will be available.
The show will be held at the Dominion Hills Community House (6000 Wilson Blvd., Arlington) at 10 a.m. on Nov. 1. The show is open to the public, and admission is free. For more information, call Julie Jernigan at 703-533-0957 or email jules@julesjewelsjewelry.com.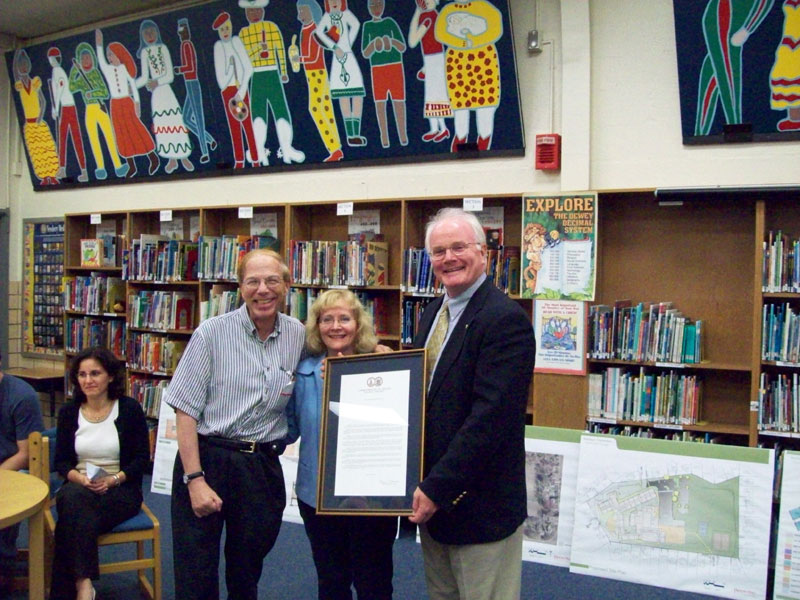 Bear Rock Café Holds Benefit Dinners
Bear Rock Cafe has announced plans to sponsor a series of six evening dining events to benefit the band program at Yorktown High School. The local restaurant has agreed to donate 10 percent of the proceeds from each dinner ticket on Friday evenings starting Oct. 24 – Nov. 28. For the band to receive credit, patrons are asked to mention their support of the Yorktown Band program when placing their order.
The family friendly restaurant features a variety of hot and cold sandwiches, salads, soups and desserts. Attend benefit nights at the Bear Rock Cafe (2200 N. Westmoreland St., Arlington). Free on-site parking is available. For more information, call Bear Rock Cafe at 703-532-0031.
Wakefield High Graduate Completes Internship
Tsion Tsegaye is a 2006 graduate of Wakefield High School in Arlington. Now a Lafayette College junior, Tsegaye completed an internship with the Institute for Humane Studies at George Mason University in August. A double major in engineering studies and economics and business at Lafayette College in Easton, Pa., Tsegaye worked with directors to organize seminars focused on free market economics and civic liberties. Tsegaye is currently studying abroad in Madrid, Spain, an opportunity that many engineering majors do not have. At Lafayette, she serves as vice president of Minority Scientists and Engineers and is a member of numerous organizations, including the Association of Black Collegians and the Investment Club.
McLean Rotary Presents Talk on Machine and Man
David Mercado will present "The Art of Troubleshooting (Machine and Man)" at the McLean Rotary club meeting at noon on Tuesday, Nov. 4 in the Fellowship Hall of the Lutheran Church of the Redeemer (1545 Chain Bridge Road, McLean). For more information, visit www.mcleanrotary.org.
Mary Riley Styles Holds Book Discussion
"Legacy of Ashes: The History of the CIA," a book by author Tim Weiner, will be the subject of a free and open to the public book discussion at the Mary Riley Styles Library (120 N. Virginia Ave., Falls Church) at 7:30 p.m. on Nov. 6. For more information, call 703-248-5031.
Animal Welfare League Promotes Senior Pets
This November the Animal Welfare League of Arlington celebrates "Adopt a Senior Pet Month" with reduced adoption fees for "senior" cats and dogs. The reduced fee is $50 for cats that are at least 5-years-old. The adoption fee is $75 for dogs that are at least 5-years-old.
All cats and dogs receive vaccinations, microchips and are spayed or neutered before going to their new homes free of charge. Staff and volunteers are available to help arrange meetings with cats and dogs before adoption.
Visits can be on Monday, Wednesday, Thursday and Friday, noon – 7 p.m. or Saturday and Sunday, noon – 4 p.m. at the Animal Welfare League (2650 S. Arlington Mill Drive, Arlington).
To see all available pets for adoption and for more information about the program, visit www.awla.org or call 703-931-9241 ext. 200.
Arlington Resident Enrolls at Amherst
Timothy D. Prowitt, son of Nancy and Peter Prowitt of Arlington, has enrolled as a first-year student at Amherst College in Amherst, Mass. Prowitt is a graduate of The Potomac School in McLean and is one of 438 new students entering the independent liberal arts college in western New England this fall. Founded in 1821, Amherst is a selective, co-educational liberal arts college with approximately 1,730 students from 46 states, D.C. and 28 countries.

Teacher Work Day Field Trips Offered to Students
The Old Firehouse Teen Center (OFTC) will be open 8 a.m. – 6 p.m. on Fairfax County Public School Teacher Work Days. A trip to Massanutten Indoor Water Park is available for sign-up. The trip is from 9 a.m. – 6 p.m. on Monday, Nov. 3 and costs $45 for tax district residents and $50 for non-tax district residents.
A second trip to Funland in Fredericksburg will be from 9 a.m. – 5 p.m. on Tuesday, Nov. 4 and costs $35 for tax district residents and $40 for non-tax district residents. Children should bring a bag lunch and beverage each day.
Parents or guardians must fill out emergency contact forms available at OFTC from Mike Fisher; children must bring the form with them on the day of the trip. If the trip does not meet the minimum enrollment, the trip will be canceled. Trip schedules are subject to change. For more information, contact Michael.Fisher@fairfaxcouny.gov.
Teen Fiction Author to Hold Book Signing
Laurie Halse Anderson, author of teen-fiction novels "Speak," "Fever" and recently published "Twisted," is holding a book signing at the Barnes and Noble on the second floor of the Tysons Corner Center mall (7851 Tysons Corner Center, McLean). Anderson will also host a discussion with audience members. The event is free and open to the public at 7 p.m. on Nov. 3. For more information, call Barnes and Noble of Tysons Corner at 703-506-2937.