There's nothing altogether odd about a man named Tommy Erdelyi playing bluegrass music in duo Uncle Monk.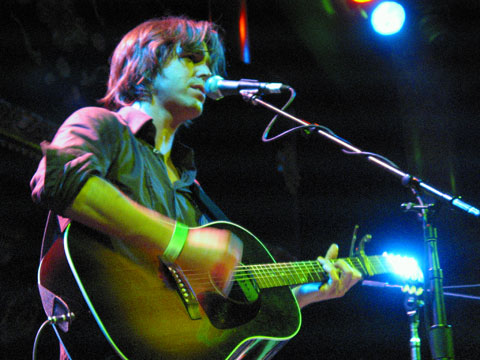 It's good music, music he grew up listening to and admiring. Eyebrows are raised, however, when you add in Erdelyi's alias – Tommy Ramone.
Yes, Ramone as in The Ramones, a band every bit as influential to rock & roll as the Beatles. Tommy, the last living member of the group, was the original drummer, slamming the skins and providing the power behind the genesis of the punk genre. That's the same Tommy that now picks his mandolin and croons "Comin' around at night / Comin' around the bend / Comin' around the old back road again" over the peppy pickin' opening track of Uncle Monk's eponymous album.
"I've always been into bluegrass since I was a kid. My older brother would bring home records from the library and I'd tape copies of them," says Erdelyi, who mentions his taste turned to rock with the emergence of the Beatles and the Rolling Stones. "I never thought I'd be playing bluegrass."
To answer your next question, no, it's not "punk" bluegrass and neither Tommy nor his playing partner, Claudia Tienan, channels the late Dee Dee Ramone and counts off their songs with a machine-gun-like "Onetwothreefour." By and large, the tunes are traditional, directly influenced by the Carter Family, according to Erdelyi. That's not to say there isn't a twist though.
"What we're doing is a continuation of what I've been doing my whole musical career. It has an indie rock sensibility," Erdelyi says. "When I first got involved with music, we were at the forefront of what became modern rock and alternative rock. That's been my aesthetic. That same feeling is just inherently in there."
You won't find the same big, booming sound in the work of Uncle Monk though. In fact, the farther away Ramone removed Uncle Monk's music from rock & roll instrumentation – axing the drum kit and settling on an all-acoustic sound – the more he liked it. Erdelyi and Tienan started playing with Uncle Monk as more of a jam band in the 1990s. About five years after the millennium, the two started infusing more bluegrass influences into their sound. Once Erdelyi picked up the mandolin and banjo, he was sold on the change.
"I just fell in love with those instruments," he says. "Eventually we started dropping the electric instruments and we evolved into a bluegrass duo."
Some of the Ramones' aesthetic remained, however. Particularly the utilization of economical, straight-forward song structures.
"That's what sounds good to me," Erdelyi says. "I'm not chained to anything like that. That's just something I see beauty in – simplicity. I'm not limiting myself to that, it's just what I like best."
While this is the main connection between Uncle Monk and The Ramones, by and large, they are independent of one another – to a point. At least they're as different as Tommy Erdelyi and Tommy Ramone, which is to say the bands are still two different sides of the same coin.
"They seem so different, but they're actually not. There are a lot of similarities between the genres, but it's not apparent because one is so frantic and loud and in your face and the other is subtle. But they're both deceptively simple song structures and lots of depth of emotion and feeling and statements," Erdelyi/Ramone says. "The connection is that it's me. Both the Ramones and Uncle Monk run through what I've been doing."
• Uncle Monk performs Oct. 7 at Jammin' Java in Vienna. Tickets are $10 in advance and $12 at the door. The show starts at 7:30 p.m. For more information on Uncle Monk, visit www.unclemonk.com.