Earlier this month, Capital Hospice invited the News-Press to its annual Point of Hope Camp, which took place Friday, Aug. 1 through Sunday, Aug. 3. This year Point of Hope set up at Camp Ramblewood, located in the green backwoods about an hour northeast of Baltimore, Md.
Capital Hospice has served the region for 30 years with facilities in D.C., Maryland and Virginia, providing terminally ill individuals with services and medical attention aimed at "palliative treatment," or the general improvement of the patient's quality of life and to ease their suffering. "Palliative care" distinguishes hospices from other medical options in that attempts at curing the patient are not pursued.
Much like the quality of life care Capital Hospice provides its patients, its annual Point of Hope Camp offers individuals and families a weekend to regain peace of mind and to piece together their lives after the death of loved ones.
The camp engages its 219 attendees in activities one would find at typical summer camps – arts and crafts, relaxation sessions, theater performances and the like – remains unique, providing not only fun and excitement, but the tools to cope with loss. Philip Carpenter, the camp's director since 2000, noted that most losses are recent, occurring between three and 24 months ago.
The camp doesn't replace grief, but it does do its best to give attendees an "emotionally safe" place to express their feelings, said Spencer Levine, who acts in part as the camp's spokesperson, and Director of Communications for Capital Hospice in Falls Church. Levine was kind enough to take another role to his busy schedule, acting as the News-Press tour guide and liaison for the greater part of Saturday.
Spending the Day
Arriving on Saturday morning, this writer joined the attendees a day into their activities. They had either driven here yesterday by themselves or taken Capital Hospice's offer of three chartered buses to navigate to Camp Ramblewood, tucked well into the idyllic calm of rural Maryland.
Levine escorted me from the parking lot to the central hub of Point of Hope, a large compound of different segments and responsibilities – mess hall, craft rooms, a lecture/activity room and a wraparound veranda that overlooked the (often crowded) swimming pool.
True to its name, Ramblewood seems to ramble down the hill where the main compound sits, down to the pavilion and pond, across the way to the cabins that line the forest perimeter. Farther up a hill, a barn overlooks the rest of the camp. Each part of the campground houses an activity, the cabins as lodges.
Campers apply in advance to come to Point of Hope, Levine explained, not all of them having lost their relatives in hospice care. Additionally, schools have referred children and their families to the camp.
When they come to Point of Hope, the attendees are organized by age group – adults, teenagers and children – who are then directed by the camp's staff.
The staff behind the Point of Hope operation consists of volunteers; their duties are wide-ranging, from manning the mess hall to bonding with the children as "big buddies," with some running the larger scene. Carpenter is aided by walkie talkies and his ever-attentive assistant camp director Julie Weatherington who in her normal capacity serves as Capital Hospice's outreach coordinator in Prince William County.
Levine noted that many of the staff volunteers involve their families, too. Weatherington's son Derek and daughter Hanna are both volunteers this year.
"Many [volunteers] are health care providers who help and support what we do," Levine added, like Scott Berger, a bereavement counselor with Point of Hope for five years now. This year, his wife Christine joined him. "It's the first time I feel I can give back" as a member of the support staff, she said.
The "big buddies" constitute a major part of the camp experience for the children and teenagers whom they shadow throughout the daily activities and rituals. "For the kids camp, the function for the buddy is an escort," Levine said, noting that for older children and teens, the role changes. "Sometimes teens want to speak to a non-judgmental adult, someone to listen and provide comfort."
Adults, on the other hand, meet with facilitators who manage their group discussions and therapy sessions. "Adults grieve in a systematic way – not eating, sleeping, talking or working," Weatherington said. They differ from children, who "need things interpreted for them. Otherwise, they see their parent crying and feel responsible somehow."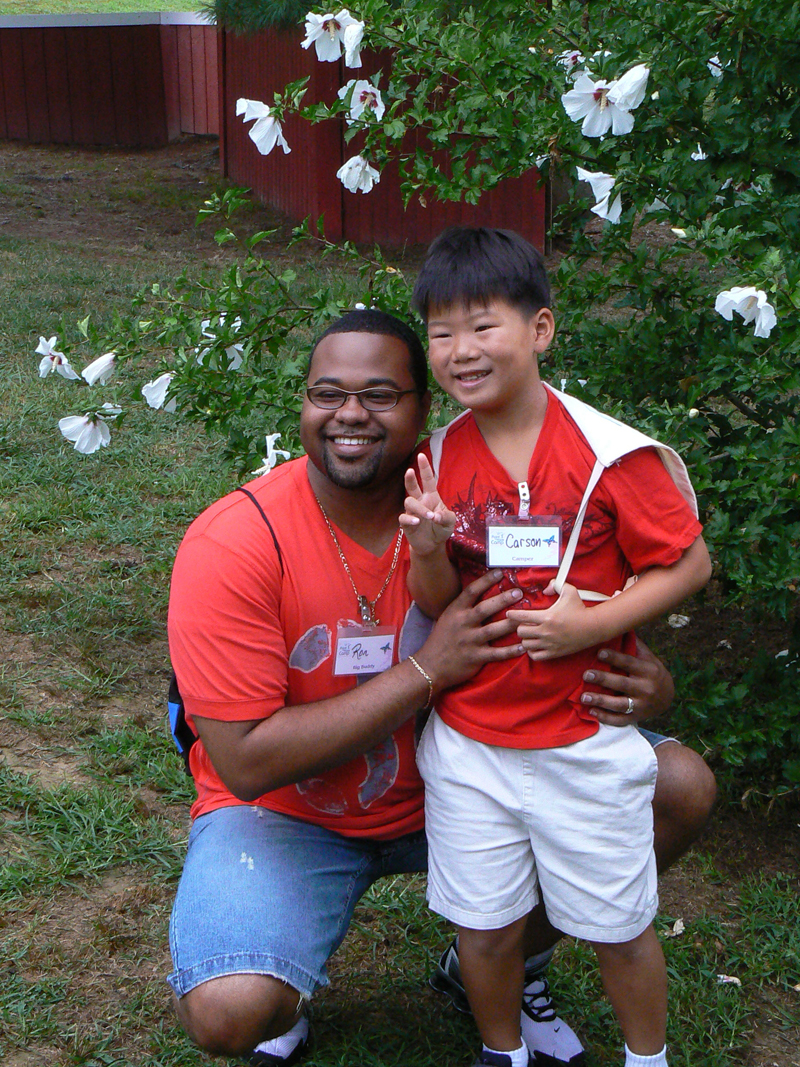 All campers participate in "healing circles," which she explains are usually eight to a group and led by licensed social counselors. These intimate group sessions allow participants frank and open sharing of their stories and emotions. They also discuss topics provided by the counselor geared toward understanding their situations. One of the session topics, "Wishes and dreams," explored what campers wish they could be and what they will be in light of the loss, said Weatherington, stressing also the importance of security within and out of the circles. "What's said here stays here."
Given the emotional sensitivities that might arise in these activities, Levine explained that "no one is forced to participate with anything." At any point in the day, he said, participants may use their time to reflect by themselves in the tranquility Ramblewood affords, or attend any of the scheduled events, including the healing circles, but extending to "very therapeutic" art and performance sessions such as yoga or theater. "Camp is not a one-size-fits-all template."
Art Therapy
Down at the open-air pavilion, which children had decorated with commemorative flags for the deceased, a group of children and their big buddies joined some members of D.C. theater troupe Arena Stage on a large floor space fit for country square dancing. It worked out just fine for Arena Stage's purposes, too, leading the large ensemble in several theater games and warm-up sessions to engage the "rainbow of emotions" grieving campers might experience. "You can also show emotions with your body," said one of the actors. The session concluded with a series of tableaux – frozen scene performances – by campers.
Heading toward the barn where teens met with grief counselor Kathy Elias and several art therapists for a face mask project, we came across Jesselyn Ombac, Sara Woody and Weatherington's daughter, Hanna. They comprise Point of Hope's recreations team that orchestrates the camp's "fun and exciting" events. At the moment, the three young volunteers were armed with hose and balloons, busily preparing for the post-lunch water balloon toss. "When I was in high school and college, I didn't have the time to volunteer," said Ombac, echoing her colleagues' reasons for coming out to Point of Hope.
Inside the barn, Elias and her coterie of art therapists assisted the teens at various stages of having their faces encased in paper-maché and laying their visual impressions to dry. Identity served as the project's theme, she said, raising plenty of questions for the teen-aged artists who would later decorate their face masks.
There was "plenty of room" for teens to explore who they are in light of the loss and who they want to be, she continued, noting teens tend "to hide their true emotions" behind "a mask." On the face of the paper mask, she instructed the teens to depict what they presented to world, while on the mask's interior, to demonstrate the reality inside them. "Who knows what they'll look like in the end?" Elias opined. "Or, what they want to expose to the world?"
Meeting the Campers
Sharing loss is very personal at Point of Hope, yet the intimacy of campers' stories does not deter them from being told. At one point in the mess hall, a couple traded tragic tales of their lost son with a young foreigner. Strangers bonding out of empathy is a familiar sight across Ramblewood.
During a lull in activities, Weatherington interviewed campers – from among the attendees, big buddies and staff – for an end-of-camp video compilation. It was a firsthand chance to hear the intimate stories of the adults and children, outside of their therapy sessions and the camp atmosphere.
They are individuals and families seeking some understanding about their losses. "They feel alone," Carpenter said about the initial feelings at camp.
A day into activities, however, some campers felt uplifted by the camp.
Gayle Hudson, of Clinton, Md., found comfort "sharing stories and hearing I am not alone." Hudson and her daughters lost several family members within the previous three months, leading her to seek out time for the family to relax and have a chance to "mourn and grieve [for] one grandparent who died in December and then another grandparent that died in February."
The Chen family suffered the loss of a husband and father. Lana Chen brought her children Alexandra "Zan," 10, and Carson, 8, to the camp following the death of her husband.
"My husband had care at the hospice," Chen said, "but surprisingly I didn't hear about it directly from the staff there." Instead, she discovered Point of Hope through her local pastor and a referral from the children's school counselor.
Having spent no more than 24 hours at the camp, Chen shared thoughts of her own search for mutual support and understanding. "I guess I expected it to be kind of what it is: some group sessions with speakers and counselors leading small group discussions; and some relaxation time. I wasn't sure about the physical activities," she said."
"I like the whole idea of coming together, too, physically … we're entering the camp together with, you know, our expectations and even on the drive here I talked to them about it," she went on. "One of the top reasons I came is because I was looking forward to meeting campers who were in a similar situation to mine. You know, as much as you love your close family and friends, they are in a different situation from you. So, I would say it's been really great just meeting other people."
As far as the physical activities she had been unsure of, Chen said, laughing, that she enjoyed the massage, as well as the art and performance therapy sessions. Of Arena Stage's workshop, she felt that "it was enjoyable to work on … vignettes and express an emotion through these tableaux."
"I enjoyed the yoga classes. I thought that was a great connecting piece," Chen added. "In this more remote rustic setting," she said, Camp Ramblewood "is almost in itself therapeutic because you're away from the stresses of life."
Her children agreed. Carson enjoyed a game of "Go Fish" with Derek Weatherington, and Zan spoke highly of the camp's exercises, time at the pool and of friends she made during her short stay at Point of Hope. Both of them recall the positive impact of, in Zan's words, "people coming together to talk about ones they miss."
Despite a weekend's separation from Carson and Zan, Chen believes "it's great that each of the kids have their own place and the big buddy."
"At the same time, if they need to connect with me they can."
The common emotions that pull individuals to Point of Hope attracted Jennifer Betts of Baltimore, who lost her mother in 2002 under hospice care. The hospice inspired her to volunteer as a part of the support staff last year, she said.
Now, Betts is a member of the nurse team that issues prescribed medications to campers; and she also aids the kitchen staff.
Like the Chens, she enjoys the company of "passionate, like-minded" volunteers. "That's where the strength comes from."
As a "big buddy" for the past 12 summers, Bern Beidel of Centerville, Va. employs plenty of strength and energy, flitting across camp between activities and the pool as, this year, he escorts the young Charles Lamb, who recently lost his father. Beidel's wife Donna has also been active with Point of Hope as a former camp office manager.
"I take every camp for a new and unique experience," he said of his approach to new camp communities and the children for whom he plays a major role each time. "What I really try to do is come each year with a clean slate. Some years [are] more difficult than others; some years the losses are more recent."
After more than a decade of service, Bern notices a "common thread that year after year uniquely amazes" him, awed by "how quickly these children bond together. It's almost instantaneous by Friday afternoon. I think it's that common [unspoken] emotional thread they feel that defines why they're here."
"Sometimes they're pleasantly surprised that it is a camp experience, and it's not what they may have come thinking," he continued. "They're hungry to be with other kids and to have a good time. And the fact that they all shared that life, whoever it is – father, mother, sibling, grandparent – it pulls them together, bonds them. I just sit back in awe at it, and every year when I leave and drive back to Virginia, I think about how special that is."
He added: "To support Hospice in what I believe is an unbelievable community effort … I don't know if it gets any better than that."
Behind the scenes
Also attending the camp are several fervent donors, among them Sue Handley, who is a big buddy to a 7-year-old this year.
When she first heard of Point of Hope Camp, Handley remembered her own difficult past and coping at the age of 15 with the loss of her mother to cancer. "I thought, I could have been one of those children," she said, describing Capital Hospice's camp as a "really wonderful environment."
Another donor, Linda Dunleavy, whose husband died eight years ago in hospice care, was motivated to give back to the community that "helped me," she said. "This is my way of helping them."
During her time at Point of Hope, Dunleavy surveyed many of the on-going events, and like Handley, she called the weekend camp "a most fantastic cause."
Outside of camp, both women labor to "spread the word of the hospice," said Dunleavy. For the past three years, she has chaired the women's golf tournament committee, which alongside a yearly gala and other major events, is one of Capital Hospice's largest annual fundraisers. "Kids should not have to pay to come."
Last year, Dunleavy recalled, the golf tournament entertained about 80 donors with lunch, a round of golf and a dinner that included a "really fantastic" PowerPoint presentation of the previous camp put together by Weatherington. Carol Kennedy, who organizes many of the fundraisers, added that last year's net gross was around $35,000. This year's tournament occurs on Sept. 22.
The golf tournament is one fundraiser in a packed schedule, as Kennedy laid out the year's charity events, ranging from balls to sailing regattas. Coupled with sponsorships from major donors like Booze Allen Hamilton, Capital
Hospice's reach is far-ranging, thanks to its donors' continuing support in promoting awareness of the hospice's programs.
The Future
Normal 0 false false false EN-US X-NONE X-NONE MicrosoftInternetExplorer4
Under the helm of Carpenter and Weatherington, Point of Hope looks to expand its operations in the coming years. The camp directors envision specializing the camp to fit the needs of young adults by providing them a separate camp from the older adults. Widening the camp's appeal hasn't been that hard, Weatherington said. "We max our camp out every year."
Weatherington also expresses interest in a "reunion camp" where former campers could share their progress and reunite with the friends they made during their camp experience. "Society doesn't give us a lot of time to grieve," she pointed out, allowing people merely weeks or a few months to cope with loss.
The power of one weekend, however, seemed capable of bringing some hope to dealing with the impact of death. After camp, "we hear from [guidance counselors] of a dramatic difference" in children, she said.
It is the least a weekend-long camp could hope to accomplish in anyone's life.