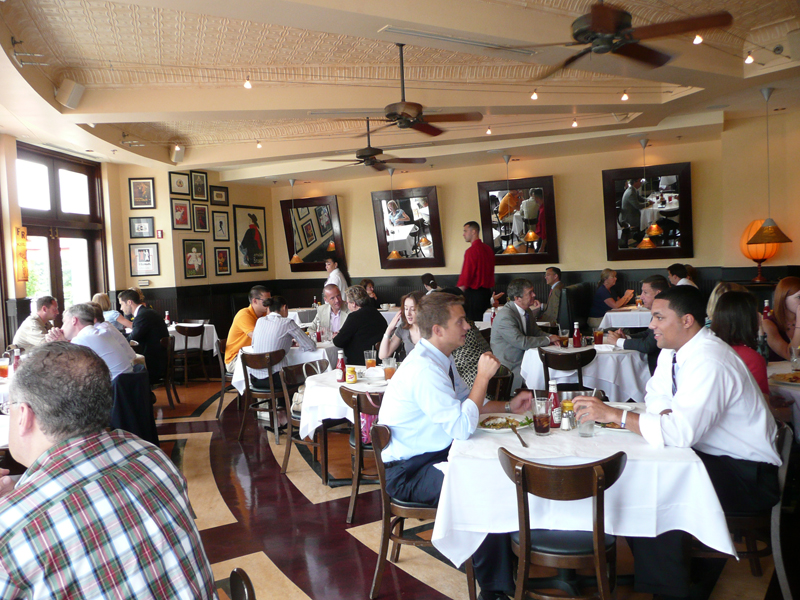 There's a certain connection between the music swirling around in your head and the food you're putting in your mouth.
At dive bars, it's usually a classic rock n' roll hit that's getting you in that beer-chugging, cheesy beef patty-guzzling mood right around the last lyric to Bon Jovi's "Living On a Prayer." We employ our best prim-and-proper chewing technique at that fancy Italian joint that has a three-month waiting list, as a violinist persuades our actions into slow motion. But at Raaga in Falls Church, the magical chimes of India's sitar makes every arriving entrée fit for a queen, an edible offering to your Royal Highness.
OK, so maybe it's not that posh, but it sure has the ability to make you feel special. Located on Leesburg Pike, between Washington and Payne Street next door to Duangrat's, Raaga serves authentic Indian cuisine at an affordable price. Given a chance to glance over the menu with on-the-house crispy flatbread and a spicy cilantro dipping sauce, my party went with the Aloo Tikki ($3.95) by recommendation. The former cilantro concoction made its return with our appetizer, serving as a spicy kick to the mashed potato and lentil patties that got their rosy hue with the help of paprika. Garnished with a artistically sliced cherry tomato and greens, this meal teaser for two was enough to whet our appetites for more.
The imported Indian brews held us over until our main course arrived. With a full selection of bottles to drafts, Raaga gives you a chance to drink like an emperor with labels like Kingfisher ($4.25) and Taj Mahal Lager. Lassi ($2.50) – a sweet and salted yogurt shake available in mango – and Masala Tea ($2.95) are available for drivers who still want a little punch to their beverage without the risk.
Everything short of a belly dancer introduction, our entrées were presented to us. The Tiranga Chicken ($14.95), I have to admit, perplexed me a bit at first. The orange and green, yes green, colored chicken made the third array of kabob-style white meat seem like the ugly duckling. Hesitations aside, I indulged and was pleasantly surprise. The platter, a Tandoori specialty accompanied with Basmati rice, gives you a taste of chicken Tikka in lemon juice and homemade garam masala, charbroiled reshmi Kebab and Hariyali chicken, which gets its grassy hue from cashew nut paste and cilantro.
My accompanying guest looked on as I consumed my chicken rainbow and dove into her Kadai Shrimp ($15.95). Cooked wok-style over high heat, this sea treat, seasoned with choice spices, comes floating in a red sauce with diced tomatoes, onions and green bell peppers. The hardy side of long-grain Basmati rice makes for a delish combination, making up for the predictably-cheated, but nonetheless scrumptious, portion of shrimp.
I admittedly dined out for an early Sunday dinner and therefore cannot be held accountable for knowing Raaga's late night vibe, though a little bird – cough, the waiter, cough – was quite persistent in its attempt at persuading me to return at a later hour one evening to witness the exotic display of natives decked out in saris, who come for the flatbread and cuisine. At the same time, I am not sure how I am supposed to feel so queen-like while my outfit will be inevitably shown up by the intricacies of jeweled satin, gold-stitched threads. I digress.
If you're looking for something new, and an experience to go along with it, then Raaga is for you. There's a time and place for the rock-out, burger-pushing watering hole. Trust me, I'm a devoted fan of such. But Raaga, my friend, is a little less Bon Jovi and a little more Pandit Ravi Shania.
Raaga
703-998-7000
5872 Leesburg Pike
Falls Church, VA 22041
Sunday – Saturday: 5 – 10 p.m.