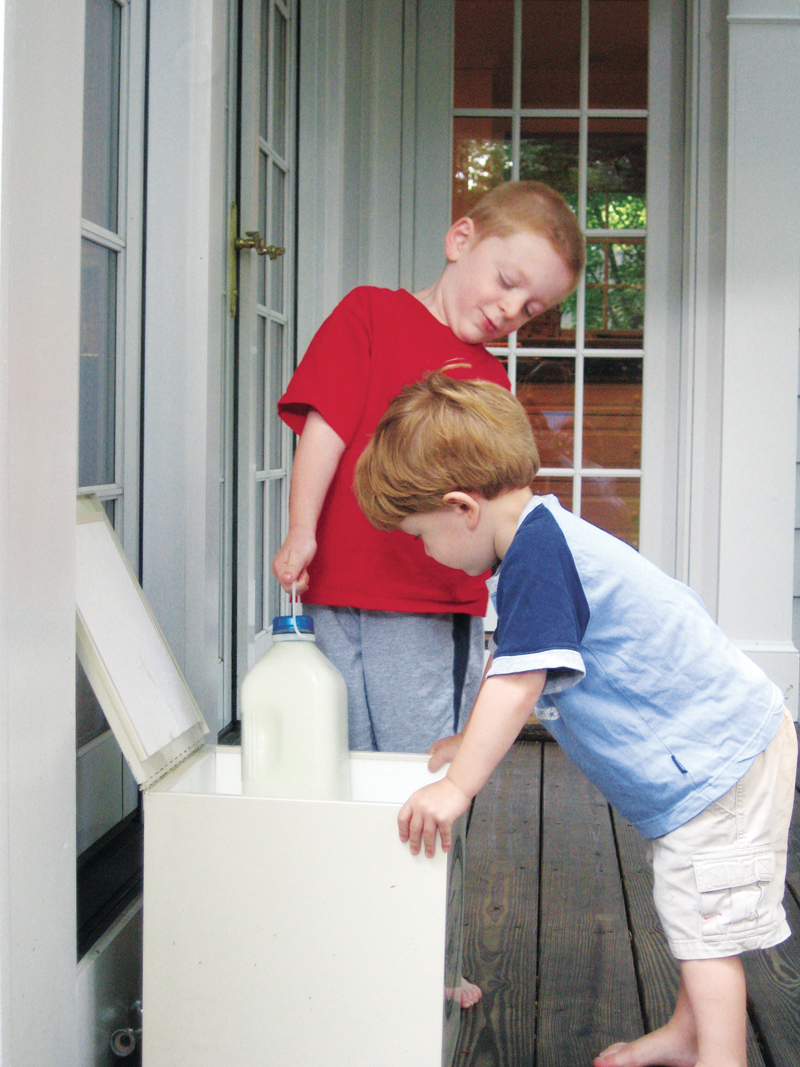 Families are seeing more than just a copy of the News-Press delivered to their doorstep these days. Thanks to one neighborhood newbie's efforts, residents are getting milk sent straight from the farm to their front porch.
"It's about nostalgia," said Stephanie Oppenheimer. "I got dairy products delivered to my house when I was a kid, and we love having a milk box out on our porch just like the old days."
Oppenheimer and her family moved to Falls Church from Alexandria in March, where they had milk delivered from Maryland's South Mountain Creamery (SMC) for nine months.
After relocating, Oppenheimer used an e-mail, that she said ended up "going up a bit viral," to persuade 90 of her new neighbors to sign up for deliveries. Soon enough, SMC took notice and added a route to include the Oppenheimers' new stomping grounds.
"It was kind of cool to see how quickly word spread, and even more exciting to hear from the farm owner how quickly the subscriber numbers were up to what the creamery needed to make a go of it," said Oppenheimer.
Abby Brusco, daughter of SMC owners Randy and Karen Sowers, feels locals are pleased with the step-back-in-time service, saying that customers from Vienna, Alexandria and Arlington have a different mentality about purchasing food products straight from the farm's rolling hills.
"It's something that's kind of foreign for you all down in the city," said Brusco. "It's a precious commodity to them."
So precious that, for some, the milkman becomes like part of the family. When asked what he missed most about their old house in Alexandria, Oppenheimer's 5-year-old son Jonathan Oppenheimer replied: "The milkman." His mother also liked the health perspective of SMC, which doesn't use any animal growth hormones or crop pesticides.
"There's definitely a big focus on hormone-free milk and chemical-free packaging," said Oppenheimer. "Given all the press lately about the dangers of chemicals in some plastics and landfills overflowing with un-recycled plastic bottles, the glass bottles were a big selling point for us."
SMC, however, is not organic, because sick livestock is treated with antibiotics. A sick cow's milk is destroyed until the cow is returned to its herd. Cows are separated from the herd for the duration of their treatment.
According to Brusco, companies that are certified organic must get rid of or sell sick animals, even if their condition is minor and easily treatable.
"It takes time and money to raise a calf, so why would we sell an animal that's perfectly healthy just because they're running a fever?" said Brusco.
Instead of devoting time to the recordkeeping that comes along with being certified, not to mention governmental fees, Brusco says SMC would rather spend its time making high-quality products for their customers. A running blog on their new website – southmountaincreamery.com – is available for anyone unable to make it to Middletown, where visitors are always welcome.
"We hope to update that [blog] with what we're harvesting because I think our customers want to know what actually goes on day to day at a working farm," said Brusco. "I think it will make the connection with them."
As far as the Oppenheimers' sons, Jonathan and Danny, they eagerly await Wednesday mornings to see what treasures their new milkman has left in their porch cooler just for them.