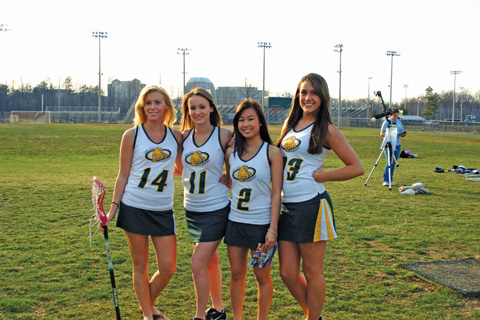 The girls varsity lacrosse team of Falls Church High School defeated Centreville 9-7 Tuesday night, marking the first time ever the program has beaten a team from the Concorde District.
The win improves the Lady Jaguars' record to 5-1 on the season, and with a 3-0 record in the National District the team seems to be heading for a Senior Night showdown with Yorktown on April 28 at Falls Church High School. The Jags already hold wins over Marshall, Wakefield, Mt. Vernon and Stuart, with both the Wakefield and Stuart wins coming by 20-goal cushions. With remaining games against Edison, Lee, Westfield and Washington-Lee — in addition to Yorktown — it's a good bet that the team will improve on its record of 6-5 from the past two seasons.
"This is a very determined group," Falls Church Head Coach Sabrina Yarie said. "They are willing to put in the extra practice, they have good chemistry and they're playing with drive."
Senior Valerie Gibbons leads the team in the scoring department, posting team highs in both goals and assists. Meanwhile, both goalies, sophomore Hannah Wilkerson and junior Bridget Drain, sport save percentages over 60 percent. On defense, Yarie credits the solid play of sophomore Sarah Cortez and senior Minh Le, who leads the team in interceptions.
"We're going to have to keep improving and peak at the right time," Yarie says about her team's chances for future success. "But the drive of these girls is unequaled. We just have to stay focused."
The Jaguars next face Edison at home on April 18. The match gets underway at 7:15 p.m.