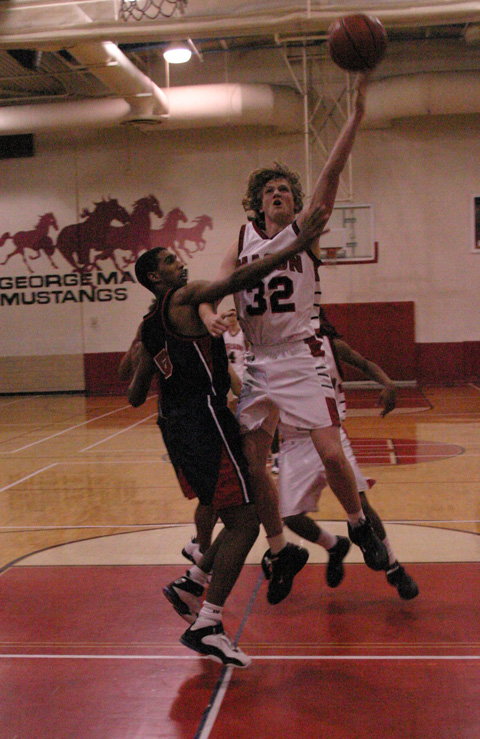 Clarke Drubbing Serves as Lowlight
On Thursday, Jan. 31 the Geoge Mason High School boys varsity basketball team secured a key home victory over Madison County to improve to 5-2 and vault into second place in the Bull Run District. On Tuesday, Feb. 5 that momentum came to a screeching halt against a vengeful Clarke County team.
Still smarting from the one-point loss the Mustangs swiped from them Jan. 16, the Eagles vented in full on Tuesday, running over Mason to the tune of an 84-48 final.
The defending state champions were firing on all cylinders, and the Mustangs (8-12 overall, 5-3 Bull Run) could do nothing but brace for the buzz saw. Joel Chandler led Mason with 12 points, while center Jordan Cheney also finished in double digits with 10.
Despite the loss, at 5-3 in the district, Mason still sits in second place in the Bull Run. Manassas Park and Madison County both trail the Mustangs with two games remaining on Mason's schedule. The Mustangs face Rappahannock at home on Thursday, Feb. 7 and then close out their regular season with a home game against Strasburg on Tuesday, Feb. 12. The team will hold its Senior Night festivities on Tuesday as well.
Mason's matchup against Madison County last Thursday was a far-prettier affair for the Mustangs, who prevailed by a 64-49 final score. Chandler scored a team-high 22 points to lead the Mustangs, with Anthony Andrianarison adding 10 more to fuel the rout.
Head Coach Chris Capannola praised senior guard Jake Johnson in his best game of the season against Madison County. Johnson finished with eight points to go with six assists and five steals. Cheney also figured prominently into the scoring ledger with eight points, while Mike Straub and Michael Wolfe each added seven.