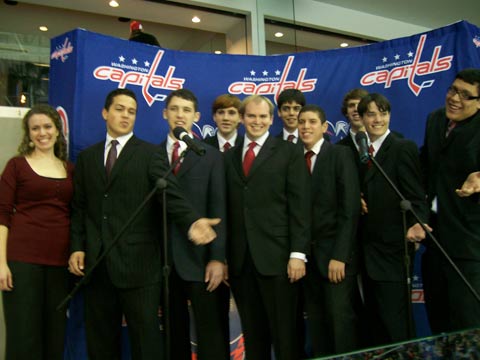 The Trinity School at Meadow View Barber Shop Chorale sold 250 tickets to the NHL Capitals versus Thrashers game in order to sing the National Anthem Feb. 2 at the Verizon Center in Washington D.C. Notably, the boys exceeded the 100 ticket base requirement to perform. (Photo: Karen Hammond)

Superintendent Proposes 2009 Budget
Fairfax County Public Schools (FCPS) Superintendent Jack D. Dale has proposed a school system budget of $2.3 billion for FY 2009 that reflects cuts of $45.6 million and approximately 521 positions throughout the school system. The proposed budget includes no new programs for the second consecutive year and represents a 3.3 % increase over the FY 2008 approved budget.
Marymount Honor Society
Marymount University of Arlington recently inducted 92 students into the Delta Epsilon Sigma National Scholastic Honor Society, 62 of which are from Virginia. Delta Epsilon Sigma is a national honor society for students, faculty and alumni of colleges and universities with a Catholic tradition. Eligible undergraduates must be of good character, exhibit leadership skills and retain at least a 3.5 GPA. Local inductees included Andrea Roman of Annandale and Lucinda Carlson, Leslie Ann Carter, Anne Rotherford Cold, Gaston Rafael Covarrubias and Marena Daniel, all from Arlington. Additional inductees from McLean, Jennifer Schadoff, Matthew Stevenson and Emily June Swain, joined by Vienna natives Reem Omar Al-Oyaidi, Janet Barrett, Maria Lee and Karen Schmidt Meade, were also awarded entry in the honor society.
Local Students Graduate in New York
Trevor Fisher of Falls Church and Emily Ha of Vienna recently graduated from Binghamton University, just three hours from the Big Apple, NYC. Fisher received his BS in Management and Information Systems while Ha got her BA in Political Science. The graduates are just two of the 14,000 that the state University currently enrolls.
Falls Church Local Makes Getting A's Look Easy
Carrie Thomas of Falls Church was recently recognized for superior academic achievement during the fall 2007 semester at Longwood University in Farmville. Thomas was one of 321 students named to Longwood's President's List, earning a perfect GPA of 4.0.
Student Earns Faculty Honors at Georgia Tech
Klee Simmons, Falls Church, earned the distinction of Faculty Honors for fall semester 2007 at the Georgia Institute of Technology (GT). Undergraduate students earning a 4.0 academic average for the semester gain the distinction of Faculty Honors. GT has over 100 interdisciplinary research centers operating through the Colleges of Architecture, Computing, Management, Engineering, Sciences and the Ivan Allen College of Liberal Arts.
FCPS Students Win Regional Scholastic Art Awards
Middle and high school students enrolled in Fairfax County Public Schools (FCPS) have won a total of 389 regional awards in the Scholastic Art Awards competition sponsored by the Alliance for Young Artists and Writers. For the more than 1,400 entries from FCPS students, 142 Gold Keys were awarded, 110 Silver Keys were presented and 137 Certificates of Merit were given for outstanding drawings, paintings, prints, photographs, ceramics, sculptures, computer art and animation, graphic design, videos, mixed media, three-dimensional works and portfolios.
Winners came from Annandale, Centreville, Chantilly, Edison, Fairfax, Falls Church, Herndon, Langley, Lee, Madison, Marshall, McLean, Mount Vernon, Oakton, South Lakes, Stuart, West Potomac, West Springfield, Westfield and Woodson High Schools; Thomas Jefferson High School for Science and Technology; Fairfax Academy; Hayfield, Lake Braddock, Robinson and South County Secondary Schools; and Carson, Cooper, Frost, Glasgow, Hughes, Key, Kilmer, Lanier, Liberty, Longfellow, Poe, Thoreau and Twain Middle Schools. Gold Key award-winning entries will be submitted to the national Scholastic Art Awards competition, where students are awarded national Gold and Silver Keys, as well as monetary awards and scholarships. Winners of those awards will be announced in April, and an exhibit of the national winners' works will be on display in New York later this year.
Each year, more than 250,000 entries are submitted in art and writing, and over 50,000 students receive regional awards and exhibition opportunities. Visual arts categories include animation, art portfolio, ceramics and glass, computer graphics, design, digital imagery, drawing, mixed media, painting, photography, printmaking, sculpture, video and film. Established in 1923, the Scholastic Art Awards program has recognized students who've gone on to become some of our nation's most celebrated artists, including Richard Avedon, Robert Indiana, Phillip Pearlstein, and Andy Warhol. This year's work will be on display at Northern Virginia Community College's Ernst Community Cultural Center in Annandale from Friday, Feb. 8, through Thursday, Feb. 21. An awards ceremony for Gold and Silver Key winners is planned for Tuesday, Feb. 19, at 7:30 p.m.
HS Seniors Holds Presidential Debate
On Super Tuesday, Feb. 5, seniors studying government at Falls Church High School conducted their own presidential debate while 22 states held presidential primaries or caucuses. The debate aimed at preparing students for the Feb. 12 primary election in Virginia. Many of the seniors are newly registered voters and are eligible to participate in the primary election. Several students volunteered to represent the presidential candidates in a debate forum, presenting the candidates' views on a range of policy matters including the economy, war and peace, immigration and the environment. Student debaters were urged to seek help and verification from their assigned candidate's campaign organizations as part of their preparation. The students also faced each other with their own pointed questions on the candidates' positions and backgrounds. The debate challenged students to research the specific positions each candidate has taken on a variety of issues and to inform their fellow students in a competitive setting.
J.E.B. Student Wins 'Poetry Out Loud'
J.E.B. Stuart High School announced the winner of the Poetry Out Loud (POL): National Recitation Contest. J.E.B. Senior Rayan Izzeldin won the competition, presented in partnership with the SPARC (the School of the Performing Arts in the Richmond Community), the National Endowment for the Arts (NEA) and the Poetry Foundation. POL is part of a national program that encourages high school students to learn about poetry through memorization, performance and competition.
At J.E.B Stuart High School, students recited works they selected from an anthology of nearly 500 classic and contemporary poems. Student performances were evaluated by judges on criteria including articulation, evidence of understanding, level of difficulty and accuracy. The NEA and the Poetry Foundation created a standards-based teacher's guide, website and CD featuring poetry recitations by well-known actors and writers such as Anthony Hopkins, Alyssa Milano, and Rita Dove. Izzeldin will advance to the State contest on March 6, at The Library of Virginia and will be given the chance to receive $200 and an all-expenses-paid trip to Washington, DC to compete for the national championship in April. To learn more about the Virginia Poetry Out Loud contest, contact Laine Satterfield at lsatterfield@sparconline.org or visit www.poetryoutloud.org.