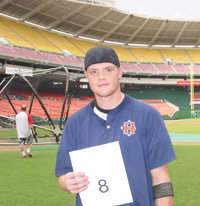 PROSPECTIVE CANDIDATES for the City of Falls Church municipal election in May were invited by the Citizens for a Better City (CBC) to meet the public last Friday night at Stacy's Coffee Parlor. Announced candidates who showed included (left to right): School Board incumbent Joan Wodiska, Council candidate Lawrence Webb, Incumbent Vice Mayor Lindy Hockenberry, Incumbent Mayor Robin Gardner, Incument School Board member Kieran Sharpe and CBC President Jody Acosta. (News-Press photo)
SAW Performance Workshop
The Songwriters' Association of Washington (SAW) will be holding a Performance Workshop conducted by Bernie Muller-Thym, formerly of DaVinci's Notebook, on Saturday, Feb. 9 from 12:30 – 3:00 p.m. at The Lab of Convergence (1819 N. Quaker Lane, Alexandria). Performers looking to shake their jitters or establish a nightly routine are encouraged to attend, as Muller-Thym, a former artist-in-residence at the Kennedy Center, will answer questions based on his national touring prowess. Costs $30 in advance/$35 at the door for SAW members, $40 in advance/$45 at the door for non-SAW members. For more information, visit www.saw.org.
PFLAGDC Support Group
PFLAG of Metro DC (Parents, Families, and Friends of Lesbian, Gays, and Transgender) will be having a support group meeting on Sunday, Feb. 10 at 3 p.m. at Temple Rodef Shalom (2100 Westmoreland St., Falls Church). Free and open to the public, it will be a discussion of issues about coming out. For more information, call 703-319-0424 or visit www.pflagdc.org.

Revisiting the 'Science Wars'
On Saturday, Feb. 9, Stephen Brush, professor (emeritus) of the History of Science at the University of Maryland will be giving a presentation on Postmodernism vs. Science vs. Fundamentalism at the National Science Foundation, Room 110 (4201 Wilson Blvd., Arlington) from 2-4 p.m. Presented by the National Capital Area Skeptics, Professor Brush will speak about the new postmodern and fundamentalist movements, their affect on the field of science and whether scientists can discover true facts about the world, or whether all their knowledge is socially constructed. For more information, visit www.ncas.org or call 301-587-3827.
Abe Lincoln's Unofficial Biography
On Thursday, Feb. 7, Rotarian Rex Hayes will present "Abe Lincoln's Unofficial Biography" at the Falls Church Rotary Club's 6:30 p.m. dinner meeting. The dinner meeting will be held at the Harvest Moon Restaurant (7260 Arlington Blvd., Falls Church), costs $10 and visitors are welcome. For more information, call 202-268-5089.
Retired Teachers Visit Revised Halls
The Arlington Retired Teachers Association (ARTA) is sponsoring a tour of the new construction at Washington-Lee High School (1300 N. Quincy St., Arlington) on Wednesday, Feb. 13 starting at 2 p.m. The tour will showcase the new academic wing, which is the first phase of a three-phase project. The new wing opened on January 3, including 16 science labs and multiple labs for business, musical instruction and computers. For more information, contact Karen Robeson 703-790-0243.
JSSA's Meet The Author
Open Arms, the women's giving circle of JSSA, will host their first Meet the Author fundraising event with special guest Elinor Lipman on Thursday, Feb. 7 from 7 – 9 p.m. at the Dennis and Philip Ratner Museum (10001 Old Georgetown Rd., Bethesda, Md.). Lipman's first novel, "Then She Found Me", has been adapted into a movie scheduled for release in late April, starring Helen Hunt, Colin Firth and Matthew Broderick. Following the program, there will be a wine and cheese reception. Tickets are $35 and are available at www.jssa.org. Proceeds will benefit JSSA's respite care program for families with children who have disabilities and services for young adults with Asperger's syndrome.
A World of Fiction Writing
The Washington Independent Writers and American University's Masters of Fine Arts in Creative Writing Program are sponsoring an all-day Fiction Conference at American University (4400 Massachusetts Ave., N.W., DC) on Saturday, Feb. 9. Panels include "Fiction Under Forty", "If Rodney Dangerfield Were An Author…" and "Writers' Blogs, A New Literary Genre." Featuring keynote speech by Susan Richards Shreve. Registration fees are $119 for members, $189 for non-members and $79 for students. Register at www.washwriter.org or by telephone to 202-775-5150.
The Magnificent Chrysanthemums of China
The Old Dominion Chrysanthemum Society will present a one hour slide program by award winning Master Chrysanthemum Judge and Horticulturalist, Dr. Bob Howell, on Sunday, Feb. 10 at 1:30 p.m. The show will

feature the photos taken at Chrysanthemum festivals and gardens during his recent China travels. The meeting will take place at the Falls Church Community Center (223 Little Falls St., Falls Church). Open to the public, free admission and refreshments. For more information, call 703-560-8776.
Operation Iraqi Freedom Veteran to Speak
On Tuesday, Feb. 12, Staff Sergeant Gary Heffernan, a recent veteran of the Iraq War, will be speaking to members of The American Legion, McLean Post 270 (1355 Balls Hill, McLean) at 7:30 p.m. SSG Heffernan returned from Iraq in December 2006, after serving time in Baghdad and participating in the capture of two of the most wanted High Value Targets in the 4th Infantry Division's area of responsibility. All Veterans, regardless of affiliation, are welcome to attend, and should contact the Post at 703-938-8930 for more information.
Falls Church Resident Earns Grammy Nomination
Scott Shuman, music producer and a resident of Falls Church, received a Grammy nomination for his work with The Blue Shoe Project on the album "Last of the Great Mississippi Delta Bluesmen – Live in Dallas." The album features performances by Henry James Townsend, Robert Lockwood, Jr., Joe Willie Perkins and David Edwards, all who ranged from 89 – 94 years of age at the time of recording. The Blue Shoe Project, established in 2004, aims to ensure American students access to music, history, and impact of the blues. For more information, visit www.blueshoeproject.org.
Renew Your Vows for Valentine's Day
For those looking to put a unique spin on Valentine's Day, Arlington Forest United Methodist Church (4701 Arlington Blvd., Arlington) is looking for people to renew their wedding vows on Sunday, Feb. 17 at 11 a.m. After the service, there will be a reception with cake, punch, finger sandwiches and music. For those interested in renewing their vows, contact the church office by Sunday, Feb. 10 at 703-525-0961 or arlingtonforest@verizon.net. Everyone is welcome.
USTA NOVA's Super 70's Tennis League
The US Tennis Association in Northern Virginia (USTA NOVA) will form a Super 70's Tennis League for men and women born in 1938 or earlier, scheduled to begin in early March and end in late April. Play will be at the Four Seasons Racquet Club (3010 Williams Dr., Merrifield) and at the Regency Sport and Health Club (1800 Old Meadow Rd., McLean). Matches will be played mid day on weekdays and will last 90 minutes. Players must be USTA members and pay registration and minimal court fees. For more information, contact League Coordinator Alice Hume at 703-768-7074 or anhume@erols.com.
Acacia Federal Hires New Management Team
Acacia Federal Savings Bank (7600 Leesburg Pike, East Building, Suite 200, Falls Church) has started 2008 with a new management team, comprised of new chairman and chief executive officer of Acacia Federal James B. Barber and new president and chief operating officer Louis C. Kiessling. F. Weller Meyer, chairman, president and CEO retired on January 2 of this year, necessitating these changes; Meyer will serve as vice chairman of Acacia Federal during 2008. Barber was a member of the original management team of Acacia and also serves on the board of the Wesley Housing Development Corporation. Kiessling was previously executive vice president and chief financial officer and is a board member of the Northern Virginia Community Foundation.
Chesterbrook Elementary Online Auction
The Chesterbrook PTA kicked off a silent auction on Sunday, Feb. 3 which runs until Sunday, Mar. 2 at 10 p.m., including items such as an autographed Brett Favre helmet, an autographed boxing glove from Sugar Ray and a Nintendo DS. All proceeds go to the Chesterbrook PTA to support Chesterbrook Elementary School (1735 Kirby Rd., McLean), from enhancing enrichment materials and programs, to technology. Anyone who registers for the online auction at www.chesterbrook.org is automatically entered into a raffle for an iPod Shuffle, no purchase necessary. For more information, call 703-714-8200.
Correction
In last week's issue, we ran a story about a Chipotle opening in the Merrifield Town Center with incorrect days of the week corresponding to the dates. They will hold their fundraiser on Thursday, Feb. 7, and the Chipotle opens to the public on Friday, Feb. 8.