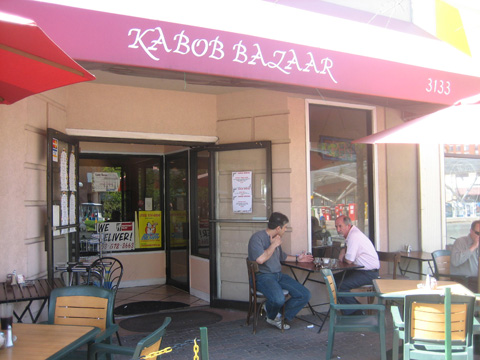 If you are looking for basic Greek food fast, Knossos Restaurant is the place to visit. A small eatery in the heart of Vienna, diners place and pick up orders at a long counter that dominates most of the restaurant's space.
Yellow walls adorned with paintings of Greek figures and murals surround approximately 15 tables in the dining area. They were all occupied when I arrived, but the crowd moved through quickly and by the time my food was ready, a table had opened.
On this visit the soda machine was broken, but the staff put out two-liter bottles of Pepsi and Diet Pepsi to supplement the lack of beverages produced by the fountain. It still produced ice, so the soda was cold. Though the circumstances were a tad odd, it felt like being at home, opening a bottle of soda and pouring a frothy beverage.
Such Greek basics as Spanikopita, Souvlaki and rotisserie chicken grace the short menu. The Chicken Souvlaki ($4.95) contained big chunks of marinated chicken, lettuce and tomato enveloped in a warm pita. The meat was flavorful and the sandwich was assisted by the addition of a side of garlicky Tzatziki sauce. If diners upgrade to a platter, for an additional $1, the sandwich arrives with a pile of French fries and fried zucchini, a unique green surprise. For a $1.25 the dish is accompanied by a large Greek side salad. A heap of lettuce, tomato, green peppers, cucumbers, red onion and Greek olives covered with feta cheese made this salad a tasty one. The side of Greek oil and vinegar-based dressing spiced up the crunchy veggies.
The Grecian burger ($4.95) was essentially a plain flat burger on a pita with lettuce, tomato and topped with feta. The burger tasted like it may have been a frozen patty. It was cooked very well done. The pita was the star of this dish — nice and warm and chewy. Let it be said, it is better to stick with the more typical Greek selections.
For dessert, venture next door to Amphora bakery. Overstuffed chairs and small tables provide a perfect place to lounge, enjoy dessert and chat. It is a cozy little café filled with cakes, cookies and pastries. They also do a lot of personalized cakes. Take a moment to peruse the binders filled with unique creations for any imaginable theme or event. The café will even make cookies to match the premise of your cake. Cake boxes came and went. A happy couple told me how the bakery created a cake that was a replica of the marine flag for them. They both agreed that it was fabulous.
The coffee was rich and dark and my choice of a Napoleon ($3.50) was a good one. The dessert was light and delicate with layers of pastry and sweet cream topped with a sugary frosting. The frosting was still firm, but could be eaten with a fork, no medieval cutlery necessary. Laid about on countertops were already-assembled platters of various cookies, wrapped with pretty paper, to go. I know where I am getting dessert next time a dinner party calls and I am tasked with bringing dessert.
Knossos Restaurant
401 Maple Ave W
Vienna, VA 22180
(703) 281-6242
Sun. – Sat. 11 a.m. – 9 p.m.
Amphora Bakery
403 Maple Ave W
Vienna, VA 22180
703-281-5631