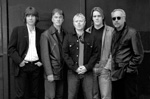 There's another tree growing in Brooklyn … and this one is magic.
Transplanted 26-year-old British songstress Kirsten Price has rapidly taken root stateside with a genre-bending mix of soul-driven compositions that put a new-era edge on the tried and true sound from the 1960s and 70s. Among those tunes is "Magic Tree," a single that debuted nationally during the premiere episode of ABC's "Cashmere Mafia." "Magic Tree," like the majority of Price's work, draws its influences from the southern sounds of Gospel and features a funky fringe, accented by Price's sexy, sassy vocals. It's a lethal combination that Price labels "alternative soul," largely because she doesn't have a better name for the carefully crafted musical cocktail.
"I just use 'alternative' because it makes it sound a little different," says Price, who emphasizes that all of her compositions gravitate back to soul music. "I figure I can use it since lots of rock guys use 'alternative' to try to sound different even though it's always five white guys playing guitars."
Price grew up indulging in a wide swath of music, listening to everything from medieval chamber music, to gospel and church choruses. Then there was her love of Bach derived from her time studying at a conservatory and her ceaseless passion for Prince and "West Side Story."
Take those influences and add in what Price calls "The Kirsten Price Idiom" and you arrive at the engaging, but hard-to-pin-down, sound on Guts and Garbage, Price's debut album.
"I'm not exactly an interviewer's wet dream," says Price regarding the writer's task of labeling her music.
Perhaps, but the uniqueness of her sound is precisely what gets music writers all hot and heavy over their keyboards. It has also gotten a few famous acts to pay attention. To date Wycleff Jean, Groove Collective and the re-formed Sly and the Family Stone have all signed up Price to open their shows.
Price isn't alone in the female soul genre — listen and you'll hear some similarities to Joss Stone — but Price adds a certain acid-washed authenticity to her music that sets it apart.
Price, who wrote or co-wrote all of the songs on Guts and Garbage, stayed true to her original design for the album, even though it took her through a laundry list of producers before she successfully paired up with Frederick Sargolini.
"I knew exactly what I wanted to be and this is an industry that doesn't really embrace women writing and producing," says Price, who also notes she's an uncompromising perfectionist. "I was really blessed to meet Frederick. He and I ended up just clicking and we're pretty pleased with the release."
The album, which is already available digitally and will be released on CD later this year, has already grabbed the ear of some TV executives, with songs snagged for shows "CSI" and "The L Word" before it even debuted.
The album wasn't entirely surrounded by rainbows and four-leaf clovers however. Initially Price had signed with Sony off-shoot label, Music With a Twist, but after a shakeup that brought Def Jam founder Rick Rubin to Sony, Guts and Garbage was set to be put on ice. Price regained the rights to the album and put it out independently, though the process did cost her.
"I had to sell my studio [apartment]," she says. "So I'm homeless and couch surfing. Hopefully I'll spend the whole year on tour."
At least her immediate future is covered in that regard. Price will play the Birchmere on Friday, Jan. 25 when she opens for Antigone Rising. She then headlines her own show at DC9 on Wednesday, Feb. 6.
• For more on Kirsten Price, visit www.kirstenprice.com.