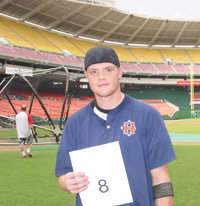 Clay Café Studios was joined by the Greater Falls Church Chamber of Commerce, Natalias, the Italian Cafe and Falls Church citizens to help the Falls Church Winter Emergency Homeless Shelter. By hosting a creative evening of pottery painting, refreshments and prizes, Clay Cafe raised $1,125 for the Shelter. (Photo: Helene Safford)

Russian Folk
Graham Road Church (2929 Graham Rd., Falls Church) is hosting a musical performance featuring Russkiye Musikante, an outreach activity of the Washington Balalaika Society original Russian folk orchestra; on Sunday, Jan. 13 at 11 a.m. Open to the public.

Support Group
Parents, Families and Friends of Lesbian, Gays & Transgender, PFLAG, of Metro DC is hosting a support group meeting to discuss issues about coming out on Sunday, Jan. 13 at 3 p.m. at Temple Rodef Shalom (2100 Westmoreland St., Falls Church). For more information, call 703-319-0424.
Broadway Desserts
J.E.B. Stuart High School (3301 Peace Valley Lane, Falls Church) is holding the 4th Annual "Broadway Desserts" function showcasing various Broadway show tunes with two shows on Saturday, Jan. 12. The first begins at 2 p.m. with desserts, followed by a 3 p.m. show and the other begins at 6 p.m. with desserts and a 7 p.m. show will follow. Tickets cost $10 for adults and $5 for students with Id's.
Community Meetings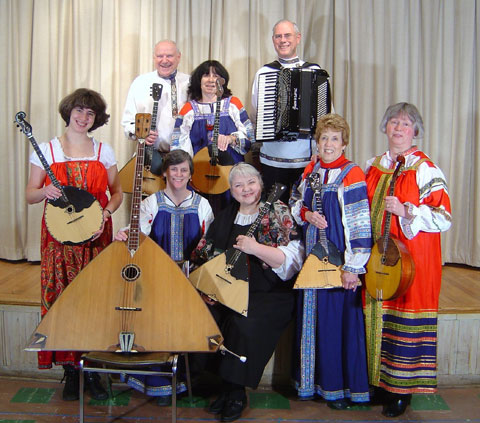 Two community meetings will take place on Saturday, Jan. 12. The first at 10 a.m. will be held at Longfellow Middle School (2000 Westmoreland St., Falls Church) with Delegate James M. Scott, Delegate Margi Vanderhye and State Senator Janet Howell. The second will be held at 1 p.m. at the Falls Church Community Center (223 Little Falls St., Falls Church) with Delegate Scott and State Senator Mary Margaret Whipple.
Gladiators and Martial Arts
The Gladiator Fight Club will be hosting another Mixed Martial Arts Display at the Sportsplex Indoor Sports and Events Center in Winchester in conjunction with Mario Yamasaki referee of the UFC. General admission tickets cost $35 and VIP tickets are available. For more information, visit www.gladiatorfightclub.com.
Stopping Poems
The Falls Church Arts Gallery (111 Park Ave., Falls Church) will be hosting "Stopping by Poems on a Wintry Afternoon: A Poetry Reading and Discussion with James Hopkins, Tod Ibrahim and Angelin Tubman" a panel discussion with three poets reading their work and conducting a discussion with a Q&A period. For more information, visit the Falls Church Arts website.
Speak for a Child
Fairfax Court Appointed Special Advocates (CASA) is hosting an information session on Saturday, Jan. 12 from 11 a.m. – noon at the Reston Regional Library (11925 Bowman Towne Dr., Reston) and is looking for volunteers interested in advocating for abused or neglected children. For more informational, please call 703-273-3526 ext. 22.
Little Italy
The Little Theatre of Alexandria will present "Saturday, Sunday, Monday" about a family from Naples, Italy with performances running from Jan. 12 – Feb. 2 on Wednesday – Saturday at 8 p.m. and Sundays at 3 p.m. Tickets cost $14 – $17 and can be purchased online at www.thelittletheatre.com or by calling 703-683-0496.
Women's Health
The Falls Church chapter of the American Association of University Women will hold their monthly meeting on Sunday, Jan. 13 at 2:30 p.m. in the Falls Church Recreation Center. The speaker will be Cathy Turner, Director of Health Promotion and Senior Health, Virginia Hospital Center, addressing topics related to women's health issues. Open to the public.
Nats' Hot Stove Auction
The Potomac Nationals 13th Annual Hot Stove Banquet and Silent Action will take place on Sunday, Jan. 13 at the Hyatt Fair Lakes (12777 Fair Lakes Cir., Fairfax) from 5:30 – 9 p.m. with a sit down dinner and silent auction. The keynote speaker will be Stan Kasten, President of the Washington Nationals. All proceeds from the silent auction will benefit the American Cancer Association.
NVTA Public Hearing
The City of Falls Church is inviting residents to attend and voice concerns regarding future transportation projects at the Northern Virginia Transportation Authority (NVTA) public hearing on Thursday, Jan. 10 at 6 p.m. at George Mason High School (7124 Leesburg Pke., Falls Church) and is soliciting feedback on the proposed Six-Year Plan for Fiscal Years 2008 – 2010. For more information on the city center visit, www.fallschurchva.gov/citycenter.html.
Little League Registration
The Falls Church Kiwanis Little League is continuing registration for the Spring 2008 Little League season for boys and girls ages 5-12 on Saturday, Jan. 12 from 9:30 a.m. – 3 p.m. at the Community Center (223 Little Falls St., Falls Church) and will also register children ages 5-16 to play softball. The league fields a Challengers Division for players with physical and/or mental disabilities. For more information, visit www.fckll.org.
Mums the Word
The Old Dominion Chrysanthemum Society will present a one hour slide show and the program "Back to the Future: New Mums for 2008" with a Q&A on Sunday, Jan. 13 at the Falls Church Community Center (223 Little Falls St., Falls Church) at 2:30 p.m. Open to the public. Free admission and refreshments. For more information, call 703-560-8776.
Mind the Market
The National Capital Area Skeptics will be hosting the talk "The Mind of the Market: Tales from Evolutionary Economics" by Michael Shermer at 2 p.m. at the National Science Foundation (4201 Wilson Blvd., Arlington). Admission is free. For more information, call 301-587-3827.
Resident Visits Congo
Falls Church resident Ingrid Schultz departs for Kokolopori in the Democratic Republic of the Congo, the sister city of the City of Falls Church, on Thursday, Jan. 10. She directs the citizens group Kokolopori-Falls Church Sister City Partnership and has volunteered for the Bonobo Conservation Initiative since 2004. Schultz has a PhD in biochemistry and an MPH in environmental health and previously worked for the US Environmental Protection Agency in Washington D.C.
McLean Native New Position
Bryan E. Lavie, a McLean native, has joined Cole & Denny Incorporated, a full service architectural, planning and interior design firm in Alexandria, as a new Senior Architect. Lavie earned a BS degree in architecture from The University of Virginia in 1977 and a Master of Architecture in 1984.
Habitat for Humanity
Habit for Humanity of Northern Virginia announced the promotion of Lisa Boccia as its Deputy Director. Her new role in the organization will include overseeing administration, fundraising, marketing and volunteer management. Boccia has worked in the non-profit sector for 10 years.
FC Resident Recognized
Falls Church resident Vickie Theodoropoulos has advanced to the coordinator position as an independent distributor for Market America, a product brokerage and internet marketing company. By obtaining the new position, Theodoropoulos will be recognized in the company's monthly magazine and listed in the company's profiles of success annual catalog.
Brewing Cauldron
Community Cauldron Night will take place on Saturday, Jan. 12 at the Shreve McGonegal Showroom (212 N. West St., Falls Church) from 7 – 9 p.m. Teaching artist Matt Corner will lead an evening of music, improvisation and storytelling. Light refreshments provided. For more information, call 571-239-5288 or visit www.creativecauldron.com.