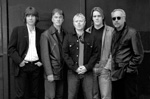 It's New Year's Eve and Justin Trawick has just finished getting his hair cut at a barber shop. He wants to be sure to look his best on the final night of what has been a very, very good year for the fledgling singer-songwriter from Leesburg, Va.

In February of last year, Trawick released his debut album, How to Build a Life With a Lemonade Stand, at a show on the Kennedy Center's Millienium Stage. He played his first gig at the 9:30 Club then returned to the venue later in 2007 to open for Cowboy Mouth. He took his first East Coast tour, hitting spots in New York City, Philadelphia and Boston. He traveled south and opened a packed hometown show at Antone's for Austin songwriting star Bob Schneider. Tonight he's closing out the year by performing to an anticipated crowd of 1,000 at the Westin Hotel's Big Night D.C. New Year's Celebration.
It's been a great year indeed for Trawick, but any tones of lament are absent from his voice. He's already looking ahead to 2008 and he's excited. You see, "new" is what Trawick does best.
Trawick is constantly tweaking his own sound, sitting down with the ever-changing corps of musicians with whom he performs — a number he places between 15 – 20, playing instruments from the upright bass and cello to hand drums and mandolins — and reinventing the same songs time and again.
"We don't practice that much, but that's just because we play together so often," Trawick says. "We just go up each night and make stuff up."
He says that nearly all of his songs have alternate versions, an approach that keeps his sound fresh for listeners, as well as himself.
"I would hate to be an alt-rock band and have to play the exact same songs exactly the same way every night," Trawick says.
That sonic flexibility is afforded to Trawick due to the vastly varied group of musicians with whom Trawick plays. Formerly a solo act that, as a performer, frequented the Broad Street Tavern in Falls Church, Trawick now regularly incorporates the support of Jean Finstad on the upright bass, Josh Himmelsbach on the guitar and Will Reinhart on the drums. On some nights that list expands to include Aurelie Shapiro on cello, Brian Lotter on piano, Junior Bryce — Trawick's boss at his day job with SoundExchange — and some rap rhythms from Malik Starx.
The mix gives Trawick a license to play loose and lively with his music, sometimes running out jams that exceed 10 minutes.
"We played one show at Wintergreen Resort [in Wintergreen, Va.] and Malik did a 20-minute, old-school hip-hop jam," Trawick recalls. "I think we played only about four songs in the first hour."
While he's never afraid to test new waters and let additional musicians sit in on a set or jam session, he knows not everything will be a musical match.
"It's all a big old learning process," Trawick says. "There have been times when I've had someone sit in on stage and it would be like, 'Okay, that's a good reason never to do that again.' But you learn something by getting it wrong the first time. That's the only reason I know how to get anywhere in D.C., because the first time I got lost."
Trawick, a musician since his early teens who actually put out a CD at age 15, has always loved a diverse songbook. He says he never had any real influences until college when he discovered the music of Austin's Schneider, whose genre-bending music made him a small sensation both in Texas and around the country. Trawick plays with his genres as well, adapting his music from show to show to fit his audience.
"Bob Schneider does every style of music there is, way more than me, but I liked that versatility," Trawick says. "If we go play a venue with an older crowd, we'll play some bluegrass and some less rowdy songs. But at some place like T.T. Reynolds, where everyone is barely over 21, we'll play a lot of our louder stuff."
Expect a wide variety on Jan. 4, as Trawick plays his first show of 2008 at IOTA Club and Cafe along with Everyone But Pete and Honor By August. Trawick's performance will be recorded for an upcoming live album.
• For more information on Justin Trawick, visit www.justintrawick.com. Tickets for the Friday, Jan. 4 show are $10. The show starts at 9:30 p.m.