The Dulin United Methodist Church will be holding an Epiphany Music Concert starting at 4 p.m. Jan. 6. Dave Kirkland, the pastor of Dulin Church and Mary Mateer, Director of Music Ministries, will host the event, which will feature four hand piano, organ, piano and piano-organ duets.
The event is located at the church at 513 E Broad Street in Falls Church, and is open to the public.
Girl Scout Cookie Sale to begin Jan. 4
The Girl Scout Council of the Nation's Capital will be selling their eight famous cookies Jan. 4-March 29, hoping to reach the goal of selling 4.2 million boxes. The cookie sales will feature old favorites as well as two new cookies; Sugar-Free Chocolate Chips and Lemon Chalet Cremes.
All proceeds from the cookie sales remain within the local Girl Scout Council, consisting of 4,500 troops in Washington, Virginia and Maryland. All Brownies through Senior Girl Scouts will begin taking orders Jan. 4, to be delivered in February. In March, cookies will be sold at booths outside local retail locations. More information about the 2008 Girl Scout cookie sale is available at www.gscnc.org/fund/cookies, or by calling the Girl Scout Council of the Nation's Capital at 800-523-7898.
Monthly Mini-Series to Address ADHD
The Neurofeedback Center of Virginia will hold a session about ADHD, its evaluation and treatment and alternatives to education at 7 p.m. Jan. 10. The event is part of an on-going free educational mini-series held by the Center.
The session is open to the community but reservations are required for attendance. To make reservations, call 703-536-2690 at least two days in advance.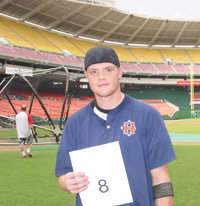 Falls Church Pianist Will Perform at Millennium Stage
Alex Hassan will give an hour-long, solo piano performance at 6 p.m. Jan. 7 at the Kennedy Center's Millennium Stage. He specializes in virtuoso popular piano styles of Golden Age Tin Pan Valley.
Hassan will also perform a full-length solo concert at 2 p.m. Jan. 27 for the Northern Virginia Ragtime Society at the Jordan Kitt's piano showroom on Gallows Road, near the intersection with Lee Highway. For more information on this particular show, visit www.nvrs.org.
French Wine Society Schedules January Events
The French Wine Society will hold two "Grand Vins" series events in January. The first of the events is a seminar about Grand Cru Riesling at 7 p.m. Jan. 17 in the Sofitel Hotel. The seminar will feature wines from Zind Humbrecht, Domaine Weinbach, Josemeyer, Marc Kreydenweiss, Schlumberger, Ehrhart and Otter, presented by a Certified Wine Educator and accompanied by a selection of French cheeses. The event is $75 for members and $89 for non-members.
The second January event will be held at 7 p.m. Jan. 31 at the Sofitel Hotel, featuring Châteauneuf-du-Pape wines. These wines will also be presented by a Certified Wine Educator and the cost will be $79 for members and $89 for non-members.
Visit www.instantseats.com to register for either event.

Chinese New Year Festival to take place at Luther Jackson
The Asian Community Service Center, a non-profit organization, will hold its first-ever Chinese New Year Celebration in Northern Virginia in conjunction with Luther Jackson Middle School. The festival will run from 10 a.m.-7 p.m. Feb. 2 at Luther Jackson Middle School in an attempt to maintain and share traditional Asian values in the community. For more information, visit www.chinesenewyearfestival.org.
Local pianist Sells CDs for Wounded Warrior Project
Sheila Grimes is a successful concert pianist who has recorded about 1,000 CDs in honor of her son who recently returned from a demanding assignment in Iraq. The $20 donations for each CD will benefit wounded and disabled veterans. About 700 CDs have been sold and 500 remain.
Grimes, 30-year resident of Arlington, Va., asks that anyone who is willing and able to sponsor all or part of the remaining 500 CDs makes a check payable to Fisher House Foundation at 1401 Rockville Pike, Suite 600, Rockville, Md. 20897-5257 to ensure the appropriate tax deduction. Grimes could arrange to have the CDs delivered directly to either the Walter Reed Hospital or to the Naval Hospital in Bethesda, Md. to have them donated to wounded warriors.
Virginia Macintosh Users Group Changes Location
The Virginia Macintosh Users Group has moved its meeting location to the Walter Reed Community Center just off Walter Reed Drive at 2909 16th Street South in Arlington, Va. The group is for the support and network of Macintosh users in Northern Virginia.
VMUG meets at 6:30 p.m. the first Monday of each month. The next meeting will be a demonstration of Filemaker's new database product Bento at 6:30 p.m. Jan. 7 at the Walter Reed Community Center.
Winners of Mid-Atlantic Song Contest Announced
The Songwriters' Association of Washington announced the winners of its 24th annual Mid-Atlantic Song Contest at an awards gala Dec. 2 held at Jammin' Java in Vienna, Va. The contest is used as a vehicle for the recognition of up-and-coming song-writers.
As the overall Grand Prize winner, Suzanna Choffel of Austin, Texas, received $1,000 cash, an International Folk Alliance Conference package and showcase in Memphis, Tenn., and more for her song "Hey Mister." Rupert Wates of Brooklyn, N.Y., won the second place overall prize for his song "After the Rains" and Thomas Scott Pearce of Winterville, N.C., was awarded the third place overall prize for his song "Rings in the Water."
The winners have been invited to perform in a special MASC Winners' Performance Showcase Jan. 21 at the Institute of Musical Traditions in Silver Spring, M.D., during the special 25th anniversary year of the Mid-Atlantic Song Contest.
Of those songwriters age 21 and under, Adam Swink of Vienna, Va. won the Young Artist Grand Prize for his song "I'm There." Second Prize went to Joe Krzyzewski of Pawling, N.Y., for his song "Two Wanderers" and Margot MacDonald of Arlington, Va. received third prize for her song "Walls."
Gold, Silver, Finalist and Honorable Mention awards were given in each of the 11 categories of the competition. For more information about the winners, SAW or MASC, call 301-654-8434 or e-mail masc@saw.org.
Preschool Open House Will Be Held Jan. 12
FB Meekins Cooperative Preschool will hold an open house event from 10 a.m.-12 p.m. Jan. 12. The preschool is located at 900 Maple Ave. East, Vienna, Va., and is currently accepting applications for 2-, 3- and 4/5-year-old classes. For more information visit www.fbmeekins.org or call 703-938-3588.
Vietnam Veterans Share Holiday Cheer
Chapter 227 of Northern Virginia, Vietnam Veterans of America, Inc. shared proceeds from its DMZ to Delta Dance with local veterans for the holidays. A $1,000 grant was given to the D.C. Veterans Hospital and the Northern Virginia Vet Center was provided with $100 of metro bus tokens, several boxes of clothing and two DVD/VCR players.
Also, Len Ignatowski and Hugh Jordan hosted the monthly wounded warriors' dinner from the Walter Reed Army Medical Center at the Capital Hilton Hotel in Washington, D.C.
In addition, a $200 grant was given to the Memorial Day Writers Project tent rental at The Wall for Veterans Day, the Sullivan House in Arlington County, Va. received a car full of children's toys and clothing and a $250 grant was given to the Shriners Children Hospital to honor the International Association Legion of Honor co-operation with Chapter 227's dance.
For more information call Len Ignatowski at 703-255-0353 or visit the chapter's Web site at www.vva227.org.
Falls Church Arts Honors Poetry
Falls Church Arts will hold three events in January to celebrate poetry. The inaugural event will be a reception from 6-8 p.m. Jan. 4 at the FCA Gallery located at 111 Park Avenue in Falls Church to honor a student poetry exhibit that will run through Jan. 30. Original poetry by Brynn Grumstrup Slate will be read.
The event Stopping by Poems on a Wintry Afternoon: A Poetry Reading and Discussion with James Hopkins, Tod Ibrahim, and Angelin Tubman will be held from 4-6 p.m. Jan. 13 at the FCA Gallery. All of these poets are recipients of the George Washington University's Jenny McKean Moore scholarship for poets. Each of the poets will read their original poetry as well as two poems by their favorite poets, followed by an interactive session with the audience.
Finally, an open mike poetry reading will be held from 7:30-9:30 p.m. Jan. 26 at the FCA Gallery.
L'Alliance Française Celebrates the New Year
L'Alliance Française and Planet Chic Productions are sponsoring a Happy Hour, Happy New Year event from 6-9:30 p.m. Jan. 11 at Alliance Française de Washington, 2142 Wyoming Avenue, N.W., Washington, D.C., 20008. General admission will be $8 for the public and $6 for AF members. The night will feature a preview of AF's upcoming cultural and social events, Kir Royal, light food and DJ music.
To get on the guest list, RSVP to 202-234-7911 ext. 16 or 31, or e-mail assistant@francedc.org. For more information about the event visit www.francedc.org.
Spring Little League Registration To Begin This Weekend
The Falls Church Kiwanis Little League will begin registration for the spring 2008 season, which marks the league's 60th anniversary. Boys and girls age 5-12 can be registered from 9:30 a.m.-3 p.m. Jan. 5 at the Community Center. Additional registration opportunities will be held at the Community Center from 9:30 a.m.-3 p.m. Jan. 12 and 6:30-9:30 p.m. Jan. 23. Softball registration for children age 5-16 will also occur at these times. The Kiwanis League also offers a Challengers Division for players with physical and/or mental disabilities.
Registration is also available online at fckll.org, where it is also possible to learn about the winter skills training schedule, which is set to begin soon for all players.
Community Flu Clinic To Occur Jan. 5
The World Vaccine Organization is sponsoring a Winter Flu & Pneumonia Vaccine Clinic from 9 a.m.-1 p.m. Jan. 5 at the Falls Church Community Center, 223 Little Falls Street. Adult Influenza (Flu) Vaccines are available for $30 and Pneumococcal (Pneumonia) Vaccines are $40. Both are available for those aged 18 and older. Payments can be made by cash, check, credit card, Medicare and Medicaid and several insurance plans will be accepted.