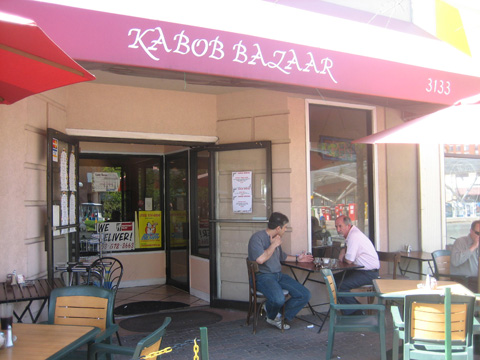 The Liberty Tavern, an upscale yet casual bar and restaurant located in the Clarendon area of Arlington, offers a fresh, relaxing dining experience with attentive service and great American food.
The Tavern operates out of a refurbished two-story historic building, with the downstairs holding the establishment's bar and the upstairs operating as the restaurant portion. The décor is clean, comfortable and well-lit, featuring simple yet refined decorations. The waiters are both attentive and efficient, matching the laid-back atmosphere of the restaurant.
If you're planning on stopping by for lunch, try either the Angus Beef Burger ($10), Cubano Panini ($10) and Handcrafted Potato Gnocchi, served with butternut squash ($12 lunch, $16 dinner). One good option is the Clarendon Chopped Salad ($7). Featuring fresh greens, grilled chicken, goat cheese, beets, potatoes, roasted peppers and herb dressing, this salad is fresh and delicious, containing crisp, light tastes that go together wonderfully with the warm, hearty grilled chicken.
Available for both lunch and dinner is a selection of pizzas. Cooked in a wood burning oven, the pizzas feature crisp, airy and delicious crusts. Liberty offers several different varieties, from the simple Classico (tomato, mozzarella and basil – $10) to the more exotic Vermont (white cheddar, prosciutto, Granny Smith apples and caramelized onions – $13). One excellent option is the Americano, featuring mozzarella, smoked cheddar, tomatoes, arugula and grilled chicken. The mozzarella and cheddar blend together beautifully as they melt in with the crushed tomatoes, forming a unique, mouth-watering base for the pizza. The grilled chicken works as the perfect topping, bringing out the flavor in the cheddar and mozzarella cheeses. Although they pile the pizza much too high with arugula, once you scrape away a few layers the greens add a nice texture to the dish.
If you're in the mood for something heavier, the dinner menu features several options not found on the lunch menu. These include the Hangar Steak (served with Boston baked beans – $20), the Amish Chicken (served with broccolini and buttermilk mashed potatoes – $20) and the New England Fish and Chips ($17).
A can't-miss side dish on the menu is the Hand Cut Fries ($4 as a side, comes with some dishes). Cooked to perfection, these hot, crispy and delicious fries are brushed with fresh herbs and salt, and are as good as you'll find anywhere. Even if you don't think they'll go with your selected meal, order them anyway – you won't regret it.
For dessert, Liberty doesn't disappoint. In addition to a variety of options on their cheese menu, they have several tempting desserts for you to choose from, including the Boston Cream Pie, Crème Brulee and Red Velvet and Chocolate Devil's Food Cake (all $7). One can't go wrong, however, with the Rich Chocolate Cake ($7). This moist dessert blends coconut pastry cream with the chocolate cake and frosting to create a series of flavors and textures. Liberty's ice cream and sorbet selection is also excellent, featuring fresh new options daily.
As one would expect from an establishment with "Tavern" in its name, Liberty offers a series of wines, beers and champagnes, in addition to many mixed cocktails. Wines by the glass run from $7 to $14, beers run from $3 to $6 and cocktails go for $8.
For those looking to grab food on the run, Liberty To Go offers an extensive carryout menu, offering many of the options off of its dinner and pizza menus. All of the restaurant's menus as seasonally-based, so don't be surprised to find a new option or two each time you visit.
Liberty Tavern is a good choice for both lunch and dinner, or for just stopping by for a drink. And, if you're interested in enjoying top-notch American dining in a laid-back, fresh atmosphere, it could be just what you're looking for.
3195 Wilson Boulevard
Arlington, VA 22201
703-465-9360
Lunch: Wed. – Sat.: 11:30 a.m. – 2:30 p.m.
Weekend Brunch: Sun. – 10 a.m. – 2:30 p.m.
Dinner: Mon. – Thurs.: 5 p.m. – 10 p.m., Fri. – Sat.: 5 p.m. – 11 p.m., Sun.: 5 p.m. – 9 p.m.
Bar remains open daily until 2 a.m.