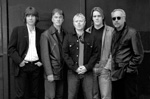 For 10 years it was always full speed ahead. Virginia Coalition would step on stage and slam down the pedal. They'd drop the hammer with the drum beat and away they went, accelerating into yet another of their acclaimed live acts, going off with go-go and aflame with funk.
But for all of the gasoline Andy Poliakoff, Paul Ottinger and Jarrett Nicolay were pouring onto their on-stage fire, it started to feel as if their whole career would soon be going up in smoke.
The reality was that it wasn't working. The three friends were entering their 30s and their budding music career was still budding, but never blooming. There were successes — such as when they recorded with acclaimed producer Matt Wallace — and there was always that live show that sent fans into a frenzy. But while the Coalition watched the album of Wallace's other client, Maroon 5, fly off the shelves, their sales stagnated. The group continued to grind, releasing a live album their fans had clammored for, but the excitement that had fueled them before was fading, and finally their advancing ages brought additional reflection. It was time for a change.
"At some point we just decided to stop avoiding the question of 'Do we want to do this thing anymore?' I really feel that if we continued in the direction we were going, the answer would have been 'No,'" says Poliakoff. "We don't want to make the same music. We've got to trust ourselves, especially when time is fleeting."
So starting last year it was out with the drummer, and in with the three part harmonies.
"We have a lot to say songwise," Poliakoff says. "A lot of drummers are pretty good at making a racket. Not that we're turning into old men, but drums are loud."
On their latest album, Home This Year, due out in March of 2008, rather than drown listeners with drum beats Poliakoff, Ottinger and Nicolay opted to float a folkier sound. Writing primarily on acoustic guitars, the trio are trumpeting a more melody driven modus operandi. The intricate instrumentation and southern soul upon which Virginia Coalition built its reputation is far from forsaken, but on Home This Year, the songs, and not the sound, are showcased. The three held themselves up to exacting standards, and because of the rededication to the writing, Poliakoff believes that Home This Year is the band's best album yet.
"When we recorded in the past and got to the end of the process, we've always been a band that's been like 'It's done.' Well, look where that's gotten us," Poliakoff says. "We're afloat, but fans are coming for the shows, not the songs.
"When we made our record with Matt Wallace he was always getting phone calls about Maroon 5's Songs About Jane, but we can't sell. Why?"
So now the new tack — and it comes at a fortuitous time. The band's label, Blue Hammock Music, is thriving and bringing the boys of Virginia Coalition along with them. The band recently shot their first video in L.A. and in March they will perform at South By Southwest for the first time.
They'll be hitting the road for the remainder of the winter, but first they'll play a hometown show on December 28 at The Birchmere — Poliakoff, Ottinger and Nicolay all attended T.C. Williams and have been friends since their high school days. Poliakoff says that fans will get a healthy dose of the new album, with all 10 of the latest tracks worked into the lineup.
While it's no longer business as usual for Virginia Coalition, with their new course set, Poliakoff and his friends are approaching their business with their usual approach — full speed ahead.