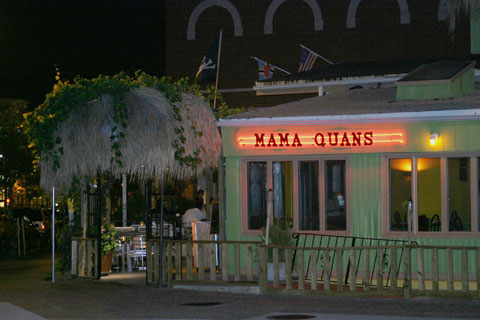 YOUNG VOLUNTEER Zack Sanders is shown with his dad taking some of the breakfast meals to the over 400 homeless who were served at Falls Church's Original Pancake House on Christmas morning. There were over 50 volunteers to help Jeff and Jane Bulman, owners of the Original Pancake House, who've been donating the Christmas morning breakfasts to the homeless at their restaurant for years. Karen Burgen and Annie Turner were key helpers getting it organized this year. (News-Press photo)
Volunteer Awards Nomination Forms Available Online
Volunteer Fairfax has posted nomination forms online for the Fairfax County Volunteer Service Awards. The awards, first established in 1993, act as "a community-wide celebration of volunteerism." Groups, organizations and individuals who have provided exemplary volunteer service are honored. This year's awards breakfast ceremony will take place Thursday, April 24, 2008 at the Hilton McLean Tysons Corner. The deadline for nominating volunteers in February 22, 2008. Contact Erin Caplin at Volunteer Fairfax at 703-246-3470 or ecaplin@volunteerfairfax.org for more information, or visit www.volunteerfairfax.org.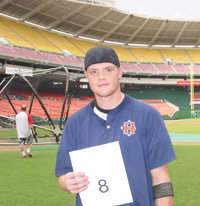 American Red Cross and Pitney Bowes Deliver Holiday Cards
Pitney Bowes, Inc. joined forces with the American Red Cross this holiday season to help mail holiday cards to injured military service men and women in military hospitals both in the United States and Abroad. Both organizations sorted through the cards, and Red Cross representatives distributed the cards at the hospitals.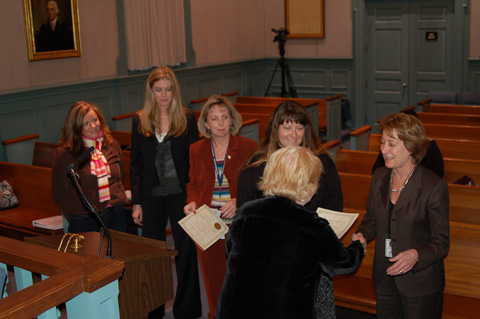 Capital Hospice CEO Davis Honored by Healthcare Council
The Healthcare Council of the National Capital Area has awarded Malene Davis, president and CEO of Capital Hospice with the Matthew F. McNulty, Jr. Award for 2007. The award, named after Dr. Matthew McNulty, a member of the Healthcare Council board for over 25 years and the former Chancellor and Professor Emeritus of Georgetown University Medical Center, is designed to recognize individuals who have made a major impact in the healthcare field. Since 1977, Capital Hospice has been helping people with serious, progressive illness and their loved ones.

Original Pancake House Hosts Christmas Breakfast for the Needy
From 9 a.m. to noon on Christmas morning, the Original Pancake House hosted their annual Christmas Breakfast for the Needy. The Pancake House's owners, Jeff and Jane Bullman, and the rest of their staff served over 400 people in need.
Congressional Students Perform at ZooLights
Twelve students from Falls Church's Congressional Schools of Virginia performed at the National Zoo December 19 at the opening night of the inaugural ZooLights event. The students provided a wide range of entertainment for the crowd of thousands, including a Vietnamese dance, a Cuban Salsa Dance and Hungarian and Austrian piano solos. The Friends of the National Zoo said they selected the school to perform because of the wide, diverse variety of musical routines its students offered.
Compline at St. Mary's Episcopal
Beginning in January, St. Mary's Episcopal Church will be offering a sung, candle-lit service of prayer and meditation every Sunday at 9 p.m. The St. Mary's choir will lead the service. All are welcome. The Church is located at 2609 N. Glebe Rd in Arlington. For more information, visit www.stmaryarlington.org or call 703-527-6800.
Fire Department Implements Variety of New Services
The City of Fairfax Fire Department announced the implementation of several services. They are: Building Inspections, Fire Prevention Inspections, Property Maintenance, Fire and Life Safety Education, Free Smoke/Carbon Monoxide Alarm Inspections/Installations, Home Safety Checks, Child Safety Seat Inspections/Installations, Fire Extinguisher Training, CPR/AED Course, Community Emergency Response Team, Emergency Planning and Preparedness. For more information, visit www.fairfaxva.gov.
Fun and Free New Year's Eve
Falls Church City will host its 10th Annual Watch Night New Year's Eve spectacular this year. The festivities and entertainment performances are designed to appeal to all ages. Attractions will include an obstacle course, face painting, magic shows, karaoke, a Velcro wall, digital dance, and more. Eight bands and four DJs will give live performances, including Memphis Gold, Sons of Disobedience and the Northern Lights Swing Band. The event will also feature a New Year's countdown, complete with the lowering of the Falls Church historic star. The event will take place from 7 p.m. to midnight on Monday, December 31 at the 100 block of Broad Street at Washington Street. For more information, visit www.fallschurchva.gov.
Volunteer Management Boot Camp
Volunteer Fairfax will be offering its first edition of their 2008 Nonprofit Training Series on January 31 with Volunteer Management Boot Camp. Emily Gibbs, the Training and Special Events Manager of Volunteer Fairfax will go over the ins and outs of planning, recruitment, retention and supervision. The event will last from 9 a.m. to noon. Registration fees cost $35. Interested participants may register at www.volunteerfairfax.org by clicking on "Training Registration." E-mail Emily Gibbs at egibbs@volunteerfairfax.org for more information.
Spiritual Practice and Teachings
The Kadampa Way of Life with host Spiritual Practice/Teachings classes January 7th, 14th, 21st and 28th. The classes are designed to explain how one can find inner peace and enjoy a life of spirituality based on Kadampa Buddist traditional teachings. Each class will run from 7 p.m. to 8:30 p.m. at the Griffin Center (Suite 5), located at 3800 Fairfax Drive in Arlington. No registration is necessary, and all are welcome. For more information, call Marian Jones at 347-306-4260.
SCAD Dean's List
Several local residents were named to the fall quarter 2007 dean's list at the Savannah College of Art and Design, located in Savannah, Ga. The following students were named: Taylor Sill, an Architecture major from Arlington; Lisa Lynn Lorang, a Fairfax resident and Historic Preservation major; Carl Eugene Andersen, an Industrial Design major out of Falls Church; Jennifer Courtney Kaplan, a Falls Church resident and Photography major; and Emily Irene Colegrove, a Production Design major from Falls Church.
Christopher Fay, Executive Director of Homestretch, a charity organization based out of Falls Church, received a $1,000 check earlier this month from Neal M. Callandar, Junior Warden of The Falls Church Episcopal. The church, which now consists of over 200 members since the parish voted last year to leave the National Episcopal Church for the Anglican Church in Nigeria, says that they remain committed to community service. "The Falls Church Episcopal Church is committed to supporting the many needs of our immediate community," Callandar said. Also pictured are Marc Hosmer and Emily Zimmet, Child Services Specialists at Homestretch.