THE MASON DISTRICT Fairfax County Police Department, St. Ambrose Catholic School and The Arlington Alexandria Coalition for the Homeless are seeking donations of household items to help ease the transition of formerly homeless families from the AACH Sullivan House Family Shelter to private housing. Donations can be left at the PODS storage units at the Mason District Police Station (6507 Columbia Pike, Annandale) and St. Ambrose Catholic School (3827 Woodburn Rd., Annandale). (Photo: Courtesy Fairfax County Police Department)
Santa Jam
Santa Jam 11 will take place Thursday, Dec. 13 at the State Theatre (220 N. Washington St., Falls Church) from 8 p.m. – 1 a.m. Featuring: Mary Ann Redmond Band, Tom Principato Band, Tommy Lepson Band, Generation Vinyl, Radio Mosaic, Linwood Taylor, Mary Shaver, Mike Ault and Soul Gravity. Admission requires a $10 minimum donation. Proceeds to benefit Northern Virginia Shelters for Homeless and Abused Women and Children. For more information, visit www.santajam.org.
Free Christmas Breakfast
For the 8th straight year, The Original Pancake House restaurants of the Greater Washington D.C. area are providing free breakfasts of pancakes, eggs, bacon, coffee and juice, for the homeless and disadvantaged on Tuesday, Dec. 25. Starting at 9:30 a.m. Guests will also receive special gift bags. They plan on serving more than 400 guests this year.
Holiday Movie for Free
St. Luke's United Methodist Church (7628 Leesburg Pke., Falls Church) will be showing a free holiday movie, "It's a Wonderful Life" on the big screen and offering free popcorn and sodas on Friday, Dec. 14 at 7:30 p.m. No reservations are needed. All ages are welcome. For more information, call 703-893-9220.
Award Winning Author
Margaret Meacham, the award winning author of fourteen books, will read from her new book A Fairy's Guide to Understanding Humans on Saturday, Dec. 15 at 2 p.m. at Aladdin's Lamp (2499 N. Harrison St., Arlington). Ages 9 and up. For more information and to register, call 703-241-8281.
Jammin' Jazz
The Sign of the Whale (7279 Arlington Blvd., Falls Church) will be featuring live Jazz with Art Beveridge and his Jazz Jam Session on Thursday, Dec. 13 from 7:30 – 10:30 p.m. Admission is free. For more information, call 703-573-1616.
PFLAG Meeting
Parents, Families and Friends of Lesbian, Gays & Transgender (PFLAG) of Metro D.C. will hold a support group meeting to discuss issues about coming out on Thursday, Dec. 13 at 7:30 p.m. at Temple Rodef Shalom (2100 Westmoreland St., Falls Church). For more information, call 703-319-0424 or visit www.pflagdc.org.
Can You Wrap?
The Second Annual Be a Santa to a Senior program needs volunteers to help wrap and deliver 1,000 gifts for Fairfax County seniors in need. Volunteers will gather Tuesday, Dec. 18 from 5 – 7 p.m. at Ossian Hall (7128 Columbia Pke., Annandale). Food will be provided along with entertainment by The Vic Chase Project. For more information, call Jason Sager with Home Instead Senior Care at 703-750-6644.
Birthday Party for Jesus
A Children's Christmas Service and Live Nativity will be held on Monday, Dec. 24 at 5 p.m. at St. Luke's Methodist Church (7628 Leesburg Pke., Falls Church). Events will include a service designed just for children followed by a birthday party for Jesus with cake and gifts. For more information, call 703-893-9220.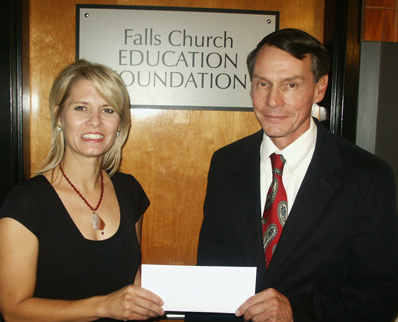 Help the Homeless
Fairfax County Police Department, St. Ambrose Catholic School & The Arlington Alexandria Coalition for the Homeless (AACH) are holding the Broom Closet drive, asking for donations of new or gently used household goods to help homeless families. The drive runs from Nov. 19 to Dec. 19. Drop off donations at The PODS in the parking lot at the Mason District Police Station (6507 Columbia Pke., Annandale) or at St. Ambrose Catholic School (3827 Woodburn Rd., Annandale). For more information, email Lisa Phillips at phillips87@verizon.net.
Volunteering Made Easy
Volunteer Fairfax announces it Annual Holiday Volunteer Opportunities Guide to community members who want to make a difference this season for those less fortunate by volunteering in their communities. For more information, visit www.volunteerfairfax.org and click on Volunteer Now.
Toy Safety Tips
Local non-profit, Prevent Blindness, is providing toy safety tips to help protect children this season including: inspect all toys before purchasing, gifts of sports equipment should always be given with protective gear, always save warranties and directions for toys and look for the letters ASTM, meaning the product has been tested by the American Society for Testing and Materials. For more tips, call 888-790-2020 or visit www.theeyesite.org.
Four Star Charity
The Animal Welfare League of Arlington (S. Arlington Mill Dr., Arlington) received a "Four Star" rating from the charity evaluator, Charity Navigator. It is the highest honor a charity can earn from the watchdog group, indicating that the charity exceeds industry standards and outperforms most charities in its cause. To see animals for adoption visit the League on Monday, Wednesday, Thursday and Friday from noon – 7 p.m., or Saturday and Sunday from noon – 4 p.m. For more information, visit www.awla.org.
Volunteer Networking
The Northern Virginia Association for Volunteer Administration (NVAV), a non-profit committed to involvement of volunteers in the community, is presenting a Volunteer Management Workshop "Speed Networking for Your Volunteer Program: Discussion of Program Development, Recognition and Recruitment" on Thursday, Jan. 17 from noon – 2 p.m. The meetings are open to all who manage volunteers. For more information, visit www.NVAVA.org.
Adventure Theatre Benefit
Adventure Theatre (7300 MacArthur Blvd., Gen Echo, Md.) is sponsoring a toy drive to benefit children's hospital at the Saturday, Dec. 15 and Sunday, Dec. 16 at 11 a.m. and 1:30 p.m. performances of The Secret Garden. Bring a new, unwrapped toy when you come see the performance. For more information and reservations, visit www.adventuretheatre.org.
Very Big Blimp
An inaugural Ron Paul blimp is scheduled to take flight from N.C. in a promotional tour that will fly over Washington D.C. featuring slogans like "Who is Ron Paul" promoting the congressman's presidential bid. The 200 foot blimp, larger than the Goodyear Blimp, is the first to carry an ad for presidential candidate. For updates, go to www.discoverec.com.
FC Fire Dept. Gets Grant
The Falls Church Volunteer Fire Department received a grant for $43, 571 to help fund the purchase of a new utility response vehicle. The money comes from two joint grants between Lighthouse Underwriters ($35,000), Early, Cassidy & Schilling, Inc. ($8,571) and Fireman's Fund Insurance Company. The new vehicle will cost roughly $90,000.
Wiggle and Giggle
Wiggle, giggle, jingle and shake at an interactive music and movement experience with a Christmas theme on Saturday, Dec. 15 for children ages 3 – 7 years of age at The Falls Church School of Ballet (109 Park Ave., Falls Church). There will be performances at 11 a.m. and 1 p.m. For more information or for tickets, call 703-524-4750.
Citywide Street Sweeping
The City of Falls Church has contracted with Reilly Sweeping to provide Citywide Street Sweeping from 7 a.m.-5 p.m. the week of Dec. 17. The schedule is as follows: Monday – Commercial Areas, Tuesday and Wednesday – Thursday and Friday Refuse Collection Areas (areas north of Broad Street), Thursday and Friday – Tuesday and Wednesday Refuse Collection Areas (areas south of Broad Street).Residents are advised to move vehicles off residential streets, if possible, between 7 a.m. – 5 p.m. when street sweeping is scheduled for their area. For more information, call 703-248-5081.