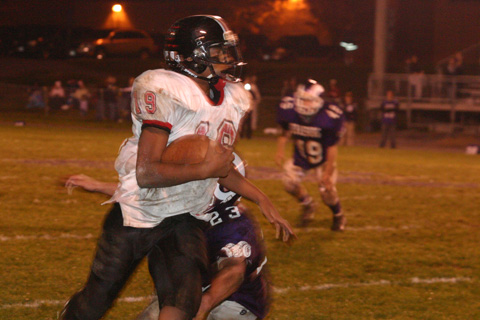 Steve Parks of George Mason High School is a man on a mission, and it is one of the toughest in high school sports. As he begins the 2007-2008 wrestling season, Parks has set his sights on the state title that eluded him last year at the Single A state wrestling championships.
Hobbled by injuries at the "Big Show" last March, Parks had to settle for an eighth place finish, and he is convinced he could have done much better. This year he is healthy and, after an off season of training and hard work, he is ready to make a full bore run at the championship in the 189 lbs. weight class. And he hopes to not be the only Mason wrestler with a medal when it is all over.
Parks is leading a talented GMHS wrestling team which looks to make up for its lack of numbers with an abundance of talent and experience. Former state qualifiers Barratt Kennett, Jake Schwind and David Ray have also made it their goal to return to Mason with medals in hand next March. Kennett, a senior will compete in the 171 lbs. class, while Schwind, a junior, will be at 152, and Ray, who sat out all of last season due to injury, will be at 140. In addition, their teammates Tim Hillegass (145 lbs.) and Sam Dittmar (160 lbs.) are seasoned veterans, as they come into their junior years with experience and enthusiasm.
This group of six experienced wrestlers will be joined by newcomers Charlie Khaliq, Brian Costelloe and Drew Dixon. Both Khaliq, a senior transfer from Westfield, and Costelloe, a freshman, are new to wrestling, but hope to make an impact by year's end.
The Varsity lineup is rounded out by Dixon, a transfer from Ohio who brings experience and savvy unusual for a freshman.
While the Mustangs flaunt a good deal of individual talent, the lack of wreslters in all competing weight classes curbs Mason's optimism for prevailing in team competitions.
"High School wrestling has 14 weight classes and we will fill only eight or nine of them, so I don't think we'll win too many Dual meets," said Mason Head Coach John Pitas. "But our nine wrestlers will not be taken lightly, I can assure you. Some of these guys are already state caliber and I fully expect that by February all will be at that level.
"Of course injuries could take their toll as they did last year, but you can't coach against that. You make the most of what you have and plan for the best."
If all goes according to that plan this could be the best team Mason has fielded since the 2004 squad that produced five State medalists and finished third in the state at the Single A level.
"We may be better than that team. I certainly hope so," added Pitas.
Another topic of interest and excitement for the Mustangs this year is who fills out the rest of the roster.
"We are very excited to have six eighth graders on our team," said assistant wrestling coach Bryan Harris when asked about the unusual youth movement. "We've never had more than one or two before.
"I think it is due to a couple of factors. Number one, we have made the eighth grade a part of the High School. They are encouraged to take part in the whole high school experience and participating in a high school sport is a big part of that. Now it is a lot easier for them than when they were on a middle school schedule. Two, we held a week-long introduction to wrestling clinic last Spring, and that got the attention of some kids who might not have known about our program."
The eighth grade wrestlers are Alborz Alaeddini, Jon Freeman, Celal Kamran, Campbell Kennett, Jake King and Danny Nash.
The Mustangs have only two home events this year, January 12 and February 2, but will be competing at nearby Fairfax, Stuart, Oakton and Wakefield, so local fans hoping to get to a match should find it easier than in the past. One big change to the schedule will be the elimination of Wednesday night District Duals, which will be replaced by a District Dual Day to be held Saturday, Jan. 25 at Manassas Park High School.