Local Student Performs in Concert
Nora McCulla, an Earlham College senior and daughter of William and Cheryl McCulla of Falls Church, performed Earlham's Gospel Revelations, Percussion and Jazz Concert on Oct. 27 in Goddard Auditorium. McCulla is a member of the Gospel Revelations, which presented five selections including Friend of God and He Reigns and Victory. Earlham is a selective, liberal arts college in Richmond, Indiana. Engaging students with a changing world, Earlham is dedicated to the development of effective ways to integrate international perspectives in education. The College offers 40 majors in the sciences, humanities and social sciences. More than 75 percent of Earlham's graduates pursue postgraduate study; many will go on to earn doctoral degrees.

Congressional Schools Aid Sick Children
On November 16, a group of more than 100 children, parents and staff volunteers from The Congressional Schools of Virginia worked under the guidance of representatives from Glories Happy Hats to turn yards of fabric, ribbon and embellishments into fun hats for sick children. Students ranging in ages from 4-14 worked with their parents on a 12-step assembly line creating a plethora of soft, colorful, jester-like caps. The children matched patterns, sewed, and decorated the hats and had fun making the cheerful creations. Even those too young to join the production process helped in the efforts by creating homemade cards offering well wishes to be given to the sick children. The volunteer families advanced several hundred hats through the assembly line. The hats completed during the event will be delivered by Congressional students early in January to children at INOVA Fairfax Hospital who are suffering from serious illnesses as a gesture of support and to help bring them cheer. Happy Hats is operated by Glories Happy Hats, a non-profit organization whose mission is to support children suffering from serious illness and their families. Glories Happy Hats hopes to fill requests for more than 10,000 Happy Hats a year. Information about Glories Happy Hats can be found at www.glorieshappyhats.org.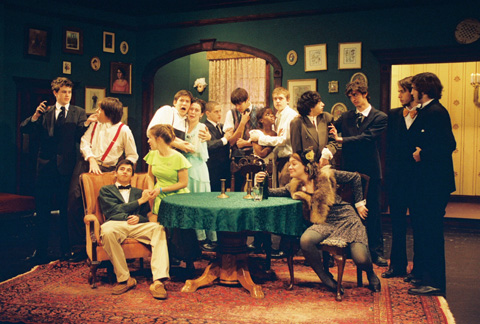 Marshall HS Comedy
Marshall High School theater students will perform the comedy; You Can't Take It With You. The play takes place on the set of the Sycamore family's New York City home. The performances are Thursday, Nov. 29, 30; Saturday, Dec. 1 at 7:30 p.m. and Sunday, Dec. 2 at 3 p.m. at Marshall HS (7731 Leesburg Pke., Falls Church). For directions and more information, visit www.marshalltheatre.org or call Marshall High School Activities at 703-714-5409.
Hispanic Food Fair
The Heritage Language Literacy Club at Bailey's Elementary School for the Arts and Sciences will hold its first Hispanic Food Fair on Friday, Nov. 30 at 5 p.m. Food from Guatemala, Peru, Bolivia, Colombia, Nicaragua, Argentina, El Salvador, and other Latin American countries, prepared by parents, will be available for purchase. The club began its ninth year in November and provides two hours of literacy instruction once a week after school for students in grades 1-5. Students receive instruction in reading, writing, listening, and speaking as well as a nutritional snack and access to books to take home from the lending library. The program promotes the social and academic development of multicultural students; focuses on increasing native language literacy; promotes the positive aspects of bilingualism; and provides mentors who encourage bilingual students to stay in school, continue their education at a college or university, and become skilled multilingual professionals
The Monster Tales
The Fairfax High and Lanier Middle drama departments are combining to present The Monster Tales, a fable about humanity, over two weeks beginning on Friday, Nov. 30 at 7 p.m. in the Fairfax High Theater. The Monster Tales involves a monster who comes out from under a young woman's bed and demands she tell him more of the stories she murmurs in her sleep. Three fables are acted out by dual casts made up of high school and middle school students portraying issues that people struggle with: love and compassion, fear and longing and the ultimate issue of death. The performance, rated PG, will be held at Fairfax High School from Nov. 30 through Dec. 2 and at Lanier Middle School from Dec. 7 through Dec. 9.
Positive Choices
The Power of Positive Choices, a leadership conference for fifth and sixth grade boys, will be held on Saturday, Dec. 1 from 8:30 a.m. – noon at Dogwood Elementary. Football players from South Lakes High will be on hand to demonstrate the importance of sportsmanship, scholarship, and friendship. Members of the South Lakes band will introduce the boys to the importance of spirit in a school band. Each boy will be able to attend three hands-on workshops in art, team building games, engineering puzzles and communication skills to learn about the opportunities available to them in middle and high school. Parents and adult family members are invited to learn more about how to support boys through middle and high school in the adult workshops.
Grant Awarded to Students
Annandale High students, Silvina Orellana and Michelle Abanez, have been awarded a $1,000 start-up grant from Youth Venture, which inspires and invests in groups of young people who want to lead positive social change to improve their communities. Orellana and Abanez are the creators of Future Hispanic Leaders of Tomorrow, a summer camp to help Latino high school students enroll in an SAT prep course at no cost, expose them to different colleges, help with the college application process and provide community service opportunities. Their initiative helps young Latinos stay in school and prepare for college and beyond. The Annandale students were one of 50 winning teams from across the nation to be selected for a grant.
Reading Club
Crestwood Elementary has established a weekly reading club for first and sixth grade students, thanks to a grant from the Fairfax Education Association. The new Watch Me Grow program combines elements of cross-age reading with a take-home reading program and will focus on developing the early literacy and reading skills of first grade students who partner with sixth grade students. Emphasis will be placed on developing oral language development, fluency and beginning comprehension skills. Sixth grade students will learn techniques that will help the younger students while they develop their own fluency and self-confidence. Club members will celebrate their progress in May 2008 with a tea party in the school's garden.
Adopt a Stream
Frying Pan Park officials have invited sixth grade students at Floris Elementary to adopt the Frying Pan Branch stream. The stream is part of the Chesapeake Bay watershed; it continues to Horsepen Run, Broad Run and the Potomac River and on to the Bay. Floris students have already taken a walking field trip to pick up litter along the banks of the stream and plan to continue their stewardship by running more litter patrols as well as studying the health of the stream with park officials. The students will be searching for a number of factors that affect the health of the stream, including amount and type of litter, temperature of the water, if trees are providing adequate shade for the creek, number of macro invertebrates living there, pH and other chemical measurements, clarity of the water and amount of sediment on the rocks. The project is part of the Floris goal to increase student participation as responsible citizens.
Washington Post Music and Dance Scholarship Award
Lee High student Spencer Ramirez is one of 12 seniors in the metropolitan Washington D.C. area to be selected in honor of his achievement in dance. Ramirez attended the Governor's School for the Arts to study dance after his sophomore year and is studying dance at a dance company in Alexandria. He has performed in several plays at Lee High and is also an artist.
Kate O'Connor, a student at West Potomac High, has been named winner of the Free Expression 4 Students Contest, sponsored by the Journalism Education Association-National Scholastic Press Association (JEA-NSPA). O'Connor, who writes for the Wire, West Potomac's student newspaper, was cited for her article on the Frederick v. Morse Supreme Court decision.
Winners, Writing-Photography-Design Journalism Contest
FCPS students won individual honors in the Virginia High School League (VHSL) 2007 Writing-Photography-Design Journalism Contest, announced recently. All awards were for Group AAA publications. Winners are: in the Magazine category, An-Phuong Ly of Chantilly High, third place for Magazine Cover, third place for Poetry Spread and honorable mention for Table of Contents. In the Newspaper category, Straight News-News Feature-Sports News category, Pratima Gopalakrishnan and Lauren Ruth of Thomas Jefferson High School for Science and Technology (TJHSST), first place; Kacper Sovinski of Hayfield Secondary, second place; Viola Li of TJHSST, third place; and George Stone of Hayfield Secondary, honorable mention; in the Human Interest-Personality category, Laura Berk and Alice Chung of TJHSST, first place; Hayley Stewart of Chantilly High, second place; Stephanie Quinn of Hayfield Secondary, third place; in the In-Depth-Informative category, Skye Carter of Hayfield Secondary, first place; Aimee Huynh of Robinson Secondary, third place; in the Editorial category, the staff of the McLean Highlander, McLean High, third place; Becky Schwartzman of Hayfield High, honorable mention; in the Bylined Personal Opinion-Column category, Adam Stern of Hayfield Secondary, first place; Jennifer Gilbert of TJHSST, second place; Sana Idrees of TJHSST, honorable mention; in the Review category, Marguerite Schauer of McLean High, first place; in the Photo: News-Feature category, Dan Gorin of Langley High, first place; Wafic Omran of McLean High, honorable mention; in the Photo: Sports category, Dan Gorin of Langley High, first place; Wafic Omran of McLean High, third place; Andrew Lee of McLean High, honorable mention; in the Front Page Layout category, Alex Ott of Chantilly High, first place; Mike Moynihan of Langley High, second place; Anna Nguyen and Bill Barlow of Robinson Secondary, third place; and Rachel Bensinger, Lizzie Gholinnasghara and Sarah Ross of McLean High, honorable mention; in the Inside Page Layout-Spread category, Paul Casey of Chantilly High, first place; Kristin McGregor of West Springfield High, second place; Carolyn McCallister and Teresa Ventura of TJHHST, third place; in the Advertising category, Erica Wink and Sarah Wink of West Springfield High, first place; Daniel Hochberg of Langley High, second place; in the Newsmagazine Cover category, Robert Espiritu of Hayfield Secondary, first, second, and third place. In the Yearbook category: in the Concept Packaging category, Amanda Schmick of West Potomac High, second place; in the Student Life Spread category, Lexi Vlasho of West Potomac High, third place; Lexi Vlasho and Liz Hanson of West Potomac High, honorable mention; in the Academics Spread category, Kate Sigety and Lauren Crowe of West Potomac High, third place; in the Clubs-Organizations Spread category, Amanda Willis of West Potomac High, first place; in the Sports Spread category, Christian Markson of West Potomac High, second place; in the People Spread category, Devin Matthews and Tess Mackey of West Potomac High, first place.