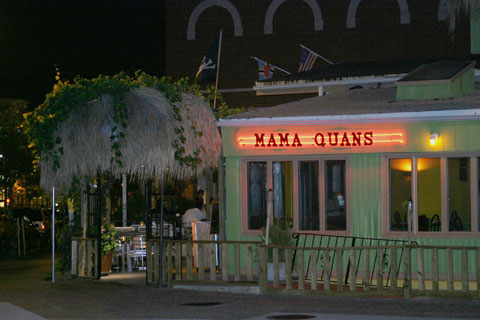 On a Saturday night, you'll find a line of people waiting to be seated, starting at the hostess station and spilling out onto the sidewalk lining North Harrison Street outside. Although there are alternative restaurants on either side of this busy eatery, folks choose to wait. That should tell you something about the sumptuous cuisine that awaits … Plus, the line moves quickly — especially if you choose to pass the time at the bar and imbibe a nice Italian red wine or cold Moretti.

Inside you will find families and couples. It is a decidedly family friendly place and children are welcome. They enjoy watching the pizza as it is crafted by the chefs and slid into the big wood-burning oven. Tables are comfortable and the staff is more than happy to move them around to meet the needs of a larger group.
Don't forget, there are some great pit stops to be made on the way to the pizza. The Pie-tanza Salad ($6.79) arrives with fresh mixed field greens, oregano vinaigrette and roasted red pepper slices, and is garnished with red and yellow teardrop tomatoes, fresh shaved grana padano parmesan and rosemary crostini. Even for those who don't like salad, this one might win you over. The crositini alone is full of flavor; it can be broken into bits and eaten as crotons or just munched as is, as an accompanying flatbread. Parmesan and roasted red pepper are paired as perfect partners.
Pie-tanza's biggest draw is the wood-fired pizza. Almost every table displays a happy diner pulling slices from a pie that could be for two, but is better for just one. The Roasted Garlic & Red Pepper Pizza (11.29) is topped with mozzarella, fontina, red sauce, sweet roasted garlic cloves with red pepper slices. If you like roasted garlic, this is the pizza for you. The cloves are sweet enough to pick off and eat alone. The Classic Mediterranean Pizza ($11.49) is dressed with black olives, pancetta and sweet roasted tomato, basil with feta cheese, olive oil and fresh herbs. This is definitely a twist on your typical Italian pizza with unique delicious flavors bursting from the crispy crust.
There are many tempting desserts, some are found enticingly displayed in the glass case in the back of the restaurant. These include, but are not limited to, the Warm Apple Pie ($5.29), baked with brown sugar and cinnamon, topped with vanilla bean ice cream; Chocolate-lined Cannoli ($4.59), a sweet cream-filled pastry shell lined with chocolate and garnished with orange peel; Traditional Tiramisu ($5.29), delicate layers of espresso drenched lady fingers and mascarpone cream garnished with cocoa powder dusted whip cream ($5.29).
This is the embarrassing truth, I admit to making trips to Pie-tanza with the sole purpose of picking up one of their double chocolate brownies. They are so moist and thick, the chocolate melts in your mouth and at first bite you notice little chocolate chips just enriching the moist cake with deeper texture. Yes, I like some chocolate on occasion.
Even though the Arlington location is just off of Route 29, the good news is that Pie-tanza will be opening a Falls Church restaurant in the first quarter of 2008. For me, that probably means more late night brownie trips and that alone is very exciting.
Pie-tanza
2503B N. Harrison St. Arlington, VA 22207
Hours: Mon. – Sat. 11 a.m. – 10 p.m. Sun. 11 a.m. – 9 p.m.
Phone: 703-237-0200
Fax: 703-237-5033