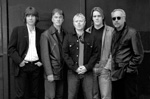 There's something about White Rabbits that demands a treatise on the very nature of rock and roll.
At its best, the genre is a barely controlled chaos that reaches out and requisitions your being and seizes your soul. Before you're even aware of it, your flailing arms and feet have declared their mutinous intentions to tap, wave, pump, pound and jump because, amid all those sweetly screaming, siren-like six strings, it just seems so right.
There's nothing pretty about it. It's visceral. It's emotional. And it's exactly the reaction crowds are having when they hear Brooklyn-based band White Rabbits perform live.
While most piano bands these days clamor to conform to the Coldplay standard, White Rabbits pound out saloon-style singalongs that have envoked comparisons closer to Cold War Kids than Chris Martin's crew.
There's not much subtlety in White Rabbits' sound, with crooning choruses provided by vocalists Steve Patterson, Alex Even and Greg Roberts fronting a musical mish-mash of Patterson's piano, Roberts and Even's guitars, Adam Russell's bass and the double-barreled drum kits — oh yeah, they've got a pair — manned by Matt Clark and Jamie Levinson that bore right through your face to the back your brain. You know that part of your brain. It's the part that controls those all-too-enjoyable concert hall convulsions mentioned in that first paragraph.
Delicate flowers, they are not, and it's a description that their oh-so-rock-and-roll recent past has borne out surviving the unexpected rough patches on the road … and at home.
Relocating from Columbia, Mo. to New York has had its hiccups. A few muggings here, a bed bug infestation there — the Big Apple has not always been a haven for the band, but their time there has proven fruitful. After recording debut LP, Fort Nightly, White Rabbits started causing a stir in the city that never sleeps. CMJ magazine fawned: "White Rabbits have moved through this city like a clever magic trick … with many more surprises up their sleeves."
Their act transcends the New York City chic scene as well, named the second-best band at South By Southwest by the United Kingdom's Music Week.
"There is something quite brilliant about the New York outfit," the mag wrote. "[They] manage to make the coolest of melodies sound utterly effortless."
While the band was grateful for the high praise, they were also just thankful to reach the celebrated festival alive. Driving down in their van, the notoriously finicky, but still beloved, vehicle burst into flames. Even after their ride's spontaneous attempt at le lapin en flambe, the band still uses the 15 seater. Taunting death … how rock and roll is that?
They'll ride their less-than-faithful steed into the area this Friday night when White Rabbits wrap their tour at D.C.'s Rock and Roll (oh, so apt!) Hotel.
"It's been a really good tour for her," Patterson says. "We had one little problem, but that's it."
A bigger problem than potential roadside ruin surfaced when the Rabbits first tried to hit the road this fall with the Kaiser Chiefs.
"They were kind enough to cancel at the last minute after we'd already left to meet them in Dallas," Patterson says. "We got a call saying they decided to spend more time writing and recording. That basically translated into 'we're not selling enough tickets.'"
Just as they've done with their NYC scrapes and van vexations, the band endured the drive straight through from Denver to Brooklyn and regrouped for a new incarnation of the tour with Tokyo Police Club, Datarock and the Pogues. White Rabbits will headline their District date though, and it's a night they've looked forward to for some time.
"Our last show in D.C. was a big surprise," Patterson says of their last gig at the Black Cat. "We had no idea we had fans in this city. It was one of our most raucous shows ever."
• Tickets for Friday's show are $12, with doors opening at 8 p.m. For more information on White Rabbits, visit www.whiterabbitsmusic.com.