Commended Students in the 2008 National Merit Scholarship Program
McLean High School
Each of the commended students placed among the top five percent of more than 1.4 million students who entered the 2008 competition by taking the 2006 Preliminary SAT/National Scholarship Qualifying Test (PSAT/NMSQT). The McLean High School students who earned this distinction include: Simon Barth, Monica Del Toral, Nikolai Fedak, Alyson Frazier, Michael Hughes, Ellen Janssen, Michael Kalish, Minseung Kim, Yonjae Kim, Jihai Li, Evan Lord, Anshul Mainkar, Kimberly Rhodes, Michael Rhodes, Taylor Richards, Nicole Russell, Marguerite Schauer, Matthew Schwartz, Bonnie Stender, Hilary Symington, Sushila Ann Toulmin and Alexandra Villanueva.

McLean, Marshall, Falls Church Teams To Appear on 'IT'S ACADEMIC'
McLean High School defeated Lake Braddock High School and Bishop O'Connell High School on IT'S ACADEMIC, the high school quiz program. The match will be aired Saturday, Oct. 20 at 10:30 a.m. on NBC4, Channel 4.
TJHSST Student Wins Essay Contest
Junior Kate Ferraren, a student at Thomas Jefferson High School for Science and Technology (TJHSST), won first place in the Annual Hispanic Heritage Essay Contest sponsored by NBC4 and Telemundo. Ferraren's essay was based on the topic "Why Being Latino in the U.S. is the Best of Both Worlds." She received a cash prize of $2,000 and a new laptop computer.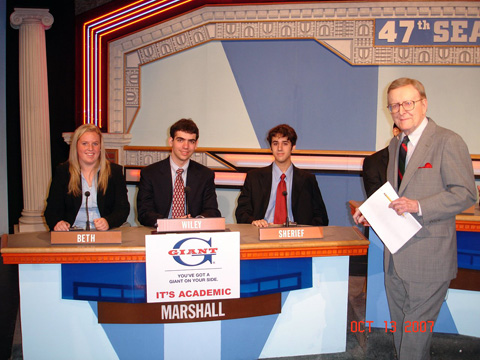 FCPS Solicits Public Comment on Proposed New Foreign Language Textbooks
Fairfax County Public Schools (FCPS) is soliciting community input on proposed new foreign language textbooks for German, French, Latin, and Spanish students in grades 7-12 beginning Thursday, Oct. 4, through Monday, Nov. 5. The books will be available at eight Fairfax County public library branches. For more information, contact Paula Patrick, FCPS foreign language coordinator, at 703-208-7724 or email paula.patrick@fcps.edu.
Diner to Benefit Hurricane Katrina Victims
Shrevewood Elementary will hold its Third Annual Spaghetti Supper to Benefit Hurricane Katrina Victims on Wednesday, Oct. 17, at 5:30 p.m. Shrevewood students have been raising money for three years to help rebuild, refurnish, and provide supplies to Harper McCaughan Elementary School in Long Beach, Mississippi, which was destroyed when the area was hit by Hurricane Katrina in 2005. Tickets will be sold at the door. For more information, contact principal Shirley McCoy at 703-645-6600 or email shirley.mccoy@fcps.edu or contact event liaison Evan Burlew at evan.burlew@fcps.edu.
FCPS Presents Resource Fair to Help Students
The Fairfax County Public Schools (FCPS) Career and Transition Services (CTS) section of the Office of Special Education will hold Moving on to Life in the Community, a Resource Fair, on Saturday, Oct. 20, from 8:30 a.m. – 1 p.m. at Falls Church High School. The Resource Fair is designed to help parents plan for the future of their children who, due to mental retardation, will require ongoing supports to live and work independently after they graduate from high school. For more information, contact the local high school employment and transition representative; Sue Eaton, Resource Fair coordinator, at susanne.eaton@fcps.edu or 703-503-4794; or visit www.fcps.edu/ss/careertransition/whatsnew.htm.