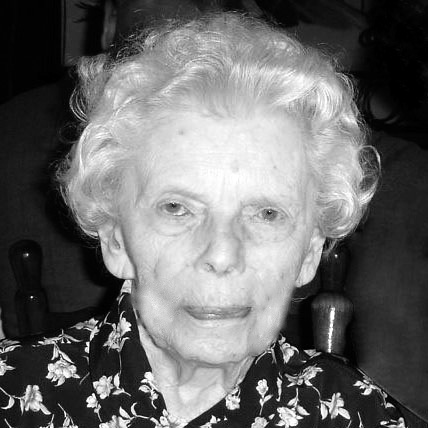 Frances Webster Darby Loikow, 96, a 57-year resident of Falls Church, Virginia, before recently moving to Washington, D.C., died peacefully of heart failure on Wednesday, August 1, 2007, at Sibley Hospital, Washington, D.C. Mrs. Loikow served in the Women's Army Auxiliary Corps and the Women's Army Corps during World War II and taught school for many years in Michigan and Fairfax County, Virginia. Her husband of 55 years, SGM George E. Loikow, died in 2001.
Mrs. Loikow was born on May 3, 1911 in Auburn, California, and was the daughter of Augusta Amanda Webster Darby, a teacher, and Edwin V. Darby, who ran a lumber mill in Placer County, California. She was the youngest of three daughters, all of whom became teachers.
When she was eleven, her family moved to Ypsilanti, Michigan, where she graduated from Lincoln Consolidated High School. She graduated from Michigan State Normal College, Ypsilanti (now Eastern Michigan University), in a joint program with Cleary College, and received her BA and teaching certificate in 1932. Mrs. Loikow taught English, typing and bookkeeping at Lee High School in Grand Rapids, Michigan, where for eight years she was the class sponsor for freshman classes and, among other things, directed class plays. She began graduate studies in English literature at the University of Michigan in 1942.
According to the 50th Reunion edition of The Ariel produced by Lee High School's Class of 1941, "(a)fter leading our class, Mrs. Loikow decided nothing more could be that challenging so she enlisted in the U.S. Army…" in January 1943. "Darby," as she was known in the Army, joined the Women's Army Auxiliary Corps, which would become the Women's Army Corps later that year. Sent to Fort Oglethorpe, Georgia for training, she graduated from the Branch School for Bakers and Cooks at in May 1943. She also attended Mess Sergeants School and Teletype School. Over the next two and half years, much of which was spent in the European Theater of Operations, she worked ten months as a mess sergeant stateside and three months as a cook and then, assigned to headquarters for the First Allied Airborne Army, worked for five months as a stenographer and ten months as a historian.
As the European war progressed, she moved with Headquarters Staff first to Maisons Laffitte, in the outskirts of Paris, and then to Bielefeld and Halle, Germany. With the German surrender, the First Allied Airborne Army was disbanded and she became part of the First Airborne Army (FAA). She was sent to Berlin, Germany with the FAA as part of the first contingent of American troops sent there. She returned to the United States and was honorably discharged from the Army on December 24, 1945.
For her service in the Ardennes, Central Europe and Rhineland campaigns, she was awarded the European-African-Middle Eastern Service Medal with three bronze stars, the American Service Medal, the Good Conduct Medal, the World War II Victory Medal, and the WAAC Service Ribbon.
After the war, she used her veteran's benefits to return to school and complete her graduate degree in English Language and Literature at the University of Michigan, earning her MA in August 1946. She moved to Washington, D.C. to work for the Army Map Service. On November 7, 1946, she married George E. Loikow, whom she had first met in England when they were both with the First Allied Airborne Army, at Foundry Methodist Church, Washington, D.C. Frederick Brown Harris, Chaplain of the U.S. Senate, officiated.
Her son, John Darby Loikow, was born in August 1948 and soon thereafter she followed her husband to his new assignment at Headquarters, U. S. Army, Pacific at Fort Shafter, Hawaii. In 1949, her husband was reassigned to the Pentagon and the family returned to Falls Church, Virginia, where they bought the house she lived in for most of the next 57 years, with exception of two years at Fort Meade, MD and three years in Maisons Laffitte, France in the 1950's.
Mrs. Loikow taught fifth grade at Graham Road Elementary School in Fairfax County, Virginia for fifteen years, retiring in 1976. During that time, she was active in the Fairfax Education Association and took courses at the University of Virginia, American University, and George Washington University. In 1993, the Lee High Graduation Classes of 1936, 1937, and 1938 awarded her a "Certificate of Merit for Outstanding Teaching at Lee High School" in Grand Rapids, Michigan.
Mrs. Loikow was a genealogist and member of The Society of Mayflower Descendents (a descendent of William Brewster). She was also an avid gardener, both of flowers and vegetables.
Mrs. Loikow is survived her son, John Darby Loikow and her granddaughter, Elizabeth Darby Hume Loikow, both of Washington, DC. Funeral services were held Tuesday, October 16, 2007 at the Fort Myer Chapel. She was buried with her husband, SGM George E. Loikow, who died in 2001, in Arlington National Cemetery. Contributions in lieu of flowers should be made to the Fairfax County Animal Trust Fund. 4500 West Ox Road, 
Fairfax, Virginia 22030.