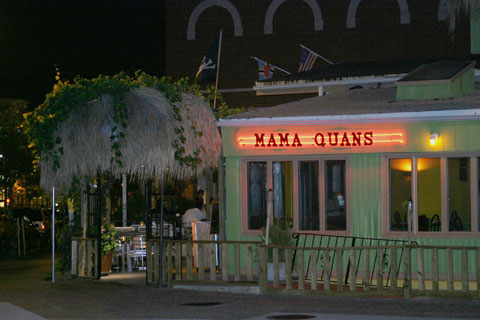 Upon entering this Italian eatery, I smell it – the unmistakable aroma of mozzarella cheese bubbling with heat in a nearby oven. As a displaced Italian girl, I thought no one could compare to my little Italian grandmother's cooking. Chef Roberto Donna and Chef da Cuisine Amy Brandwein, came remarkably close. Chef Donna is chef extraordinaire from the endlessly award winning restaurant Galileo in D.C. and an Iron Chef winner.

Chef Donna's Trattoria showcases his skill, with menu prices that won't break the bank.
Standing out, the large wood-burning pizza oven, with Chef Brandwein standing nearby readying dough, is a beautiful sight. This oven was imported from Italy and I hoped the pizza from the oven would taste of Italy too.
The dining room was striking, contemporary with a high ceiling. Colors of burnt orange and sunny yellow added warmth to the large dining area. It felt cozy and casual despite the large size. One side of the room was walled with glass, allowing a view of the seating beyond.
After our waiter brought us Italian bread and olive oil, I perused the wine list which detailed the geography and history of the wines. Present were the amazing reds of Italy; Barolo, Brunello di Montalcino and Montepulciano. Glasses ranged from $6 – $16.50. The IGT Venezie Rosso, Friuli 2004 ($6 a glass), tasted like a familiar table wine and suited me perfectly.
To start, we ordered antipasti, the Roasted Beets tossed with Chunks of Buffalo Mozzarella Cheese; Heirloom Tomato Salad ($10.95) and the Grilled Octopus served with grilled and marinated eggplant, red onions and sun-dried tomato ($9.95). The tomatoes tasted like they were recently plucked from the vine. The sweet beets and bitter arugula proved a nice balance. Meanwhile, the Octopus was tender and worked well with pesto.
Assorted meats comprised the Salumi section of the menu. We already had enough food, but ordered some anyway, that's Italian. The Pancetta Pepata ($4.75) appeared on its own small cutting board, floating like ribbons on a sheet of wax paper almost as thin as the pancetta itself. Not too fatty, I practically heard my grandmother's voice say with approval.
Reviewing the pizzas, I spied egg as one of the toppings. I ordered the Funghi Pizza ($13.50) and added the egg as a topping. If you like eggs and you like pizza you are in for a treat. Done right, and it was, this combination causes eyes-closed lip-licking behavior.
Decidedly, I choose dishes reminiscent of my grandmother's kitchen. The Paccheri tossed with a ragu of slowly cooked pork ribs in tomato sauce with Pecorino Romano ($16.95) tasted authentic and evident was the sweetness of melt-off-the-bone ribs. The pasta was cooked perfectly al dente.
A side of Broccoli Rabe sautéed with anchovy, garlic and hot pepper ($5.95) arrived a vibrant green. A fiery kick from the pepper only added to the dish. We fought over the sweet cloves of garlic.
By dessert, I was full but ready. All desserts cost $6 at dinner. The Panino Cone La Nutella E La Marmellata Di Pesche E Mandorle, was a nutella sandwich served with peaches and almond marmalade. Nutella reminds me of France more than Italy, but was delicious, enhanced by the apricots and almonds in the jelly pairing.
The Bomboloni Con Il Bicerin, arrived as little doughnuts served with a warm Bicerin. A Bicerin is a traditional Piemontese drink made with chocolate, espresso, cream and rum. The doughnuts tasted like fried dough from the county fair, but light as air, like they might deflate in my mouth. The chocolate drink was rich and bittersweet, with a hint of rum, just decadent.
Bebo Trattoria da Roberto Donna
2250-b Crystal Drive, Arlington, VA 22202
703-412-5076