Tucked away on the upper level of two other stores, I almost couldn't find it. Good thing I did. A cozy restaurant, Pines of Naples is known for its homemade meals and relaxed environment and upon visiting, both traits lived up to the reputation.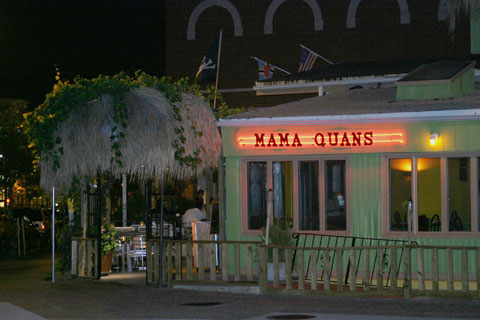 Pines of Naples has all the classics. The Cheese Ravioli ($7.50) was the perfect start to an assortment of pasta dishes. The Eggplant Parmigiana ($7.25) consisted of fresh eggplant fried in olive oil, covered in mozzarella cheese and served with marinara sauce. The homemade pastas are the real treat. I had the Fettuccini Carbonara ($9.95) — onions, parsley, Italian herbs and Parmesan cheese mixed with fresh fettuccine noodles and eggs topped off with a little bacon. Another dish I recommend is the Manicotti ($8.95). The pasta is stuffed with ricotta, parmesan, romano, mozzarella cheese and served with marinara sauce. The Vegetarian Pasta ($7.95) is prepared by layering fresh lasagna noodles with spinach, onions, tomatoes, Italian herbs, ricotta and Parmesan cheeses and served with tomato sauce.
The restaurant has something for everyone, offering an entirely different menu for vegetarians with dishes such as Mushroom Casoncello ($12.95) and Spinach Manicotti ($12.95).
Their Spaghetti a La Pine ($10.95) is made with chunks of fresh chicken breast, green peppers, onions, mushrooms and imported Parmesan cheese. It left me pining for more — couldn't resist that one. Along with the various traditional spaghettis, Pines of Naples offers two specials. Sofia's Special ($7.95) is fresh pasta prepared with garlic and ginger, topped with tomato sauce, while Taj's Special is Chicken Alfredo tossed with chunks of fresh chicken breast mixed with fettuccine and Alfredo sauce.
Pines of Naples also offers delicious seafood. Their Shrimp Fradiavalo ($14.95) is a tasty blend of steamed shrimp and Italian spices served with marinara sauce. Their lobster dish (price varies) consists of fresh lobster stuffed with a mixture of garlic, parsley, Italian herbs and olive oil then baked to a scrumptious finish. My favorite, Zuppas de Pesce ($15.95) was arranged of fresh king crab legs, mussels, clams, calamari and shrimp served with marina sauce.
If your still hungry, I'd advise you to try the Scalloppini Marsala ($10.95). Fresh chicken sautéed with mushroom and marsala wine sounds delectable doesn't it? Another chicken dish to try is the Scalloppini Picata — fresh scalloppini of chicken cooked with lemon and butter and served with marinara sauce.
For those of you tired of the pizza in a box routine, Pines of Naples offers many satisfying spins on the Italian pie. "Just cheese" would be foolish, so don't be afraid to branch out.
This restaurant also has a variety of veal, from Scalloppini Marsala ($12.95) to Ossobuco Veal Shank ($12.95). My father insisted on having both. The Pizzaiola ($12.95) consisted of fresh cut veal pounded in small pieces and cooked in marinara sauce.
The only staff member I met beyond table service was the gracious restaurant owner herself. She made me smile with stories of her daughter and the benefits of her knowing more than one language. She and her staff bring a hospitable vibe to the restaurant. The restaurant itself is as snug as a grandmother's home — but with even better cooking. It's been open for almost 20 years, making it one of the oldest restaurants in Arlington. You can join Pines of Naples in September as it celebrates its 20th anniversary. I know I will.
Pines of Naples
3207 Columbia Pike
Arlington, Virginia
703-521-7551
Mon. – Thurs.: 11 a.m. – 10 p.m.
Fri.: 11 a.m. – 11 p.m.
Sat. and Sun.: 2 p.m. – 11 p.m.