DEPARTING NEXT WEEK after spending the entire summer as lifeguards at the Winter Hill Condominium Association pool in Falls Church are Polish university students Grzegorz Olshowski (left) and Karol Iwanczyk, both physical education majors. They were among a group of six students from Poznan University who shared an apartment in Northern Virginia working as lifeguards at area pools, part of a "work abroad" program at their university, coordinated by the Boston-based CIEE. They'll now have a month to travel in the U.S. before returning home. The two said they encountered a lot of friendly people at the pool who helped them in numerous ways, and that they hope to return to the same jobs next summer. (News-Press photo)
Good, Clean 'Fun'-raising
The Mr. Wash of Falls Church, as well as its location in Alexandria, will host a "Fun"-raising effort for Redskins Junior All-Star Cheerleading on Saturday, Sept. 8 from 9 a.m. – Noon. The event will raise money to help the group's trip to the national spirit competition to be held in Orlando, Florida next spring. Several members of the Washington Redskins' cheerleading squad will join members of the junior all-stars will be on hand at all locations. Mr. Wash is located at 3013 Gallows Road in Falls Church.
New Business Spices Up F.C.
A new business opening will spice up Falls Church, when Penzey Spices opens its doors at 513 W. Broad Street. With spices ranging from the common to the exotic, Penzey will offer about 260 various items, including its own line of 50-plus hand-mixed seasonings and rubs. The store is targeting an opening date of September 8.
Homestretch Hopes to Uncork Charitable Spirit
Homestretch will hold its Second Annual Wine Tasting and Silent Auction at the Gannett Building in McLean (7950 Jones Branch Drive), Sept. 28. Featured wines will be provided by The Wine Cabinet of Reston. Sample wines from around the world and learn the discerning art of wine tasting from The Wine Cabinet's expert. Hors d'oeuvres will be served, while the Stolen Moments Jazz Band performs. The McLean Art Society will feature 16 paintings from local artists. The pieces will be available for purchase, with 15-percent of each sale going to help Homestretch. Tickets for the event are $60 in advance and $70 at the door. $50 of each ticket is tax deductible. For tickets, call 703-237-2035×117. For more information, visit www.homestretch-inc.org.
Realtors Display Local Art
Century 21 Redwood Realty (1711 Wilson Blvd., Arlington) will host an art show for local artists Linda Maldonado and Elisabeth Hudgins, opening Sept. 7 from 6 – 9 p.m. The show will be on display for the rest of the month during business hours. The opening reception is free and open to the public. Refreshments will be served.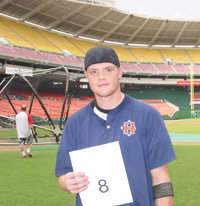 Jag Owners Ride to Rockville
Jaguar owners are getting revved up for the annual Concours d'Elegance, a Jaguar car show and competitive judging event held on the grounds of Montgomery College, Rockville Campus (51 Mannakee Street, Rockville, Md.) on Sunday, Sept. 9 beginning at 8:30 a.m. The event is open to the public and admission is free. For more information, visit www.njoc.org.
Dominion Powers Disaster Center
On Wednesday, August 22, Dominion Power presented a check for $200,000 to the American Red Cross of the National Capital Area during a luncheon at Maggiano's Chevy Chase in Washington, D.C. The funds have already been used to purchase a generator that will power the recently-established Regional Disaster Communications Center in Fairfax, Va.
Ye Olde Big Fat Wedding
Celebrate an 18th Century Wedding at Claude Moore Colonial Farm (6310 Georgetown Pike, McLean) Sunday, Sept. 9 from 1 – 4 p.m. The ceremony, which will include dancing and traditional wedding cake, begins at 2 p.m. Admission is $3 for adults and $2 for children and senior citizens. For more information, call 703-903-9330.
Victorian Vogue
Historic Cherry Hill Farmhouse will hold a Victorian Fashion Exhibit on its grounds (312 Park Ave., Falls Church) from Sept. 15 – 23. The exhibit will feature men's, women's and children's clothes and accessories from all eras of the Victorian period. During the run, the farmhouse will be open from 10 a.m. – 3 p.m., Monday through Saturday and from Noon – 4 p.m. on Sundays. Admission is free. For more information, call 703-248-5171 (TTY 711).
Support Group Meeting Announced
The PFLAG (Parents, Families and Friends of Lesbians and Gays) support group will hold a meeting to discuss issues about coming out on Thursday, Sept. 13 (and the second Thursday of every month) at 7:30 p.m. at Haycock Elementary School (6601 Haycock Rd., Falls Church). For more information, call 703-319-0424.
Moor To Come From Theatre Group
The Northern Virginia Woodbridge Theatre Group is holding auditions for its production of Shakespeare's "Othello" on September 6 – 7 from 7:30 – 9:30 p.m. each day. The auditions will take place in the theater at the Woodbridge Campus of Northern Virginia Community College (15200 Neabsco Mills Rd., Woodbridge). The group is looking for an international cast of adults from older teens to seniors. Auditions will consist of cold readings from the script and movement / vocal improvisations. For more information, call 703-878-5750.
City Seeks Fave Places in F.C.
The City of Falls Church Office of Communications is now accepting submissions for its Seventh Annual Student Art Contest. All submissions must illustrate one or more elements of the theme: "My Favorite Place in Falls Church City." Students in Kindergarten through Grade 2 are eligible to enter, but must attend a City of Falls Church school or reside in the city. The deadline to enter is Friday, Oct. 5.
Judges will select 13 entries to feature in the City's 2008 calendar. Mayor Robin Gardner will present students whose work is selected with awards at a City Council meeting this fall and a special reception will be held at a Jan. 4 FIRSTFriday event at Art and Frame of Falls Church, where entries will remain on display through January.
Entries must be original to this contest, cannot be edible or require special storage conditions.
Mail or deliver entries to the Office of Communications (300 Park Ave., Falls Church).
Vpstart Seeks Upstart Actors
Vpstart Crow Productions will hold auditions for Howard Burman's "An O. Henry Christmas" on Sunday, Sept. 9 and Monday, Sept. 10 from 7 – 9 p.m. both days. The auditions will be held at the Cramer Center (9008 Center St., Old Town Manassas). Call backs, if necessary, will be held Sept. 11 from 7 – 10 p.m.
The group is casting parts for five men and three women ages 18 and up. No appointment is necessary. Auditions will consist of cold readings. Selected actors will be awarded a small stipend covering rehearsals and performances at the end of the run. For more information, visit www.vpstartcrow.com.
Carnvial Comes to Vienna
The Vienna Tysons Chamber of Commerce will hold its seventh annual Fall Carnival Sept. 6 – 9 at Nottoway Park (9601 Courthouse Rd., Vienna). Rides and games for all ages will be available, plus food vendors galore. Ride all night on Thursday for $20. Hours vary each night, but the festivities begin at 6 p.m. on Thursday and Friday and 11 a.m. Saturday and Sunday.
Suzy Bo' Knows Football
The Arlington County Department of Parks, Recreation and Cultural Services is offering a one-day workshop teaching the game of football to class participants. The workshop will be led by Suzy Beamer Bohnert, author of the book "Game-Day Goddess: Learn Football's Lingo." Participants will receive a copy of Bohnert's book.
The session will be held at 7:30 p.m. on Monday, Sept. 18 at the Culpepper Garden Center (4435 N Pershing Dr., Arlington). For more information, call 703-228-4747. The cost of the workshop is $50 and you can register online at www.arlingtonva.us/prcr.
DeProud Students of DePaul
Congratulations to DePaul University students Douglas Thornton of Arlington and Runda Hishan Segerstrom of Falls Church. Both students were named to the Dean's List for the Spring 2007 quarter.
Shipley's Novel Sits on Shelves
Local author Andrew Shipley of Vienna recently completed his first novel "The Messenger" and it is now available for purchase on both Borders.com and Amazon.com. The story centers around a freshman U.S. Senator who is hailed as a prophet for his ability to bridge the world's language gaps. As the Senator's gift brings him fame, it brings him an equal amount of peril, placing his life in grave danger.
Shipley, who was raised by two deaf parents, has been fascinated by language issues throughout his life and writes and speaks extensively on issues concerning the Deaf community. When he's not writing, Shipley practices law, having graduated from the University of Maryland with a degree in journalism and later Harvard Law School. For more on the novel, visit www.themessenger.9f.com.
Soccer Program Seeks Players
Falls Church youth soccer teams for kids 5 – 18 are forming for the fall 2007 season, with games beginning September 15. The Arlington Soccer Association provides recreational soccer for boys and girls in both Arlington and Falls Church. More information can be found at www.arlingtonsoccer.com or by calling Chris Madison at 703-248-5150.
Special Olympians Prep for Plane Pull
The Special Olympics Virginia is holding an impressive event Saturday, Sept. 8 at Dulles International Airport. More than 60 teams will be pulling a 157,000 lbs. Plane as part of the 15th Annual Plane Pull at the Dulles Day Family Festival. The first team on the rope will be a team of Special Olympics powerlifters. Throughout the afternoon ensuing teams will see how fast they can pull the plane 12 feet. The event begins at 11 a.m.
Recycling Extravaganza Approaches
The City of Falls Church is holding its Recycling Extravaganza September 8. This is your big opportunity to donate used electronics, textiles, eyeglasses, wheelchairs, bicycles and much more. All items will be recycled or donated to charity. The event will be held from 9 a.m. – 2 p.m. at the Falls Church Recycling Center at 217 Gordon Road in Falls Church.