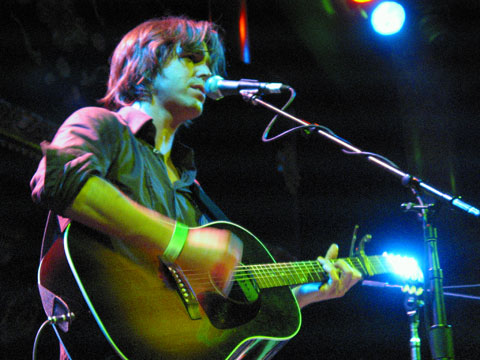 "We're kind of an Animal House frat rock band," Pietasters bassist Jorge Pezzimenti says. "When you see one of our shows, you can expect to have a good time."
Pezzimenti's statement is one that has held true ever since the D.C., punk/ska/soul/reggae/kitchen sink collective emerged in the early 90s. Blending genres like some kind of musical martini, the tunes of the 'Tasters have always gone down smooth. Of course, the concert experience can sometimes get a little rough. The band's unofficial motto: "It's not a good show unless somebody bleeds."
"Bleeding is always a good thing in rock and roll," Pezzimenti says today. "Let it bleed."
He's kidding. Sort of. The punk-influenced Pietasters never mind when their fans get whipped into a frenzy, but for the most part the statement is rooted in a dry humor that has permeated the bands' performances — and interviews — over the years. It's part of an outlook that has kept the band on course over the peaks and valleys of its time together.
The ska craze of the mid-to-late 90s came and went, but the Pietasters weathered the storm by staying true to their sound, according to Pezzimenti.
"The mainstream has changed a million times, but we've always done the same thing," Pezzimenti says.
With a new album out, All Day, the Pietasters are bringing their party-time punk/ska … etc. show to Fairfax's Royal Lake Park on Friday, August 10 where fans of all ages can see one of the District's all-time great cult acts for free.
Still flaunting the same mish-mash of music that fostered their rise during the latter half of the 90s, the eight-piece group, which also features Toby Hansen, Alan Makrancy, Jeremy Roberts, Jon Darby, Rob Steward and founding members Carlos Linares and Stephen Jackson, kicks off their latest studio effort with "Change My Ways." Featuring a group chorus of "I'll never change my ways," the song serves as an apt introduction for a band that has stuck to its roots through six studio albums.
"It's the same basic idea [on All Day]," Pezzimenti says. "We're making music heavy on '60s and '70s influences. The production methods have changed, but we started in 1993 and have had a similar sound throughout."
The Pietasters have recruited a plethora of fans with that sound, but none more famous than the Godfather of Soul, James Brown. Brown heard the band's critically-acclaimed 2002 album Turbo — titled after a nickname of former bassist Todd Eckhardt, who passed away in late 2001 — and asked the Pietasters to be his backing band for a 2003 show at MCI Center in D.C.
"James Brown has a reputation for being hard on his band. I was definitely terrified," Pezzimenti says. "He just has vocal cues [for when to end songs]. Or he'll point to his head and that's the end of the song. It was the only time I was ever nervous while performing."
Things are sure to be a little more relaxed on Friday at Royal Lake Park. The show starts at 7:30 p.m.
• For more information on the Pietasters, visit www.thepietasters.com.
Off-Track: A Calling and a 'Warning'

When Demetrius Doss asked the question, he didn't expect an answer.
Alone in an elevator car, Doss was thinking about Kanye West's song, "Jesus Walks," asked himself, "Why don't people make music like that?"
The answer came from nowhere: "Why don't you?"
Those words, which Doss believes were spoken by God, changed his life. He had been playing in a professional indoor football league, continuing a career in the sport that saw him play alongside both Byron Leftwich and Chad Pennington at Marshall University. That career ended the moment Doss stepped off of the elevator.
Now, with his EP, The Warning, under his belt, Doss is trying to make another change, this time to a hip-hop culture that he says is hung up on money, drugs and women.
"It seemed like people were making music just to make money," says Doss, who uses the stage name El Prezidino. "[Hip-hop artists] created these images and it seems like they think that if they stray from it they'll lose money or the support of their label."
Doss is building his own image around God, using a sign of three fingers — representing the Father, the Son and the Holy Spirit — and rhymes applauding acceptance and moral integrity to usher in what he hopes will be a sea change for the hip-hop industry. He also notes that the genre's landscape wasn't always about a gangster culture.
"Back in the 80s people were rapping about getting their lives right and getting their neighborhoods right," Doss says. "Once labels see a positive message that can sell records, we'll be able to get everyone's attention."
Doss has already garnered some attention, and some concern, for derogatory references to homosexuals in the lyrics of his track "Ain't No Sense."
"Sin is sin," Doss says. "I'm not gay bashing or anything like that, but as the Bible teaches it, being a homosexual is no different than stealing. I love all people. I have lots of friends with lifestyles I don't condone. But it doesn't mean I don't love them."
Doss has an upcoming live show scheduled in West Virginia, with another date in Manassas, Va. pending. For more information and updates on live shows, visit www.myspace.com/prezidino.