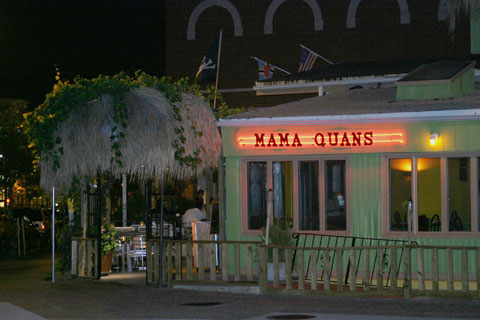 For those looking for an organic dining experience other your local health food store, look no further than Sunflower Vegetarian Restaurant. Originally located in Vienna, a new branch recently opened in Falls Church at the Seven Corners intersection of routes 50 and 7.
The food takes Japanese cuisine served up with a variety of unique and potent seasonings to create a diverse menu of healthy and tasty options for vegetarians, vegans and anyone looking for a healthy meal out. Devoted to using only organic ingredients, the restaurant even extends this philosophy to their flavorings and avoids additives like MSG.
For non-vegetarians, the dishes' sources of protein may become a guessing game. With more than your regular tofu and beans, menu items can include Japanese shiitake mushrooms, wheat gluten and soy products that are convincingly flavored to taste like your favorite meat and seafood products.
To start off, try the Japanese Style BBQ Kabobs ($7). The three skewers string up grilled summer squash, zucchini, soy protein, white and shiitake mushrooms, and sit on a bed of crispy rice noodles. The soy protein surprisingly looks and tastes like shrimp, and the chicken and beef-flavored mushrooms have a fluffy, yet juicy consistency.
For soups, the Thai Tom Yun Goong ($3.50) is recommended. Unlike most hot and sour soups found in Chinese cooking that mainly use pork and mushrooms, Sunflower's recipe calls for a more colorful variety of vegetables, including baby corn, bamboo shoots and snow peas. Tofu and white mushrooms are added to the mix that is strong on the tongue, yet light on the stomach.
One might think that if the restaurant features Japanese cuisine, there would be sushi on the menu. Well, while you won't find fish here, Sunflower's vegetable sushi rolls are still quite tasty. Try the Zen Roll ($6.50), with avocado, seaweed and cucumber, or the Rainbow Roll ($6.50) with carrots, cucumber and pickled daikon, a Chinese radish.
For entrées, the As-You-Wish Garden ($12) is a dream-come-true. The dish consists of fried pan noodles, mushrooms, snow peas, carrots and soft pieces of soy protein. The spicy ginger and basil sauce will enliven your palette, not to mention clear your sinuses. For something a little different, Orange Imagination ($12.50) is an interesting choice. It's a fresh combination that recreates a favorite breakfast beverage into a delicious dinner dish. The entrée marinates soy protein in orange juice, and includes snow peas, broccoli, pine nuts and orange slices. And for those who count carbs, all of the restaurant's entrées come with organic brown rice.
For something to sip on, try the Jujube and Longan Fruit Crystal Drink ($3). The light-pink beverage, served hot or cold, uses these tropical Chinese fruits to create a sweet, but not too-sweet taste. In the cold version, small red longan fruits the size of kidney beans are mixed in among the ice cubes — but trying to get them out of the glass is another story. Sunflower also has a variety of fresh organic juices, including orange and carrot juices ($5). For the adventurous, the Red Springhead ($6.50) is in order, with such ingredients as carrot, beet, spinach, apple and ginger.
Don't leave without dessert — since the restaurant's desserts don't include eggs, dairy, sugar or honey, one wonders how they can even be considered desserts. But have no fear, as choices like the Avocado Lemon Pie ($4.50) are definitely after-dinner treats. While daunting, the dark-green jelled filling is actually quite appealing to the taste buds. Sided with warm blueberry and lemon syrups, half the fun is just dipping between the two.
The happy yellow and green interior is reflective of the friendly and attentive service. The waiters, rather than donning formal, button-down garb, instead wear fun, brightly colored t-shirts sporting the restaurant's logo. Coupled with a wide variety of flavorful dishes, Sunflower is definitely a great restaurant not just for vegetarians.
Sunflower Vegetarian Restaurant
6304 Leesburg Pike
Falls Church, Va. 22044
703- 237-3888
www.crystalsunflower.com
Hours:
Monday – Saturday: 11:30 a.m. – 10 p.m.
Sunday: Noon – 10 p.m.