CELEBRATING FALLS CHURCH'S LOVE of Harry Potter at Monday's City Council meeting, Mayor Robin Gardner (top
photo) dons an appropriate chapeau to officially announce the City of F.C. came in first place in the nation in the number of pre-sales per capita of the new Harry Potter book on Amazon.com. The pre-sale period ended last Friday night. In the bottom photo, an Amazon.com graphic was displayed showing Falls Church at the top of a long list of the top competing jurisdictions. As a result, the City's library fund received a $5,000 gift from Amazon.com. (News-Press photos)
Congrats to Sewall
In the Spring 2007 semester, Patrick Sewall of Falls Church made the President's List at Patrick Henry College. To attain the President's List, students must receive a grade point average of 3.5 or higher and must have taken at least 12 credits that semester. Patrick Henry College is a Christian liberal arts institution established seven years ago in Purcellville, Va.

The Hunts Celebrate 50 Years
Buddie and Alma Hunt of Falls Church celebrated their 50th anniversary last month. They have lived in Pimmit Hills since 1963. Their three children, six grandchildren and four great-grandchildren all live in Manassas.
Volunteers Needed for Senior Home
Sunrise of Falls Church, a senior living facility, is seeking interested teens and adults to volunteer. They are looking for people to help out for three hours, three days per week and will aid with activities for the residents. The living center is located at 330 N. Washington Street in Falls Church. If interested, contact Michael Harab at 703-534-2700.
Feel Forever Young
Forever Young TV is hosting a luncheon on August 6 at the Old Country Buffet (Fair City Mall, Rte. 236 and Pickett Road) at 12:30 p.m. The "Cameo Jewels," participants in the Ms. Senior America pageants, will be present. For more information, contact Jim Seeley at 703-655-4205 or visit www.foreveryoungtv.org.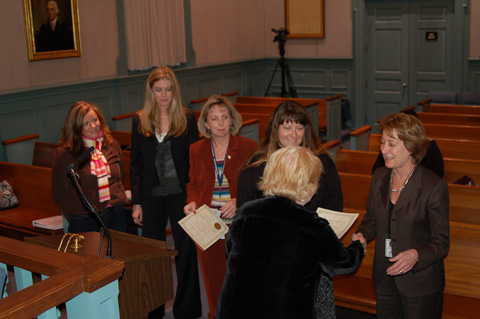 Local Dentist Makes the News
Dentist Dr. William Dougherty was recently featured in a Fox 5 News Morning broadcast for his volunteer work with the Northern Virginia Dental Clinic. To view the video clip, visit the "What's New" section of the dentist's website at www.doughertydds.com.
Washington U Students Make Honors
Two students from Arlington attained the Dean's List at Washington University in St. Louis: Emily Tabas and Ian Meyers.
Merkel Graduates from Colgate
Brett Merkel of Arlington graduated with a bachelor's in environmental geography from Colgate University. Located in Hamilton, N.Y., Colgate University is a liberal arts college with almost 2,800 undergraduates.
Congratulations to Cancian
John Wunn Cancian of Arlington graduated from Harvard University. Cancian graduated with a bachelor's in human evolutionary biology. He was also was the midshipman for the Naval Reserve Officer Training Corps.
George Mason HS to Host Cheer Clinic
The cheerleader at George Mason High School will hold a youth cheer clinic for ages five to 14 on August 27 – 29 from 4 – 6:30 p.m. Participants will learn sidelines, a dance and how to stunt. They will also receive a GMHS tee shirt, pom poms and reduced admission to football games. Tuition is $60. Contact clinic director Lance Logan at llogan@gmu.edu or Kristin White at WhiteK@fccps.org for more information.
Area Washington College Students Receive Diplomas
Four area students recently graduated from Washington College in Chestertown, Md.: Jin W. Song of Alexandria (bachelor's in biology), Eric Schiffer of Arlington (bachelor's in drama), Eric Lickstein of Fairfax (bachelor's in history, minor in politics) and Christina Kozemchak of Falls Church (bachelor's in biology). Washington College was founded in 1782 under the patronage of George Washington.
Local Architects Recognized for Design Excellence
The following Alexandria-based architects and architecture companies received awards by the American Institute of Architects Northern Virginia Chapter: David Jameson Architect, Inc. (three awards), Robert M. Gurney (three awards), Ritter Architects and Great Seal Incorporated.
Sewing Club Bears Gifts
Falls Church Sew and Go made over 100 colorful "hug me" bears to provide comfort for children being treated at Inova Fairfax Hospital for Children. The Falls Church Sew and Go is one of 12 neighborhood groups that make up the Northern Virginia Chapter of American Sewing Guild.
George Marshall HS Ranks Among Best Buddies Program
The Best Buddies chapter at George C. Marshall High School received the Outstanding Chapter Award at the 18th Annual Student Leadership conference for the Best Buddies program on July 20 – 23 at Indiana University. Nearly 1,300 students representing 22 countries attended the conference. Marshall was one of 22 chapters out of 817 to receive special recognition. Best Buddies is a non-profit one-on-one friendship program that helps people with intellectual disabilities.
Correction: A photo ran in the News and Notes section in the July 19 issue of the marriage of Edwin Henderson and Nikki Graves. The photo was credited to Henderson. Instead, the photo is by Bob Morrison.