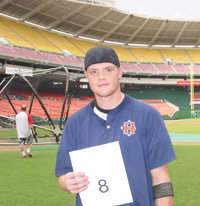 At the American Legion Department of Virginia's 89th Annual Convention, Department Commander Jerry Howard congratulates Chuck Timms of Post 130, Falls Church for receiving an award given by the National Vertans Affairs and Rehabilitation Commission of the American Legion. The event took place July 12 – 15 at the Fairview Park Marriott in Falls Church. (Photo: Courtesy Jimmy Jones)
Boston University Graduates Receive Diplomas
Congratulations to Yannos D. Misitzis, Erin V. Kelly and Sarah M. McQueen, Falls Church residents who graduated from Boston University this past May. Misitzis received a Master's degree in Psychology, Kelly graduated with a Bachelor of Science in Journalism and McQueen earned a Master of Divinity in Theological Studies.

Roanoke Students Make Dean's List
Arlington resident Emily Frahme Huston was recently named to the Dean's List for the Spring 2007 semester at Roanoke College. Amanda Emily Hagg of Dunn Loring, Va. also earned a place on the Dean's List. To make the list, students must be enrolled in at least four units during the term and earn a GPA of at least 3.5, with no grade lower than a "C."
Wedding by the Waves
Nikki D. Graves and long-time Falls Church resident Edwin B. Henderson II were married on July 7 at Highland Beach, Md. After the beach-side ceremony, guests dined in candlelight, danced to music from Memphis Gold and band, and finished the evening off with a bonfire under the stars.
Miller Named to Dean's List
Congratulations to Stephanie Miller of Falls Church who was selected for Randolph College's Dean's list for the Spring 2007 semester. Randolph College, located in Lynchburg, Va., names those students to the Dean's List who have achieved superior quality in academics.
Virginia Tech Students Toss Their Caps
On May 11, Virginia Tech honored the following Falls Church residents at the school's Spring Commencement Ceremony at Lane Stadium: Karan Grewal (bachelor's in business), Haley Dunn (bachelor's in business), Gregory Jackson (bachelor's in business), Melissa Jan (bachelor's in psychology), Erica Maier (bachelor's in human nutrition, food and exercise), John Arnold (bachelor's in business), David Macdonald (bachelor's in aerospace engineering), Sean O'Neill (bachelor's in economics), Colette Feri (bachelor's in English), Javed Khan (bachelor's in business), Jennifer Murphy (bachelor's in international studies), Chuong Tran (bachelor's in business), David Gould (bachelor's in business), Alexander Miller (bachelor's in industrial and systems engineering), Megan Ryan (bachelor's in sociology) and Joanna Sadler (bachelor's in psychology). Virginia Tech president Charles W. Steger presided over the commencement exercises.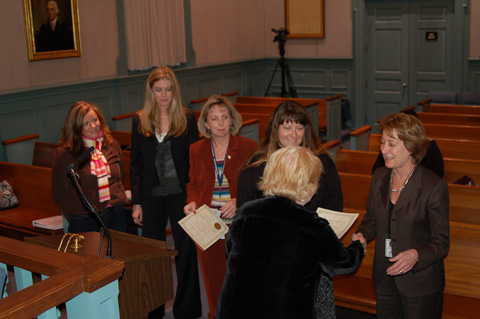 Sugrue Honored Twice
Sara J. Sugrue, Falls Church resident, 2005 graduate of George Mason High School and current Virginia Tech student, received the invitation to join The National Society of Collegiate Scholars Honor Society at Virginia Tech and the Gamma Beta Phi Honor Society – Virginia Tech Chapter. Both societies honored Sugrue for earning straight A's throughout her college career.
Nichols Selected for Dean's List
William Nichols of Arlington, son of Dr. Len M. Nichols and Deborah S. Nichols, earned a place on the Dean's List of Emory College for the Spring 2007 semester. Students must place in the top 20% of Emory College or have at least a 3.853 GPA to make the Dean's List. Emory College is the undergraduate, liberal arts college of Emory University in Atlanta, Ga.
McKibben-Sanders Honored
Arlington resident Jeremy McKibben-Sanders, son of Linda McKibben and Karl Sanders, was recently named to the Oxford College's Honor List for the Spring 2007 semester. Honor List students must earn a cumulative GPA of 3.50 or higher. Oxford College is the two-year liberal arts division of Emory University.
Campanelli on Dean's List
Loyola University announced Andrew Campanelli of Falls Church as a student selected for its Dean's List for the Spring 2007 semester. Students with a 3.5 GPA or higher are eligible for this honor.
Local Earns Honor
At the University of Vermont, Falls Church resident Amanda Sugrue earned a placement on the Dean's List for the Spring 2007 semester. Students must have a GPA of 3.0 or better, as well as rank in the top 20% among their peers to make the Dean's List. Sugrue is studying toward a public communication major.
Sending Off Northern Virginia Students
The Virginia Tech/University of Virginia Northern Virginia Center (7054 Haycock Rd., Falls Church) is holding a time of reflection and dedication for Virginia Tech and UVA students returning to school for the Fall 2007 semester. During the event, beginning at 11 a.m., attendees will dedicate a tree and a Hokie Stone Bench. Alumni and supporters are invited. Guest speakers will include representatives from Virginia Tech's Hokies United, Virginia Tech's Director of the Northern Virginia Center Karen Akers and UVA Director Patrick Valentine.
Shop for Falls Church Arts
On July 24, the Chico's retail store at Tysons II Galleria (2001 International Dr., McLean) is hosting a Wardrobe Party to benefit Falls Church Arts, a nonprofit community arts organization. From 4 – 8 p.m., Chico's will donate 10% of all sales to the nonprofit, which promotes visual and performing arts in the area.
Metzler Graduates
Congratulations to Meredith Metzler of Falls Church, who earned a bachelor's in English cum laude from Carleton College. The university held its 133rd commencement exercises on June 9.
Bledsoe Receives Fund
Arlington resident and Agnes Scott College student Kelley Bledsoe won the George Thompson and Mardia Brown Fund for Asian Studies for the 2007 academic year. The award is given to those Agnes Scott students who exemplify academic achievement and who will focus on travel or studies related to Asia.
Emory University Graduates Celebrate
On May 14, Arlington residents Stephanie Yoder graduated with a bachelor's from Emory College of Emory University and Emily Churchman and Alexis Forman both received a master's of public health from the Rollins School of Public Health. Emory University held its 162nd commencement ceremony in Atlanta, Ga.
Offenburger Dons Graduation Gown
Congratulations to Thomas Daniel Offenburger of Falls Church who graduated with Honors from the Model Secondary School for the Deaf. The graduation took place on June 15 in Washington, D.C.
VPIS Dedicates Garden
On July 7, members of the Falls Church Village Preservation and Improvement Society (VPIS) gathered at Lou Olom's house to dedicate a garden project to Sue Olom, Lou's wife, who for 40 years was an activist and volunteer in the area. VPIS is an organization committed to the beautification of the City of Falls Church.