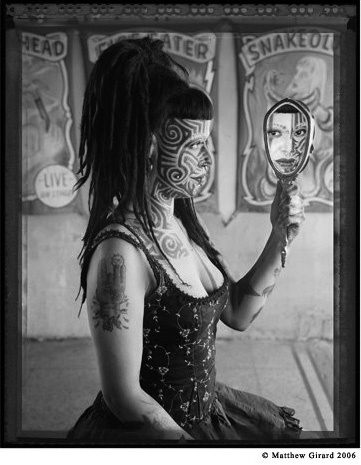 Ryan Carr Johnson's 'Blotter Acid Phase #10' painting at McLean Project for the Arts biennial Strictly Painting 6, through July 28.
'Strictly Painting 6; ColorField Revisited'
Through July 28, at McLean Project for the Arts, on the second floor of the McLean Community Center, 1234 Ingleside Ave., McLean, VA. Gallery Hours are Tuesday through Friday 10 a.m. to 4 p.m., and Saturdays 1 to 5 p.m. For more information call (703) 790-1953, or see www.mpaart.org.
Last week we had the annual Bethesda Painting Awards, this week it's McLean Project for the Arts (MPA) biennial painting competition. Strictly Painting 6 used this spring/summer's area wide ColorField events as it's theme. Like most of the contemporary ColorField shows this year, it searches for a link to past glory in the Washington Color School movement. Problem is no real link exists, so "influenced by" is about as close as anybody can get. In fact, many of the original color school artists attempted to dodge the label as if it were more of a stain on their reputation than their canvases. Be that as it may, Hirshhorn Gallery of Art assistant curator Kristen Hileman did an admirable job of selecting 27 works by 21 artist well worth seeing.
While ColorField painting is thought of as a form of non-objective abstraction, Hileman has included a couple of choice representational works. The mono-chromatic green roller-derby image titled "Mint Crème" by Cory Oberndorfer, certainly seems at home here. However Andrew Wodzianski's heavily cropped image of what seems to be a yard troll ornament at dusk, with barn in the background, titled "Coulrophobia 8" (the fear of Clowns, in case you're wondering), seems oddly out of place. On the other hand, it's an interesting image, and certainly worth seeing. Wodzianski's other painting here, '10-31-05 No. 4' is an apparent abstract that we wouldn't think twice about if it weren't beside "Coulrophobia 8." "10-31-05 No. 4" is made up of orange diagonals that gradate to black as they move away from us. It's dynamic and forceful, yet beautiful at the same time. It's one of my favorite pieces in this show. In context with the other painting, the diagonals now read as architectural beams of some sort, as they're in perfect perspective, that not being an easy thing to do.
2006 Corcoran grad Ryan Carr Johnson has two paintings from his "Blotter Acid Phase" series. Shattering his painting hand while working on his senior thesis, Ryan had to come up with an ambidextrous way of working but quick. He landed on the notion of painting panels with many layers of various colored latex house paint, then hand sanding them. The resultant images resemble infra-red color photos of microscopic stuff under high magnification. It's impressive work to be sure. All indications of painterly activity has been obliterated by the sanding process. The surface is smooth as glass, yet undulates with differing depths of sanding that reveal the various colored layers.
The image texture comes from halting the sanding process at the fine edge of transition between color layers. Thus each color is peppered with under tones, that resemble grain in photos. It's captivating work.
Without a doubt, the most fun piece of all would have to be Suzanna Fields' piece titled "Empathy." Here we find a 14 inch circle covered with thousands of purple follicles tipped in pink. It looks like a furry stress ball squashed flat, or something plucked off Phyllis Diller's head from years ago.

'The Fabric of Memory'
By Catherine Day, "The Fabric of Memory" is in the Atrium gallery just outside the Strictly Painting 6 show. These 11 photos printed on fabric couldn't be much further away in look and feel. Here we see images of grave sites pieced together from multiple layers of printed fabric. Occasionally diaphanous, at other times opaque. Each image features some simple grave site memorial with fairly generic text such as "Father," "Mum," "In Loving Memory."
All but one of the images are purely black and white. The edges vignetted in a fashion recalling the early days of photography where all the various photographic processes were suffixed with "-otype". Which gives these grave side images a solemn time worn feel.
The veil material they're printed on draws the viewer in by offering a view of the graves as if you were looking at them through the mesh of a black mourning veil. It's quite an introspective effect, that hits hardest with two images titled "Baby I" and "Baby II." Here we seem to experience the extended mourning, and eternal pain of a mother pining for her lost child.
As dark as the 'Baby' images are, 'Kneel & Pray' has a purity of light about it. The kneel and pray stone sits before a glass reliquary of sorts, with two wing like white areas beside it. If you knelt and preyed in the appointed spot you'd be engulfed in an angelic embrace. All deep and thoughtful stuff to be sure.
The lone image not rendered in tones of black, is a sepia colored image of the artist's dead grandmother titled "Ouida." As a pure portrait this print on fabric seems especially life like. The fabric has texture, and shape not readily available to traditional paper printing of processes. Here the image seems almost alive. The effect is hard to beat as a reverential image of one's predecessors.

Art In Falls Church
Falls Church Concerts in the Park series. This Thursday evening, July 12, starting at 7 p.m. The Shebeens will provide Irish music and dance, while Christy Gavitt shows her photography. NEXT week, July 19, Sudden-M-Pac Band will provide R&B/Jazz music , while Bill Abel shows his paintings. All for FREE in Cherry Hill park on Park Avenue in the heart of Falls Church City.
Ruth Trumbo and Virginia Croft Lopez will exhibit their work at Curves through the month of July. Curves is located at 240 W. Broad Street (703) 536-0140. Men must call for an appointment to view the work.