For the first time in the history of the Falls Church Kiwanis Little League, all three All-Star teams emerged from their respective brackets into the playoffs for Virginia's District 4. In addition to Falls Church, District 4 includes teams from Alexandria, Arlington, Great Falls, Mason District, McLean, Reston and Vienna. Despite valiant efforts by the local boys, the 9-10 and 10-11 teams both lost their semifinal playoff games on July 9 at Westgate Field.

The 11-12 All-Stars will play their semifinal playoff game on Friday, July 13. A win there will put them into the District championship game on the 14th, with a trip to the state tournament awaiting the winner.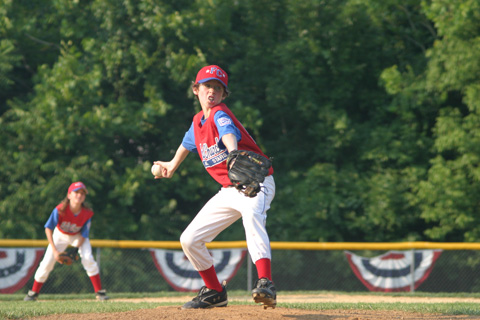 "This is a great accomplishment for our league," League President John Boyle said. "To have all three of our All-Star teams make the playoffs is a testament to the hard work of our coaches and players, and to the strong support we enjoy from parents and the community."
11-12
On Tuesday, July 3, the 11-12 All-Star team used steady pitching and timely hitting to defeat Arlington National, 12-2. A two-run homer in the first inning gave Arlington an early lead, but Falls Church came back quickly in the bottom half of the inning, as shortstop John Todd's single drove home Mitch MacKeith, who had singled to right field and advanced to third base on two passed balls. With runners on first and third in the top of the second inning, a potential rally by Arlington was stopped when Falls Church center fielder Richard Marsh made a great throw to Hayden Hall at second base to get the third out of the inning. Falls Church drew even in the bottom of the second inning when outfielder Tyler Waters drilled a double to right field, scoring second baseman Hayden Hall who had drawn a lead off walk. Pitcher Frankie Hall held Arlington scoreless during his three innings of pitching duty.
The Falls Church bats got hot again in the bottom of the third with a double by catcher Michael Evans, singles by third baseman Clint Rock and first baseman Joey Gorman, a sacrifice fly by outfielder Mark Hilliard and a clutch, two-run double by Hayden Hall to put the local nine ahead 4-2. A lead-off single by MacKeith in the fourth inning was followed by five consecutive hits, highlighted by a two-run double by Michael Evans and Clint Rock's two-run blast over the right-centerfield fence. The game ended when Todd was hit by an Arlington fastball with the bases loaded to score Gorman, following hits by Frankie Hall, Hilliard, second baseman Dalton Taylor and Waters. With the score 12-2, the District's "slaughter rule" was invoked, and the game was over.
On Friday July 6, the 11-12 All-Stars advanced to the semifinals as starting pitcher Mitch MacKeith earned his second win, leading the way to an 11-0 victory over Arlington National at Westgate's Eagle Field. MacKeith battled from the opening pitch as he scattered four hits and used five strikeouts to hold Arlington scoreless over five innings. With runners on first and third in the top of the first inning, MacKeith worked out of a jam by getting a strikeout and relying on the strong arm of catcher Michael Evans to nail an Arlington runner at second base for a key out. Evans came through in the bottom half of the inning as well, as he doubled in the right center gap to score outfielder John Todd and shortstop Frankie Hall to put Falls Church ahead 2-0.
Arlington threatened again in the second inning with two consecutive singles but MacKeith used a variety of pitches to keep Arlington off balance at the plate, with his three strikeouts ending a potential rally. Falls Church used singles by MacKeith and outfielder Tyler Waters, as well as a number of passed balls to produce two more runs in the bottom half of the second inning to gain a 4-0 lead. Falls Church expanded the lead to 7-0 in the bottom of the fourth inning when Evans collected his third hit of the night, scoring MacKeith and Hall. MacKeith cruised through the last few innings on the mound using his defense to support his pitching effort as second baseman Dalton Taylor snared a sharp line drive and a made a nice backhand stop of a ground ball to get a runner at first and prevent any comeback by Arlington. After outfielder Richard Marsh stole second and scored on Hayden Hall's single to left field, MacKeith put the finishing touch on a great evening, as he ended the game when he crushed a three-run homer to right center, scoring Hall and Waters and thus ending the game on the slaughter rule.
On July 7, the team lost in a slugfest against McLean American. Despite the loss, Falls Church advanced to the semifinals as the second seed. McLean took an early 6-0 lead over F.C. Red and held on to advance as the top seed in the bracket with a 15-9 victory. Falls Church battled back from the large deficit in the first inning, using solo home runs by center fielder Mitch MacKeith and catcher Michael Evans. Outfielder Richard Marsh was part of a big fourth inning which enabled Falls Church to cut the McLean lead to 10-9 as he smacked a line drive over the centerfield fence scoring outfielder John Todd. The inning included singles by shortstop Frankie Hall, Evans and third baseman Clint Rock. Hall had a notable day at the plate, finishing 3-for-4 with a double, two singles and two runs scored. McLean used a myriad of hits in the top of the sixth inning to score five more runs and close out the game.
10-11
The 10-11 year-old team earned its way out of pool play and into the semifinals of the District Tournament with a 13-9 win over a scrappy McLean National team on Tuesday, July 3. Falls Church got off to a quick start, scoring six runs as Vijay Menon, Vincent Kanyan, Alex Handley and Lucas Cherry drew walks, Anthony Wagner was hit by a pitch and Matt Ledder, Ethan Anderson and Vijay Menon tallied singles to notch the runs. In the bottom of the inning, Falls Church starting pitcher Alex Handley struck out the first batter and got the second batter to pop up to first baseman Austen Adcock before allowing a run. Handley got the final out on another catch by Adcock.
In the top of the second, Falls Church earned three more runs, as Ledder ripped a double to deep center, Anderson reached on an error and Maggie Goldsmith hit a liner to center for a single. Adcock and Alex McMillen walked and Menon got his second single of the day before Falls Church was retired leading 9-1. In the bottom of the inning, McLean managed five runs before Goldsmith entered for Falls Church to put out the fire. Falls Church added two more in the top of the third, as Ledder collected his third hit of the day, Anderson walked and Nick Roberson and Goldsmith were hit by pitches. In securing the 13-9 victory, Falls Church hurler Jones allowed only one run in his four innings of relief.
On July 2, Falls Church fell to Vienna Colonial 10-3 for its only loss in pool play. Solid pitching by starter Ethan Anderson could not overcome the combination of four Vienna singles, a double and some fielding miscues by Falls Church, as Vienna collected five runs in the first two innings of play. Vienna added a run in the third and three in the fourth before reliever Lucas Cherry put a stop to Vienna's advances. Goldsmith, Adcock and Menon shared pitching duties in the fifth and sixth innings.
Falls Church finally got some offense going in the fourth, as Anderson and Handley poked singles and Anderson scored. In the fifth, Menon and Wagner led off with singles, only to be stranded. In the sixth, Handley walked and Adcock singled, with both coming around to score. Menon and Ledder also singled in the inning, but were left on base, as Vienna held on for the 10-3 victory.
The Falls Church 10-11 All-Stars fell to the Vienna National team 20-5 on July 9 in the semi-final game of the District 4 Tournament. Falls Church starter Ethan Anderson was solid in four innings, but Vienna's powerful hitting and less-than-stellar defense combined to put Falls Church in a deep hole. Falls Church showed some life in a fourth inning rally, as Vijay Menon's three-RBI triple brought Falls Church within six runs. Hits by Matthew Ledder and Lucas Cherry set the stage for a late Falls Church Red rally that never materialized.
9-10s
On Monday, July 9, the 9-10 All-Star team's season ended with an 11-4 semi-final loss to Vienna National. Vienna National then went on to win the District 4 tournament and will represent the district at the state tournament next week. Falls Church completed its season with a 4-2 record, the third-best record of 13 teams in a very competitive District 4 tournament.
On Wednesday, July 4, the team won its fourth-straight game with a 17-5 victory over Arlington National. Falls Church jumped out to a 4-3 lead in the first inning with Ben Torpey and Daniel Butler both batting in runs with two outs. The team did not trail once during the game. Pitchers Jamie Handley and Ryan Leonard allowed only two more runs over the next three innings. Leonard, who went 3-for-4 at the plate, struck out six batters over three innings. Sam Selby pitched the final inning to seal the victory.
In the third inning, Falls Church advanced their lead with a triple from Daniel Schlitt and blew the game open with an eight-run fourth inning. Leonard and Selby hit doubles to bring home two runners each. Will Iaccobucci also hit a double during that inning to drive in one run.
On Thursday, July 5 Falls Church fell to Vienna Colonial 8-2, but qualified for the tournament semifinals based upon its overall record. Continuing their strong hitting, Patrick Evans went 2-for-2 and Will Iacobucci had a hit in his only at bat, while the rest of the team was handcuffed by the strong pitching of Garrett Zoukis. Zoukis threw five and one third scoreless innings and also smashed a home run to help his cause.
In the semifinal game on July 9 against Vienna, Falls Church grabbed a 3-1 lead in the third inning off a triple from Tim Carr, who drove in Kieran Menon and Josh Rankin. Patrick Evans blasted a double to bring Carr home, but the strong batting could not overcome Vienna's rallies in the fourth and fifth innings, when the team scored nine runs off of consistent singles and some shaky defense by Falls Church. Falls Church's final run was scored when Josh Rankin singled to drive in Ryan Leonard. Vienna was led by Cal Brown who was 3-for-3 at the plate and scored three runs.