The Virginia Silver Stars of Falls Church won the silver medal for competing in the 80+ age group at the National Senior Games held in Louisville, Ky. From left: coach Hess More, Ginny Fent, Bernie Kleinschmidt, Mary Boska, Josephine Stewart and coach Patricia McWethy. (Photo: Courtesy Elizabeth Martin)
Skateboard Competition
Grab your skateboard – Mid-Atlantic Skate Series is coming to town. Each division will skate in jam session format and the top four skaters will be selected from each division. It will take place at Powhatan State Park (6020 Wilson Blvd., Arlington, Va.). Registration begins at 8 a.m., competition starts at 9:30 a.m. An awards ceremony will follow the competition. There is an entry fee of $20, plus the $4-6 skatepark entry fee. Visit www.ledopizzaskateboardseries.com for more information.
Congratulations to Vanderplas
Samuel Vanderplas of Fairfax recently graduated from Geneva College in Beaver Fall, Pa. with a degree in biblical languages. Geneva College is a reformed Christian liberal arts school.
Exercises for Meditation
Balanced Bodies Pilates Studio will hold a pilates workshop for meditators on August 4 from 11 a.m. – 12:30 p.m. It is designed for meditators who have back pain. The $20 charge will be donated to Vajrayogini Buddhist Center. It will take place at 445-B Carlisle Drive, Herndon, Va. To register, call Sharon at 703-623-8340.
Two Marshall HS Seniors Win Scholarships
George C. Marshall High School seniors Will Blakeley and Eugenia Joya have each been awarded $1,500 scholarships from Acacia Federal Savings Bank for demonstrating the bank's philosophy of "Hard work. High standards. Helping others." Joya and Blakeley were chosen from over two dozen applicants.
William and Mary Dean's List
The following students from Falls Church made the Dean's List at the College of William and Mary in Williamsburg, Va. for the spring 2007 semester: Selma Alamin, Maya Cough-Schulze, James Evans, Isaac Garon, Amy Leinkram, Stacey McDermott, Laura Parente, Loretta Scott, Kendall Stone, Jonathan Costa, Jessie Di Gregory, Cosmo Fujiyama, Christopher Landry and Jonathan Oh.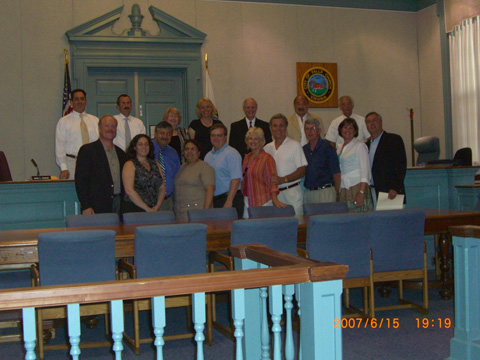 Students must receive a 3.6 grade point average and take at least 12 credits during that semester.
Picnic for Senior Citizens
The Annual Senior Citizens Picnic will take place on July 21 at the Nanny J. Lee Recreational Center (1108 Jefferson St., Alexandria) from 11 a.m. to 4 p.m. The event is free and will include bingo with prizes, singing and food. RSVP is recommended. Call Wallace Costner at 703-255-2175 to RSVP and if transportation is needed. The recreational center can be contacted at 703-838-4845.
New Music School Coordinator Announced
Patrick R. Merkel has been named the Campus Coordinator of the Levine School of Music's Arlington campus. The Levine School of Music is a non-profit community music school based in Washington, D.C.
Tuch Makes Dean's List
Rebekah Tuch of Arlington was named to the Dean's List for the spring 2007 semester at Stonehill College. Students must receive a grade point average of 3.5 or higher to be eligible for the Dean's List. Stonehill College is a coeducational Catholic college in Easton, Mass.
Congratulations to Marion DeCarlo
Arlington's own Marion DeCarlo made the Dean's List at the University of New Haven for the spring semester. To be eligible for the Dean's List, students must attain at least a 3.5 grade point average. The University of New Haven is a 2,400-student private institution located in West Haven, Conn.
Women's Basketball Teams Compete in Senior Games
NOVA United, a senior women's basketball team in Falls Church, recently sent five teams to the National Senior Games in Louisville, Ky. The Virginia Silver Stars, NOVA's 80+ team, won the silver medal for their age group. Other teams competed in the 50+, 55+, 60+ and 65+ age groups.
McMullen on the Dean's List
Owen McMullen who hails from Falls Church has attained the Dean's List at Drake University by earning a grade point average of 3.5 or higher. Drake University is a private institution in Des Moines, Iowa.
Calling All Volunteers
The Literacy Council of Northern Virginia needs 150 volunteer tutors to aid area adults to speak, understand, read and write English. There will be three training workshops: August 4, 11 and 18, 9:30 a.m. – 1:30 p.m. A $35 training fee will cover books, material and instruction. The training will take place at James Lee Community Center (2855 Annandale Rd., Falls Church). Call Belle Penaranda at 703-237-0866 for more information.
Congrats to Mary Washington Students
The following students made the Dean's List at the University of Mary Washington by receiving at least a 3.5 grade point average during the spring 2007 semester: Sabrina Askari, Sara Bahraini, Vanessa Blaney, Catherine Connor, Taylor Edwards, William Henneberg, Philip Newton and Rebecca Parson.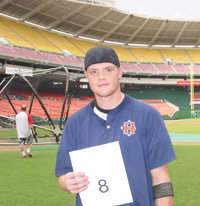 Aladdin's Lamp Book Club
Aladdin's Lamp (2499 N. Harrison St., Suite 10, Arlington) will host a weekly book club for rising fourth through seventh grade students. They will meet Thursday evenings at 7 p.m. through July 26. Gift certificates will be awarded at the end of the program. Registration required. Call 703-241-8281 or email aladlamp@speakeasy.org for more information.
Harry Potter Party
Celebrate the release of the newest Harry Potter book on Friday, July 20, 10 p.m. – Midnight at Aladdin's Lamp Children's Books (2499 N. Harrison St., Suite 10, Arlington). The store will begin selling books and handing out pre-sold books at midnight. Light refreshments will be served. Please register at 703-241-8281.
DAR Essay Contest Winners at St. Luke
Three students from St. Luke Catholic School in McLean won the 2006-2007 District of Columbia Daughters of the American Revolution essay contest titled "Jamestown Colony is Settled" for grades 5-8. The winners are: Elizabeth Condo (sixth grade), Julie Lewis (seventh grade) and Megan Ryan (eighth grade). Students were told to compose a letter as though they had been among the first to travel with Captain John Smith to the new world.
State Pageant Finalist
Martha-Grace Burkey of Falls Church is a state finalist in the National American Miss Virginia Pageant that will be held on July 30 at the Hyatt Hotel in Reston, Va. Burkey is a rising sophomore at George Mason High School.
Lesbian and Gay Support Group
Metro D.C. PFLAG support group will discuss issues of coming out for parents, families and friends of lesbians and gays on July 12 at 7:30 p.m. The meeting is free and will be held at Temple Rodef Shalom (2100 Westmoreland St., Falls Church). For more information, call 301-439-3524 or visit www.pflag.org.
Wright Graduates from Moore College
Falls Church resident Chloe Wright graduated with a bachelor's in Illustration from Moore College of Art and Design. Based in Philadelphia, Moore College is the only women's fine arts school.