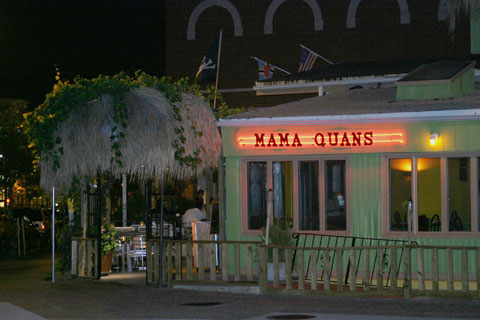 Artie's may not be the first name that comes to mind when thinking of American cuisine.

However, the Fairfax restaurant takes what our country is known for — salads, burgers, steaks and more — and dresses it up a little. What you leave with is a happy stomach and a new, classier definition of American food.
The restaurant, while it is an upgrade from a casual burger place like Fuddrucker's, is multi-purpose, perfect for families, friends or dates. It's roughly divided into three sections, the bar, a main room and a side room. The main room has a warm, cabin-like feel while the other room features siding covering its walls, giving off a more nautical sensibility. All sections are waited on by a team service system, which makes for different faces serving at each course.
The biggest surprise of the meal came at the beginning. Most restaurants bring a basket of bread to the table for munching, and whether it is sourdough or wheat, the variety usually doesn't get too exotic. Artie's bread basket, instead, is full of raisin bread, sweet herb butter and beignets. These munchkin look-a-likes are salty rather than sweet, bite-sized, warm to the touch and can distract you from looking at the menu.
Once you are able to focus on ordering, there are several good choices for appetizers, including regular favorites like Hot Spinach & Artichoke Dip ($9), Crispy Fried Calamari ($8) and Firecracker Shrimp ($8). The Blue Crab Fritters ($7) come three to a plate, in a delicate pool of lobster ginger butter and grilled corn salsa. It's a feast for the eyes as well as the stomach, and successfully combines crunchy and soft elements.
The salads can only be described as a medley of textures. In the Warm Goat Cheese and Spiced Pecan Salad ($8), there's the fresh crunch of the lettuce, the chewy cranberries and the melt-in-your-mouth dollop of goat cheese. If you'd like something on the light side, Artie's offers small salads like the goat cheese and pecan salad, as well as a Traditional Ceasar ($5) and Chopped Salad ($5). Or, if you like a salad for an entree, go for a more substantial dish of leafy greens, such as the Boathouse Steak Salad ($15).
The most difficult decision of the meal is deciding on an entree. The possibilities are endless: chicken, pasta, steak, seafood or perhaps a combination. The Jambalaya Pasta ($16), a colorful blend of shrimp, chicken, andouille sausage and penne pasta, is waiter-recommended and will satisfy any craving for spicy food. Try the Pecan Crusted Trout ($17), a white fish dusted with pecans and accompanied by arugula and parmesan potatoes. Beef lovers can choose from a variety of cuts, such as the rib-eye steak or the more tender filet mignon. These two are dressed to impress; the rib-eye is hickory-smoked and the filet mignon comes with a Béarnaise sauce, a French dressing.
And now what we've all been waiting for: dessert. Artie's dessert menu is sweet but not too short, offering delights from Vanilla Bean Crème Brulee ($5) to the never-out-of-style Deep Dish Apple Pecan Pie ($6). The Warm Flourless Chocolate Waffle ($6) is a restaurant favorite. Dig your spoon into this one and you'll find chocolate sauce oozing out, mingling with the caramel-topped vanilla ice cream.
Stop by the restaurant on Old Lee Highway for lunch (more burgers and sandwiches) or dinner (more stand-alone meat dishes), and you'll find yourself caught up in Artie's new spin on the classic American.
3260 Old Lee Hwy
Fairfax, Va. 22030
703-273-7600
Hours:
Sun. 10 a.m. – 10 p.m.
Mon. 11:30 a.m. – 10 p.m.
Tues.– Thurs. 11:30 a.m. – 11 p.m.
Fri.11:30 a.m. – Midnight
Sat. 10:30 a.m. – Midnight