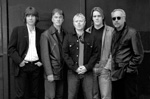 There was once a time when Charlie Bernardo stood upon the precipice of a recording contract. The offers were there, lucrative ones at that, all he had to do was say "yes." But something didn't feel right for Bernardo, the seventh of 10 children born to Cuban parents who immigrated to the U.S. just before Fidel Castro took power. Back then, in 2002, he was a solo artist. Perhaps it goes back to the rather crowded branch of his immediate family tree, but the one-man act wasn't washing for him.
"There was a different band for the studio work and a different band for the tour," Bernardo recalls. "There was no camaraderie. I didn't enjoy it at all."
When he took into account a few other factors, such as his feeling that the labels making the offers wanted to plug him into the boy band model, Bernardo took a pass.
Now as the frontman of D.C.-area rockers The Sketches, forming for the first time in 2005, Bernardo is seeking out camaraderie more than ever.
"A year ago, we did a show at 9:30 Club with [the since-disbanded] Monopoli and Army of Me," Bernardo says. "One of the things I said during the show was that there were a lot of good D.C. Bands out there that might not necessarily be from the [more locally appreciated] punk genre. I just wanted them to know that the bands were working really hard."
Examples like that have shown how Bernardo has aided his local peers. He spent this past Tuesday night passing out fliers advertising a performance by Army of Me on "The Late Late Show with Craig Ferguson." With The Sketches frequently performing in New York City, Bernardo has started what he calls "D.C. – New York," where The Sketches join two or three other D.C. bands for a night of music in NYC once every two months.
"We really try to champion D.C. bands," Bernardo says. "It's a nice network of support."
The Sketches have benefited from that support as well. The band recently locked up a four-night residency at Arlene's Grocery in New York, playing with The Cringe, a New York band famous for its sound as well as its lead singer's marriage to Rachael Ray. The Sketches first hooked up with The Cringe through their relationship helping out The Upwelling, another New York band with Maryland roots that Bernardo has fervently supported.
Call it musical karma.
The Upwelling recently toured in support of Third Eye Blind's reunion tour and a European stint with All-American Rejects and now Bernardo hopes The Sketches can land in a similar scenario by mingling with the "famous" friends of their friends.
"Vince [Scheuerman, frontman for Army of Me] is a super supportive person," Bernardo says. "Last time out at Jammin' Java he introduced me to one of the guitarists from O.A.R. who he brought out to the show. It would be nice to jump on a long tour and get lucky like some other guys are doing."
When The Sketches do play out, which includes a show July 6 at IOTA Club and Cafe in Arlington, they'll be featuring tracks off of their newly released LP Secret Alphabet.
"My brother, Manny, pointed out that I was really good at writing ballads and writing darker stuff, but it seemed like I didn't have any fun," Bernardo says. "Of course with a family as big as ours I have a whole lot of neuroses to draw from.
"This album is a lot more upbeat. The live shows have been a lot more fun to play. I'm just trying not to take myself as seriously as I always have."
The tracks have Grammy-winning mixer Michael Barbiero all in a tizzy, a notable feat, considering he has worked with bands like Guns N' Roses and Metallica. Barbiero's involvement again stemmed from Bernardo's increasingly lengthy list of contacts.
"I worked with him back when I was recording demos for my solo stuff and he thought it was something fresh," Bernardo says. "I called him to ask if he would mix the new album and he told me, 'Send a track and we'll see.'"
Bernardo sent him new-track "Pieces" and Barbiero "flipped over it." He insisted on mixing the whole album. Now, with a permanent band — a group that includes drummer Dave Magazine, bassist Greg Watkins and Bernardo's brother Manny on lead guitar and keys — Bernardo is ready for another round with the record companies. And this time, with a network of friends and supporters alongside him, Bernardo will be anything but alone.