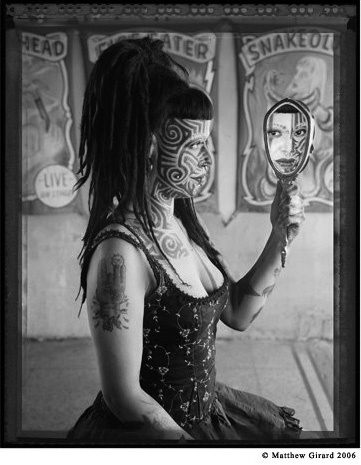 One of two sink paintings by grand prize winner Matthew Klos in the $14,000 Bethesda Painting Awards through tomorrow, Friday, July 7, at Fraser Gallery in Bethesda, Md.
What better way to celebrate the 4th of July week than with a little 'freedom of expression' art?
'Bush Leaguers: Cartoonists Take on the White House ' through July 29, at American University's Katzen Art Center Museum, 4400 Massachusetts Ave, NW Washington, DC. Museum Hours: 11 a.m. to 4 p.m. Tuesday through Sunday. Metered underground parking (free on weekends). For further information call (202) 885-1300, or see www.american.edu/academic.depts/cas/katzen/index.cfm
Editorial Cartoonists are the artistic equivalent of the kid in the back of class who always spoke up at the wrong time with some witty remark that cracked up the class and earned him an immediate trip to the principal's office. 'Bush Leagugers' is a viciously wicked funny show of artistic 'knee capping' on the Bush Administration over the course of his term in office. It should be pointed out that the editorial cartoonists job is to pillory whomever is in office and making a mess of things, regardless of party affiliation. Bush simply has his name on the door at the moment. Of course it doesn't hurt that Bush's approval ratings are in the gutter, and there's more than enough mess to make artistic fodder of.
'Bush Leagugers' displays the work of over 80 editorial cartoonists with a total of 99 original cartoon renderings, as they went to print over the past seven years. There are Pulitzer prize winners in this lot. These guys have been pumping out Bush administration cartoons on a daily basis for seven years. As they say, these are the best of the best of the best. These guys don't cut to the bone, they're going for marrow….
Of special note in the crowd is Alexandria resident, and 2002 AU grad Nate Beeler. Beeler took a rather obtuse approach to entering the field of editorial cartooning. He started editorial cartooning in high school, and continued to do so in the college paper. However, he got his degree in print journalism, and went on to work as a copy editor before making the jump to professional editorial cartooning. His work is now seen in several papers around the country.
For serious Editorial cartoon fans.. This show marks the 50th anniversary of the Association of American Editorial Cartoonists (AAEC, see editorialcartoonists.com/) and coincides with their annual convention which happens to be in town this week. Attendees will be bringing work with them to display in two 'pot luck' type shows in the Cabinet Room at the Mayflower Hotel, 1127 Connecticut Ave NW, Washington, DC. One show of special interest will feature work killed by editors. You just have to wonder what they came up with that was so outrageous editors felt they couldn't be run in the paper. Those two shows will be up through 5 p.m. Saturday. Though knowing how conventions go, and the way they close down so people can travel back home, I wouldn't push that time frame too much. If so inclined, see it as soon as possible.
'Bethesda Painting Awards' through TOMORROW, Friday, July 7, at Fraser Gallery, 7700 Wisconsin Avenue, Suite E, Bethesda, MD 20814. Gallery Hours are Tuesday though Saturday: 11:30 a.m. to 6 p.m. Call (301) 718-9651 or see www.theFraserGallery.com
In general you like to review art shows before they close… well, this one dropped off the radar screen, and barely makes it by the narrowest of margins. You weren't actually planning on gong back to work this week were you? Well this show is just thing for that scratchy throat and hacking cough you've suddenly developed.
Carol Trawick began the Bethesda Painting Awards in 2005 when she noticed that painting was largely absent from the Trawick Prize Competition finalists. The death of painting seems to be announced with some regularity, yet has been around for centuries, if not millennia, and is of course still alive and well thank you very much. To insure it's continued health on the local scene, Ms. Trawick contributes $13,00 of her own money to the prize pool for this annual competition. Judging by the way local artist fall all over themselves to enter these two shows, it's with no small tip of the hat that we collectively say 'thank you'.
The finalists on display at Fraser Gallery are a diverse lot to be sure. Ranging form near photo realism, to abstraction, and borderline drawing.
The winner of the $10,000 first place award goes to Matthew Klos, of Baltimore, MD for his sink painting. If you love old school painting, this is it. Tightly rendered, almost photo-realistic, but with just a slight romantic softening of it's hard edge. The work almost immediately reminds one of Norman Rockwell's work, save for the total absence of people. Unlike say Richard Estes neutron-bomb-esque photo-realistic street scenes, these paintings have a warmth about them. They are straight forward, even to the point of squaring a chair with the wall corner in one. Down to earth, and unpretentious, yet somehow appealingly friendly in that mid-westerner sort of way. They aren't fancy, but they're friendly, and you like having them around.
These sinks are the domain of people who work with their hands. Beside one is a red covered waste can for the storage/disposal of solvent laced rags. Linseed oil being spontaneously combustible, especially when in contact with rags and the like, it's a necessary ingredient in any fully equipped artist studio. Beside that is a re-circulating red 'safety clean' sink for washing out greasy auto parts, or paint brushes, and theoretically using some solvent safe for human contact. My favorite was 'Daylight Studio', a monochromatic white composition dealing with an assortment of rectilinear forms around the sink basin. Very nice work to be sure.
Having seen Klos' work several years ago in another painting competition, it's not new to me. I can recall even then wondering about the subject matter. Sinks after all are anything but common in art, and seem well.. sinks? Klos has a couple of newer supporting paintings here, that while clearly of the same hand, don't seem to pack quite the punch of the sink paintings. So obviously the sink paintings are indeed saying something of value. If nothing else, they'll remind you that you really should get off the couch and get on with that 'to do' list.
While not in the money pool this time, I also really liked the work of Reston, VA artist Heidi Fowler, Here we find unopened junk mail as a ground for the painting surfaces, which all seem to display some primary outdoor apparatus for modern electronic communication. Wires, poles, switch boxes of some sort, all in the mix around us every day. Fowler incises the paint with religious text, which reads here as random hand written text. At times also including other odd bits such as tape measure sections, all to wonderful effect. The painting titled 02.12.006 is to my eye the best of her work. A wonderful cris-crossing network of diagonal lines and forms depicting telephone pole, lines, and chain-link fencing, all set against a cloudy blue sky. Things that connect us, and keep us apart it seems to say.
Falls Church Concerts in the Park series. This Thursday evening, July 5, starting at 7 p.m. Tom Principato Band will be playing rock and roll, while Geri Goodwin displays her paintings. NEXT week, July 12, the Shebeens will provide Irish music and dance, while Christy Gavitt shows her photography. All for FREE in Cherry Hill park on Park Avenue in the heart of Falls Church City.