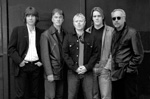 Gary Jules has a lot to be proud of.
He soared to the top of the charts in the United Kingdom with his cover of Tears for Fears' "Mad World," capturing the honor of the country's coveted "Christmas No. 1." Rolling Stone labeled his music "delicately crafted folk music of the highest order." Influential, taste-making deejay Nic Harcourt of radio station KCRW called him his favorite artist to see in L.A. "Falling Awake," the first single off of Jules' independently-released self-titled album released last August, charted on two different Billboard Top 100 lists.
What puffs out Jules' chest more than any of that, however, were his days in Los Angeles spent riding his bike, basket full of booze, back and forth between Playboy Liquors and an upstart music joint called The Hotel Cafe.
There's more to the story than the beer runs, of course.
Today, The Hotel Cafe is one of the top music spots in L.A., regularly featuring the likes of Joshua Radin, Alexi Murdoch, Joe Purdy and Corey Brothers. First among them, back in the day, was Jules, at least after he begged and pleaded his way onto the stage.
After releasing his first album, Greetings from the Side, in 1998, Jules was offered a residency at Cafe Largo. There, he became what he calls a "serial opener" every Tuesday night. At Largo, Jules shared the stage with cult stars-in-the-making like Elliot Smith, Rufus Wainwright and Aimee Mann.
"The vibe was totally family," Jules says. "People hung together and we really got a scene going. By pooling our talent we got more buzz than we did independently."
By the time Jules had released his second album, the highly acclaimed Trading Snake Oil for Wolftickets, four years later, most of those names had moved on. Looking to rekindle the dynamic he found at Largo, Jules came across a modest coffee shop with a small stage while biking to Amoeba Records.
"I bugged them for three months," Jules recalls. "Finally they let me do Tuesday nights."
Jules worked hard to build the scene at the Hotel Cafe, performing frequently over his eight-month residency, recruiting musicians to play there and even helping serve the customers.
"They couldn't serve booze there, so we told customers to bring their own beer and wine," Jules said, who employed his basket-sporting bike on booze runs to the local package store.
Soon artists like Purdy and Murdoch joined the crowd and the buzz began to build, just as it had at Cafe Largo, even if the setup and surrounding area was less than desirable.
"Sometimes the P.A. system would work, sometimes it wouldn't," Jules says. "There was a welfare hotel next door and a needle exchange across the street. It was down and dirty and that's exactly how we wanted it."
Also nearby were the offices of Capitol Records, a location that raised some interesting exchanges at the front door.
"Back then, there were a few rules at the Hotel Cafe, one of which was no guest lists," Jules says. "These representatives would come down from labels and try to get in for free. Max [Mamikunian, a co-owner of The Hotel Cafe] always used to tell them, 'Of all the people here tonight, you should pay the most.'"
Things have changed since then. The area around The Hotel Cafe has gentrified and become what Jules calls "part of the valet parking part of Hollywood." Jules' distaste for record labels has lingered, however, bubbling up even more after experiencing the success of Snakeoil.
"Early on you realize that the dream life of making tons of money and jetsetting around the world is exactly that, just a pipe dream," Jules says. "But the other myths about the music industry are all too true.
"You feel like no one is on your team. You feel like they're on the take. You're running around on tour making money for everyone and then you get home and find you have all this debt and a huge house payment."
With that in mind, he's fine with going solo for now, touring with long-time buddy Jim Bianco, a Hotel Cafe acquaintance, this summer.
"It's hard to find a weathered dude willing to travel around with me to see the third-largest ball of twine," Jules says.
A few more tidbits from Gary Jules …
Cheers for Tears for Fears: "I've wanted to play with them forever," Jules says, noting that they have always been one of his favorite bands. "I'm curious to see how we're going to play the song ['Mad World'] though. We haven't really discussed it yet."
No Banality in Originality: While some people know Jules only for his cover of "Mad World," a part of the "Donnie Darko" soundtrack, his original work has been applauded by critics and consumers alike. That pattern has held with his latest work, the first album since "Mad World" blew up.
"I wasn't trying to follow up anything, but it was different making a record where people had expectations," Jules says of his self-titled release. "That was sort of a laughable idea before. But I've been very, very happily surprised that everyone in the States has been coming to shows and buying the album, even though it's only available online [at CDBaby.com].
"It's nice having it be my own songs, coming back to Earth and knowing that my own stuff is still lucrative."
The Family Jules: For now, Jules' biggest issue is trying to assemble his home studio in his new house in Asheville, N.C., where he lives with his wife and three-year-old son. The latter has been gaining a good bit of exposure to music during his short life, and is already exhibiting a heightened appreciation for the art.
"His favorite song is [Sufjan Steven's] 'Chicago,'" Jules says. "When it gets loud, he just rocks out, and when it gets quiet, he gets mad if anyone is still being loud."
• Gary Jules plays Jammin' Java, Tuesday, July 3 at (8 p.m.) with Jim Bianco. Tickets are ($12). For more on Gary Jules, visit www.garyjules.com.