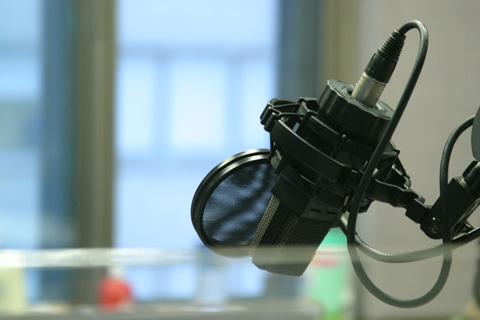 Increased Royalties May Leave Webcasters Broadcasting Only the Sounds of Silence, Though Congress May Still Intervene
If you're a bluegrass fan who tried to tune into the online stream BluegrassCountry.org on Tuesday, you wouldn't have heard anything – anything except a message explaining why the stream is off the air. Programmed at public radio station WAMU 88.5 FM, it was one of countless online radio broadcasting services across the country that participated in a "Day of Silence" to protest a new ruling issued by the Copyright Royalty Board that would greatly increase the royalties for webcasting.
On March 2, the Copyright Royalty Board, a three-person oversight committee set up by Congress, passed a ruling that would charge fees based on the number of listeners per song instead of paying an annual flat fee based on the stations' income. The ruling, which will take effect July 15, will charge 0.11 of a penny per listener for every song broadcasted online. That amount will go up to 0.19 of penny by 2010. It is also retroactive, charging 0.08 of penny for music streamed in 2006.
Non-commercial online radio services like WAMU's BluegrassCountry.org would only pay $500 per year if they limit the amount of aggregate hours to 159,140 per month, or the joint number of hours that listeners tune in. Above that amount, they would pay the per listener, per song fee. BluegrassCountry.org currently has on average 290,894 aggregate tuning hours per month.
Under this ruling, WAMU's current fee at $25,000 per year would triple by 2010, said Dick Cassidy, who runs BluegrassCountry.com. For now, Cassidy said he would probably keep the number of listeners to the threshold level that the royalty board has set, but is concerned by the limitations it puts on his listeners.
"If it doesn't change, we may have to close it down," Cassidy said.
The Copyright Royalty Board is made up of three judges that oversee statutory licenses under copyright law and determine rates, terms and royalties from those licenses. The board was created under the Copyright Royalty and Distribution Reform Act, which was passed by Congress in 2004.
The Royalty Board established the new rates through what is known as the "willing buyer, willing seller standard" that mimics what buyers would be willing to pay for the webcasting services, said Richard Strasser, senior attorney of the board. After posting a notice in the Federal Register in February 2005 that called for the filing of petitions, the board determined the final rates after considering the opinions from the parties affected, including webcasters and the Recording Industry Association of America, a trade group.
The royalties paid by webcasters then go to SoundExchange, which in turn distributes them to the artists and copyright owners, mostly record companies. As of May, SoundExchange is offering a subsidy to small webcasters to offset the royalty increase due to requests from the House Judiciary Subcommittee. It is currently in negotiations with such casters as AccuRadio and Kurt Hanson, as well as NPR, to reduce royalty rates to 1998 levels, said Richard Ades, spokesman for SoundExchange. These rates charged 10 percent of webcasters' revenue up to $250,000 and 12 percent above that amount.
"We look at it as artists and labels doing their part to help small operators get a stronger foothold," said John Simson, executive director of SoundExchange, in a statement.
Rep. Jay Inslee (D-Wash.) and Rep. Don Manzullo (R-Ill.) are currently sponsoring the Internet Radio Equality Act. The bill would nullify the ruling and allow for a transitional period in which public radio stations would pay a minimum of $500 in annual royalties. On top of that, they would either pay 7.5 percent of their revenue from on-line streaming or one third of a penny for each hour of music per listener. At the moment, no major actions have been taken on the bill.
"52 million listeners in the U.S. tune into Internet radio every day," said Rep. Jim Moran (D-Va.). "But rising royalties threaten to run webcasters off the net. As a co-sponsor of the Internet Radio Equality Act, I support efforts to protect Internet radio by making royalty rates equitable and more affordable for web-based radio."
WAMU has been known for airing bluegrass music on Sundays, which draws an audience of about 142,300 listeners and has been running for 40 years. Due to the demand and high ratings, BluegrassCountry.org started in 2001.
WAMU also collaborates with WTMD in Towson, Md. with the online stream Adult Album Alternative. It receives 12,992 aggregate tuning hours per month, which is below the Copyright Board's threshold number. Currently, Cassidy is unsure about what will happen with this stream.
"We believe the increase in royalty rates will greatly undermine our public service mission and harm the community of listeners, musicians and artists whose work is featured through hundreds of online public radio stations," wrote WAMU general manager Caryn Mathes in a statement on the radio's website.
Currently, BluegrassCountry.org uses 37 percent of the station's revenue. After the royalty hikes take effect, it will consume 102 percent, said Greg Fitzpatrick, a public information assistant for WAMU.
"I think they're making a huge mistake," said Tim Westergren, the founder of webcasting site Pandora.com. "There's a real lack of understanding of the economic system of webcasters." Pandora.com, along with many webcasters and artists, has been petitioning Congress through sites like www.saveourinternetradio.com for intervention.
The Copyright Royalty Board rejected previous measures for rehearing the ruling in April, saying that no new evidence was introduced.
"A lot of webcasters are going to have to turn off," Westergren said. "They're going to have to evaluate whether or not webcasting is worth it or not."