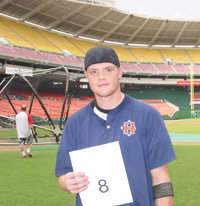 Mario Grace of Falls Church celebrates Father's Day weekend by racing the ball toss station as part of the Dodge Magnum Big Red Wagon Father's Day Challenge in Philadelphia, Pa., on Friday, June 15. Grace competed against 15 fathers in an obstacle course challenge. (Photo: Courtesy Mark Stehle)
Celebrate Literacy
The Literacy Council of Northern Virginia (LCNV) invites the Falls Church community to its 45th Annual Meeting and Awards Ceremony on June 21 at 7 p.m. at the James Lee Community Center Theater (2855 Annandale Rd., Falls Church). Douglas Garcia, Assistant Secretary of Education for the Commonwealth of Virginia and graduate of James Madison University, will speak. LCNV, a non-profit educational organization, offers tutoring and resources for those who wish to learn English. At

the ceremony, LCNV will honor community partners, local businesses, volunteers and students.
The College of Wooster Graduate
Congratulations to Marisa Vitols, a James Madison High School alum, who received a Bachelor of Arts degree in International Relations from The College of Wooster on May 14. She was an active member of the school, involved in Model United Nations, Student Government Association and the Wooster Volunteer Network. She was also awarded a Douglas F. Weiler Scholarship during her four years there.
Home Sweet Home
Ron Kane of Alexandria celebrated 25 years with Pathway Homes at the organization's picnic on June 9. Congressman Tom Davis and Virginia State Senator Jeannemarie Devolites-Davis joined in on

the festivity. Pathway Homes is a non-profit that provides houses, services and support to adults with mental illnesses.
Colonial Times
Through November 25, the Virginia Living Museum (524 J. Clyde Morris Blvd., Newport News, Va.) is exhibiting "Survivor: Jamestown," an interactive display of what it meant to be a colonist in 1607. The exhibit brings Jamestown to life and is full of challenges and activities, including a maze. Also, the museum's Virginia Garden is now open, which spotlights Virginia's botanical history since 1607. The garden is permanent and explores flora from early colonial naturalists. Admission is $13 for adults and $10 for children ages 3 – 12. Group rates are available. For more information, call 757-595-1900 or visit www.thevlm.org.
Weber Selected to President's List
Longwood University has selected Annalise Weber of Fairfax to the President's List for demonstrating excellent academic achievement during the spring 2007 semester. She is one of 280 students on the President's List, and received a perfect grade point average of 4.0.
Pryplesh on Dean's List
Catherine Pryplesh of Fairfax was named to Longwood University's Dean's List for the spring 2007 semester. She is one out of 439 students selected to the Dean's List, and earned a GPA between 3.5 – 3.99.
Longwood University Graduates
Robert Silliman of Falls Church and Patrick McAteer of Arlington graduated from Longwood University at the school's commencement of May 13. Silliman and McAteer both received a BSBA degree in Business Administration.
Football Coaches and Players Wanted
The James Lee Community Center (2855 Annandale Rd., Falls Church) is looking for coaches and kids ages 7 – 16 to participate in its youth football league. Please call the community center at 703-534-3387 x220 or x200.
Through the Grapevine
On June 30, the French Wine Society will be hosting France Vs the Rest of the World, a wine-tasting competition. Attendees will blind taste the wines and vote on their favorites. The event will be from 7 – 9:30 p.m. and located at The Embassy of France (4101 Reservoir Rd. NW, D.C.). Tickets are $60 for members and $75 for non-members. For further details, log on to www.frenchwinesociety.org.
Addressing Transportation Needs
The City of Falls Church will be hosting a public input session where attendees can give feedback on the Transportation Finance Act, which will take effect on July 1. The session will be held during the City Council Meeting on June 25 at 7:30 p.m. in the Council Chambers (300 Park Ave., Falls Church).
Music and Art in the Park
This summer, Falls Church Arts and the Village Preservation and Improvement Society are sponsoring Summer Concerts at Cherry Hill Park (312 Park Ave., Falls Church) to provide evenings filled with both music and art. The first concert is June 21 and will spotlight painter Ines de Andrade and the Falls Church Concert Band. From 6:30 – 8:30 p.m., the art will be on display and for sale while the artist will be available for a meet-and-greet. The music starts at 7 p.m. Concerts are every Thursday and last until August 2, with different performers and artists scheduled each week.
Happy Independence Day
The City of Falls Church Recreation & Parks Division invites the community to celebrate Independence Day at George Mason High School (7124 Leesburg Pike, Falls Church). The free event features classic rock band, Drivin' Blind, as well as other musical entertainment, beginning at 7 p.m. Watch fireworks fly at 9:30 p.m. Food and drink are available for sale. Rain date is July 5, same time and place. For more information, please call 703-248-5178 TTY771.
Fourth of July Holiday Schedule
On July 4, everyone will be out celebrating. The following establishments will be closed for the day: City Hall, the Community Center, courts, DMV Select Office, Mary Riley Styles Public Library, schools, the Senior Center and the Sheriff's Office. GEORGE local transit and Refuse and Recycling Collection will also not provide service. Regular hours and services will resume on July 5. Call 703-248-5081 TTY711 for further details.
Longfellow Team Scores Trip to Science Bowl
Longfellow Middle School of Falls Church is sending a team to compete in the U.S. Department of Energy's National Science Bowl for middle schoolers. The team will be up against 29 other teams and quizzed on questions in all areas of science: biology, chemistry, earth science, physics, astronomy and math. Longfellow's team includes In Young Cho, Sin Kim, Rohan Ramnath, Xavier Ferrier and Thalia Aoki with coach Scott VanBenschoten. National Finals will be held on June 21 – 24.
Eat Pancakes for Homestretch
On June 28, the community can enjoy pancakes and waffles at the Original Pancake House (370 W. Broad St., Falls Church) while supporting Homestretch. Homestretch is a housing provider for families with children in the Northern Virginia area. 15% of the proceeds will go towards the charity. The Pancake House is open every day from 7 a.m. – 3 p.m.
Local Art Exhibit
Through June 26, the Crossroads Gallery is exhibiting the artwork of 18 members of Falls Church Arts. The gallery is located at Goodwin House (3440 S. Jefferson St., Falls Church). Log on to www.fallschurcharts.org for more information.
Annual Food Drive
Diener & Associates and the News-Press are sponsors of the annual food drive to benefit Food for Others, a food bank in Merrifield, Va. Through July 4, drop off canned goods at the two sponsors or at Anthony's, Art and Frame of Falls Church, Point of View, the Unity Club or the FC Community Center. Call Cindy Elkin at 703-241-8807 for more details.
Nice Guys Don't Always Finish Last
This fall, Acacia Federal Savings Bank is hosting the Third Annual Nice Guy Awards, where anyone can nominate a person, business or nonprofit. Acacia will make a donation to the charity of choice of the three top "nice guys." Deadline to nominate is July 17; winners will be announced on September 20. Please visit www.niceguysawards.com for further details or to place your nomination.
Temple University's Dean's List
Congratulations to Lara T. Murray, a graduate of George Mason High School Class of 2005, was selected to the Dean's List at Temple University's Tyler School of Art. This is Murray's fourth consecutive semester on the Dean's List, this time earning a 3.82 grade point average. Murray is a double art history and geography major who will spend her junior year abroad in Rome, Italy.
Portraits and Places
An exhibit by local artists Bill Abel and Ruth Kaufman will showcase both portraits and favorite places in Falls Church. The exhibit will be open through September, located at the Falls Church Housing Corporation's Winter Hill Clubhouse (330B S. Virginia Ave., Falls Church). Hours of operation are Monday through Friday, 9 a.m. – 4 p.m. On June 24 from 5 – 7 p.m., there will be an artists' reception.
McDaniel College's Dean's List
Brandon Meridith Senter of Arlington was named to McDaniel College's Dean's List and achieved Honors status for the 2007 spring semester. To receive Honors status, students must earn a grade point average between 3.5 and 3.69.
Local Student Wins Scholarship
Brittany Head, a recent graduate of George Mason High School, was awarded a $2,000 scholarship from the League of Women Voters of Falls Church. The League chooses their scholarship recipients based on resourcefulness, industry and financial need. This fall, Head will attend the University of Miami with aspirations of becoming a doctor.
Bowling Green Graduate
Congratulations to Marissa Annette Ashkenaz of Falls Church who graduated with a Bachelor of Arts degree from Bowling Green University in Bowling Green, Ohio. Ashkenaz was one of more than 2,000 graduates.
Race for the Fisher House
On August 26 in Louisville, Ky., Bill Rollins of Fairfax will participate in his first Ironman Race, a triathlon that consists of a 2.4-mile swim, a 112-mile bike and 26.2-mile run. Although no fundraising is required for participation, Rollins is using the race to promote awareness and raise money for the Fisher House Foundation. The foundation is a non-profit organization that provides homes near medical centers for the families of injured American military men and women during hospitalization. For more information about Rollins and his race, visit www.billrollins.com. Visit www.fisherhouse.org to learn more about the organization.