GEORGE MASON H.S. English Department head and student newspaper advisor Michael Hoover (left), retiring after 37 years at GMHS this month, presents journalism awards at Tuesday's GMHS awards assembly.
USHSD Awards Scholarship to Lipman
The U.S. High School Diplomats Program (USHSD) awarded senior Margaret Lipman of George Mason High School with a full scholarship to attend a three-week program in Japan this summer. Both the AIU Insurance Co. of Tokyo and the Freeman Foundation, in the hopes of encouraging international cooperation and understanding by bringing together students from both nations, sponsor the program. While in Japan, Lipman will participate in academic and social activities intended to bridge the international gap between Japanese and American students. The 26 students selected to participate in the program will tour Japanese landmarks, meet government dignitaries and stay with a Japanese family, as well as experience Japanese culture firsthand. To be eligible for this program, students first had to successfully complete the HSD Program, which is a ten-day program at Princeton University.
Star-struck at Falls Church High
Who spoke at your graduation? You'll always remember, but this year Falls Church High School class of 2007 will never forget when Ben Affleck spoke at their ceremony last Friday, June 1. What's this star's tie with the local high school, you might ask? Senior Joe Kindregan and Affleck met when Kindregan attended the filming of "Forces of Nature" at Dulles Airport in 1998. Affleck has testified on behalf of Kindregan, a student with ataxia-telangiectasia (A-T), before Congress in support of stem cell research and also raised funds for the AT Children's Project. Valedictorian of this year's class is Christopher Cassidy, and the Falls Church Scholars (top ten students) are Minh Hi Ngo, Linda Conway, Oksana Chernushevich, Teresa Crist, Kristin Washco, Eun Jee Yang, Jeffrey Jankowski, Cam Nguyen, Mathew Gorman and Inderpal Lamba. The ceremony took place at the Patriot Center.
Mitchell Added to Columbia Lions as a First-Year
Senior Katie Mitchell of George Mason High School has committed to playing volleyball at Columbia University (Division I) this fall. Mitchell currently competes with the Metro American club team based in Washington, D.C., and with the team, she will compete at the AAU Nationals in Orlando, Fla. from June 16-20 and at the USA Volleyball Junior Olympic Girls' Volleyball Championship in Minneapolis, Minn. in July. For those who would like to see Mitchell compete locally this year, the Columbia Lions will be playing at American University on September 15 and 16 as part of the Ivy/Patriot Challenge in Washington, D.C.
Local Area Student to Research Breast Cancer Detection
Congratulations to Varun Mehta, the son of Veena and Surinder K. Mehta of Falls Church and a University of Virginia attendee, for being one of 47 students at the university selected to receive a Harrison Undergraduate Research Award. In order to qualify for this award, Mehta had to present a detailed plan for independent-study research projects under the guidance of a faculty advisor. As an economics and biology double major, Mehta hopes to use this grant to research the connection between attitude, behavior and awareness with breast cancer detection and high mortality rate in urban-Indian women. Mehta is very involved in both academics and the community at UVA, earning both a spot on the Dean's List and the title of Center for Global Health Scholar, as well as volunteering at the University hospital.
St. James Honors Those Who Have Served
Last Tuesday, May 29, St. James Catholic School held a flag-raising ceremony to welcome a new addition to the school: a flag that once flew over Afghanistan. Chief warrant officer Trinidad Rodriguez Jr., uncle of St. James students Paige Veoni, Caroline Coon and Harrison Coon, sent the flag in response to a bundle of letters the first grade class wrote to him. Rodriguez is stationed at the Forward Operating Base (FOB) Salerno located near Khowst, Afghanistan. Currently raised on the flagpole at the school, the flag flew over Afghanistan in Rodriguez Jr.'s UH-60 Black Hawk helicopter.
Getting Creative at Bailey's
Students at Bailey's Elementary School participating in the Bailey's Mural Arts Project will have an unveiling on June 11 at 5:30 p.m., when the mural projects will open for public viewing. The "art reach" project brought together students, teachers, as well as community volunteers under the mentorship of local artists. As a way to be acquainted with the creative process, the 30 classes of students from grades K through five have been documenting their progress through photographs and writing about each step while creating the 4 x 8 ft murals.
Correction Notice
In the May 31-June 6 edition, a few clarifications need to be made concerning the information reported on the George Mason High School OM team. Firstly, Rachel Hassan was omitted from the team names, and the team has been working together for five years, with this year being their second year at the World Finals. Here is the corrected bulletin: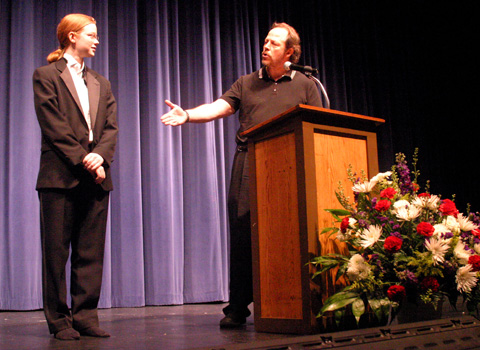 The Odyssey of the Mind Team from George Mason High School placed ninth at the World Finals last week. The competition ran from May 23 to May 26 at Michigan State University in East Lansing, Mich. The World Finals encompassed teams from all over the globe, including China, Singapore, Germany and Poland, which the team faced off against within their problem and division. Placing within the top 10 out of 56 total teams, eighth graders Daniel Fletcher, Rachel Hassan, Victoria Pender, Clark Williamson, Mollie Breen and Katie Breen accomplished an impressive feat. This year, the team worked on Problem 5: I'm Only Thinking of You! This entailed coming up with a humorous performance that includes a self-centered character who takes advantage of the other characters on three occasions. The team was evaluated on style, long-term solution and also was given a spontaneous problem, which they were not informed about until they entered the room. They only received several minutes to come up with a solution to the spontaneous problem.
Their second year at the World Finals and fifth year working together, the GMHS team surpassed their previous score and the score from another Falls Church team last year, with rankings at 19th and 20th place.