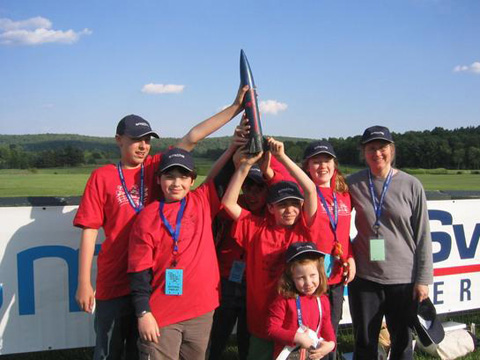 Next Year, Sky's the Limit for St. James
On Saturday, May 19, students on the rocketry team at St. James Catholic School competed and received recognition for being the youngest group entered in the Team America Rocketry Challenge in The Plains, Virginia. Their rocket reached a height of 91-feet, but the parachute failed to deploy and the team was disqualified when the egg-payload splattered on the ground.

Although they returned empty-handed, the team spoke of a strong desire to pursue a win next year. "We can improve the design and perform more tests to make sure the egg is packed in safely in the rocket next time," said Magdalina Moses, a student on the rocketry team and daughter of one of the teams' mentors Katrina Moses.
Probl-OM Solvers Set Off for World Finals
Students from George Mason High School, coached by Lynn Fletcher, have set off for the Odyssey of the Mind World Finals in East Lansing, Mich. that began May 23 and runs through May 26. The team representing GMHS are eighth-graders Katie Breen, Mollie Breen, Daniel Fletcher, Rachel Hassan, Victoria Pender and Clark Williamson. The team has been working together for five years. At the world finals, the students will be facing 55 other teams from all around the world, but the Mason team will have the advantage of having been world finalists last year.
Luck Be a Lady at Longfellow
The drama department at Longfellow Middle School (2000 Westmoreland St., Falls Church )will be presenting the musical 'Guys and Dolls Jr.' Thursday, May 31 at 7 p.m. and Saturday, June 2 at 2 p.m. and 7 p.m. Admission is $3 for students, $5 for adults.
Graduation Descends Upon Falls Church
It's that time of the year again. The time when caps and gowns are adorned by graduating seniors ready to make their mark on the world. Be sure to know your favorite local school's date! If you're behind, we've listed them here for you:
• Bishop Denis J. O'Connell High School — May 31.
• Falls Church High School — June 1.
• J.E.B. Stuart High School — June 1.
• Langley High School — June 13.
• McLean High School — June 13.
• George C. Marshall High School — June 14.
• George Mason High School — June 14.