ED STRAIT (left) is named winner of the Falls Church City Democratic Committee's annual Marian Driver Award for his extensive contributions to the party. Old friend Edna Frady offers a handshake at the annual Jefferson-Jackson Dinner Sunday. (photo: News-Press)
Arbor Day Gets Back to Roots
The 115th Falls Church City Arbor Day Celebration was held on Saturday, April 21 at Frady Park, the site of the first Arbor day in F.C. and the Commonwealth of Virginia. Festivities included a reenactment of the original Arbor Day ceremony in 1892 by the Falls Church Victorian Society, an update on the "Virginia Arbor Day Commons" plan, commemorating Frady Park as the site of Va.'s first Arbor Day, and the presentation of the city's 29th consecutive "Tree City, USA" award by the National Arbor Day Foundation.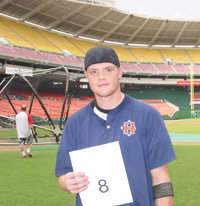 Area Student to Attend Lycoming College
Troy Hayre, son of Gregg and Barbara Hayre of Falls Church, has been accepted and is planning to attend Lycoming College in Williamsport, PA in fall of this year. Troy is currently a student at McLean High School, where he is a champion wrestler.
Local Teaches Latin Award Winner
Falls Church City resident Paul Perrot, a Latin teacher at Park View High School in Sterling, helped Kevin Jefferson of Sterling to a first place finish at one of the largest Latin translation competitions in North America. Kevin won the tournament sponsored by the Classical Association of the Middle West and South. Mr. Perrot has also won the Ed Phinney Commemorative Scholarship from the American Classical League which will enable him to teach two conversational Latin programs this summer and a summer Latin institute.
Civitans Honor Pulcinella's Ristorante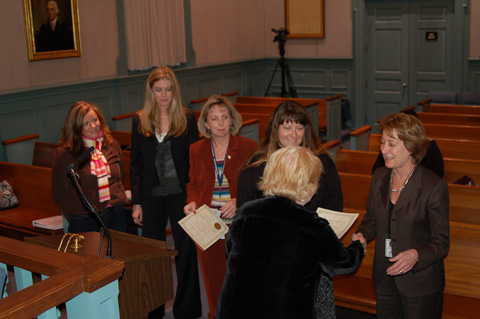 The employees of Pulcinella's received the Civitan's Award for Outstanding Community Service for their support of several charitable community initiatives, including the sale of White House Christmas ornaments. The sale of these ornaments benefits local entities serving the developmentally challenged.
Eagle Scout Honorees
Jack Daly, Sam Littlefield, and Andy Moy, three scouts from Troop 853, were awarded the highest rank in Boy Scouts at an Eagle Scout Court of Honor on April 15 at the Friendship United Methodist Church. This rank is only achieved by four per cent of active Boy Scouts. Daly and Moy are seniors at JEB Stuart High School, and Littlefield is a senior at Annandale High School.
Arlington Goes to the Dogs
The Animal Welfare League of Arlington will kick off the city's annual Neighborhood Day with the 12th Annual Walk for the Animals to raise money for homeless and neglected animals.
Walkers and their leashed best friends can choose a three-mile walk or a one-mile stroll through Arlington's Bluemont Park. Registration is $25 in advance and $40 the day of. All walkers will receive a t-shirt, and all pets will be able to sport the official bandanna. Only dogs ages four months and up are allowed; cats and other animals must remain at home for their safety. Register or donate online at www.awla.org/walk.shtml.
GMHS Alumna Awarded Art Scholarship
Jennifer Kaplan, daughter of Steve Kaplan and Donna Wood, a resident of Falls Church and a 2005 graduate of George Mason High School, was awarded the prestigious Francis Larkin McCommon Scholarship by the Savannah College of Art and Design in Savannah, Ga. For her "superior artistic ability and portfolio presentation." Kaplan currently attends the Delaware College of Art and Design, earning an Associate of Fine Arts degree, majoring in photography. She will graduate in May.
Test Your Baseball Talents
The National Scouting Report will hold the first Baseball Showcase in conjunction with the National Baseball Showcase Series. The event is scheduled for 9 a.m. and 1 p.m. on Sunday, June 10 at Claude Moore Park in Sterling, Va. Professional scouts will rate all players with the top players receiving invitations to advance to a regional, and then national showcase. A college recruiting session will follow at 6 p.m. For more information and registration visit www.nrshowcase.com/baseball.
Opera in the Schools

The Ash Lawn Opera Festival will present its Artist-in-Residence program from April 23-27, designed to introduce area youth to opera and musical theater.
A professional opera singer will visit classrooms and demonstrate their opera skills. Students will be given the opportunity to sing with the artist and ask questions. This year's program will feature soprano Anastasia Robinson. For more information, call the Festival office at 434-293-4500.
Scarlet Oak Selected as 2007 Tree
The Falls Church City tree commission has selected the Scarlet Oak as the 2007 Tree of the Year. The Scarlet Oak is most known for its vibrant fall colors.
The Tree Commission has nominated a Tree of the Year since 1993. Private landowners are encouraged to consider this tree for planting if conditions are favorable. The Scarlet Oak is a tree native to the Virginia area.
Culmore Clean-Up 2007
More than 200 area volunteers will fan out over the Culmore neighborhood on May 12 between 9 a.m. and 12 p.m. in an effort to tidy up the area. Volunteers will meet at the Woodrow Wilson Library (6101 Knollwood Dr., Falls Church) for group organization and refreshments. All ages and groups are invited to participate. Volunteers will receive a free t-shirt for taking part. Call the Woodrow Wilson Library for more information at 703-820-8774, ext. 4 or email Priscilla Weck at psweck@cox.net.
New Moms Luncheon
NoVa area mothers and babies from newborns to one year-olds are invited to join other new mothers for lunch and speakers every Wednesday through June. Individual luncheons are $20, and the 4-part series is $75. Reservations are required. The topic for the June 6 event is post-partum depression with Deborah Caplowe. To make a reservation, contact Rochelle Goldberg at 703-273-5593 or email eventbuilders@hotmail.com or visit eventbuilders.com for more information.
Local Business Snags Above and Beyond Award
The Virginia ESGR Committee is proud to have awarded the Above and Beyond award to local business ER Williams, Inc. The objective of ESGR Committee is to recognize and encourage employer support of men and women serving in the Guard or Reserve. The statewide awards seek to reduce the civilian job or school pressures against Guard and Reserve service members.
Civil Rights Pioneer Julian Bond to Speak
The Fairfax County Public Library is cosponsoring a free event featuring NAACP Chairman Julian Bond will speak on "how race, technology and immigration shape today's music." The presentation will be held on May 8 at 7:30 p.m. at the Alden Theatre of McLean Community Center (1234 Ingleside Ave., McLean).
Tickets are free and will be distributed on first-come, first-serve basis beginning at 7 p.m. Limit four per person. For more information, contact the Fairfax County Public Library at 703-324-8319.
VOAC Open House Canceled
The 21st Annual Open House Celebration scheduled for April 29 at 3 p.m. at the Bailey's Crossroads Community Shelter has been canceled.
Swing into Spring and Mother's Day
The Center Dance Company presents a triple bill Mother's Day weekend ballet performance featuring "Paquita," Verdi's "The Seasons," and "Swing on the Side." The CDC has partnered with the Arlington Free Clinic for the May 11 performance; $5 from each ticket sold will go to benefit the clinic's work providing quality health care services to low-income, uninsured county residents.
The event will be held at 7:30 p.m. May 11and 12, and 2 p.m. May 13 at the Thomas Jefferson Community Theatre (125 S. Glebe Rd., Arlington). Advance tickets are $22 and $25 for adults and $17 and $22 for students and seniors. Tickets are available for purchase online at www.arldance.org or 703-522-2414.