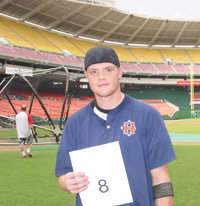 Merrifield Garden Center Celebrated its 36th anniversary on Monday, April 9. Here the owners cut the cake and prepare to server refreshments to get the party started. Merrifield Garden Center is located at 8132 Lee Highway in Falls Church.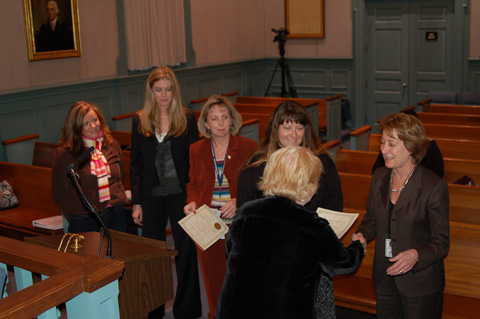 Stenger-Densmore Engagement
Mr. and Mrs. Michael Stenger of Falls Church, Virginia are pleased to announce the engagement of their daughter Nicole Lynn Stenger to Calvin Joseph Densmore II, son of Mr. and Mrs. Calvin J. Densmore, Sr. of Indian Head, Maryland. Nicole graduated from Falls Church High School in 1999 and received her B.A. in Sociology from Mary Washington College in 2003. She currently teaches fourth grade in Prince William County, VA and is pursuing her Master's Degree in Education. Calvin served eight years in the United States Marine Corps and is presently employed as a Systems Administrator with CACI Inc. He is pursuing a degree in Network Engineering. A June 2007 wedding is planned.
Fairfax Volunteer Opportunity
Fairfax CASA (Court Appointed Special Advocates) is having an information session for prospective volunteers to serve as advocates for abused and neglected children. Volunteers visit the child twice a month, collaborate with other professionals acting on behalf of child, write court reports and attend court two to five times a year. A one year commitment is requested and the average time is 20 hours per month. No prior experience is necessary and all training is provided. An information session will be held April 19 from 12 – 1 p.m. at 4103 Chain Bridge Road, Suite 200. RSVP is requested to Meloni Hinnant at volunteer@casafairfax.org or 703-273-3526.
Charity Basketball Tournament
Friends of the Orphans in association with Gateway Sport and Health Club is hosting a 3-on-3 basketball tournament on April 14 from 8 a.m. – 5 p.m. to benefit the children living in Nuestros Pequeños Hermanos orphanages around the world. Each team will consist of three to five players and will compete in a pool of twelve teams. All entrants will receive a Friends of the Orphans t-shirt and the top three teams will be awarded medals. A raffle will also be held for an XBOX 360 package and other donated prizes. All groups and free agents are welcome to form a team and participate. To register or for more information, contact Kristen McLeod at 703-848-2072 or at KMcLeod@friendsus.org. Registration forms are available at www.friendsoftheorphans.org.

Disaster Readiness Exercise
The National Capitol Area Red Cross is conducted a disaster readiness exercise or CDREE (Chapter Disaster Readiness Evaluation Exercise) in the Montgomery County Auditorium on April 5 from 8:30 a.m.-4:30 p.m. With hurricane season beginning on June 1, the event focused on a mock large-scale that would encompass the area.
Eggstraordinary Easter Egg Hunt
A Falls Church city tradition rolled on this Easter as hundreds of children and their parents celebrated this year's annual Easter Egg Hunt, sponsored by the F.C. Recreation and Parks Division on April 7. The event was held in Cherry Hill Park. In addition for scrambling for eggs, children were invited to meet the Easter Bunny himself.
Fight Against Childhood Obesity
YMCA branches will be opening their doors to the public to preview wellness and fitness programs designed especially for kids and families during its annual Healthy Kids Day. Highlights of Healthy Kids Day will include swimming tests and pool safety information, health screenings for kids and families, fun group activities, including the popular interactive video game "Dance, Dance Revolution," and healthy snacks, prizes and giveaways in order to fight childhood obesity and promote wellness at a young age. The event will be held April 14 from 10 a.m. until 5 p.m. at YMCA branches in Arlington, Alexandria, Bethesda/Chevy Chase, Ft. Washington, Gaithersburg, Loudoun County, Reston, Silver Spring and D.C. For more information visit www.ymcadc.org, your local branch location or call 1-800-473-YMCA.

MRS Library Diverts Pollution
The Mary Riley Styles Public Library was presented an award by Commercial Carpets of America (CCA) for its participation in CCA's Environmental Impact and Reclamation Program. CCA replaced the library's carpet in December 2006 using "green practices." The old carpet was recycled and the new carpet is made from recycled materials. The savings in energy are reported to have been enough to power an average U.S. home for one year. For more information on the City's commitment to the environment, visit www.fallschurchva.gov.
An Evening of Magic
Ring 50, the National Capitol Ring of the International Brotherhood of Magicians, in conjunction with Bishop Ireton High School, presented an Evening of Magic on April 14 in the school theater. Some of the area's top magicians performed a family-friendly magic show, including Krendl and Company, Michael P. Lair, and humorist Tim Sonefelt. Master of Ceremonies was Bob Carnathan, a member of the Order of Merlin. For further information on performances and magicians, visit www.IBMRing50.org.
GMRW Welcomes Bill Kristol
The Greater McLean Republican Women are hosting Bill Kristol, the editor of the influential Washington-based political magazine "The Weekly Standard" at a dinner on April 19. Mr. Kristol is a political contributor on the Fox News Channel and is widely recognized as one of the nation's leading political analysts and commentators. The GMRW is the largest organization in the Virginia Federation of Republican Women. For more information about the organization or event, contact president Ann Murty at 703-532-1512.
'Saving Nearby Nature' on Earth Day 2007
The Northern Virginia Conservation Trust (NVCT), an Annandale-based non-profit, will host its seventh annual Earth Day Celebration and silent auction on Sunday, April 22 at 6 p.m. in the restored Hendry Farmhouse in Fort C.F. Smith Park (2411 N. 24th St., Arlington). Wendy Reiger, NBC-4 TV's "Going Green" reporter will be the guest speaker. NVCT's "Lifetime Conservationist Award" and the "Arlington Conservationist of the Year Award" will also be presented. Hor d'ourves will be provided by Lebanese Taverna. Tickets are $50 and all proceeds will go to help NVCT add to the 1,848 acres of Northern Virginia preserved since its founding in 1994. RSVP at 703-354-5093 or by email at mnardolilli@nvct.org.
FC Youth Lacrosse Begins New Season
Four of the city's youth lacrosse teams begin their 2007 season on April 14 and 15 at George Mason HS. On Saturday, the boys U13 team will play Braddock Rd. at 9 a.m., boys U11 against Alexandria at 10 a.m., and U9 boys will play Alexandria at 12 p.m. On Sunday, U9 girls will play Springfield at 12 p.m. For more information about the club and a complete schedule, visit www.flaxclub.com.
NAMI NoVa for Elementary-Age Students
At its April 23 general meeting, the Northern Virginia chapter of the National Association for Mental Illness (NAMI) will discuss a program for elementary-aged siblings of someone with mental illness. Sondra Wolf, a licensed clinical social worker, will make the presentation. First Christian Church (6165 Leesburg Pike, Falls Church). 7 p.m. Call 703-525-0686 for more information.
History of Flight from the Air and Space Museum
The National Active and Retired Federal Employees Association (NARFE) presents Mr. Rod Wright, a docent at the Air and Space Museum near Dulles Airport. Mr. Wright will speak on the history of flight. The meeting will be held on April 18 at 12 p.m. at the Masonic Temple (411 Little Falls St., Falls Church).
Blessing of the Fleets
The Navy Memorial will launch "The Year of the Navy SEAL" with the 16th Annual Blessing of the Fleets, official turning on of the Navy Memorial fountains, and special guest speaker Vice Adm. Albert M. Calland III, Deputy Director for Strategic Operational Planning and a Navy SEAL on April 14 at 1 p.m. This event kicks-off a year long series following the National Cherry Blossom Festival Parade. A full calendar of events and more information is available at www.navymemorial.org . The event is free and open to the public.