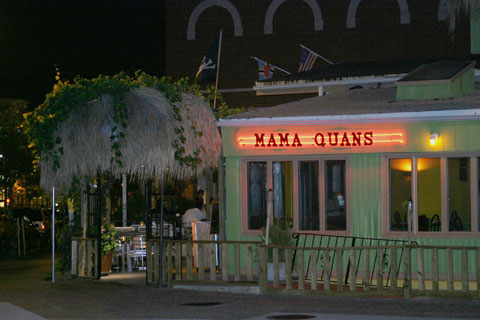 In a small strip mall diagonal from the Fairview Parkway exit on Lee Highway, there sits a humble Burmese restaurant simply known as Myanmar. It is one of only two Burmese restaurants in the entire metro area to serve authentic Burmese food.
The country of Myanmar is bordered by the People's Republic of China on the north, Laos on the east, Thailand on the southeast, Bangladesh on the west and India on the northwest, with the Andaman Sea to the south and the Bay of Bengal to the southwest. Borrowing curry, the chili pepper and other spices from neighboring countries, Burmese cooking is a range of exotic flavors combined.
A family ran business by Moe K. Swa and his wife's mother in law, the family cooks and prepares all the meals, as well as manages the accounts.
"My wife's mother opened the place some years ago," Moe explained. "She married an American through the embassy where she worked. Like many of my family members I too was sponsored and brought to the United States and love working at the restaurant."
The restaurant is quite simple in its décor, very small, dimly-lit, fresh white table clothes and pink-flowered, plastic seat covers adorn the metal-backed chairs. One's eye might travel to the array of charms and Buddha figurines that sit on high shelves at the corner of the room.
"In 1962 when the military took over Myanmar's government, many of my family fled to the United States, there are many adaptations to Burmese cooking found around the United States. We believe our take on traditional food is open for interpretation," Moe said.
Traditional Burmese food is usually spicy, sour or sweet. The entrees on the menu are beef, chicken or pork varieties served in various sauces and served with rice or noodles. The beef here is usually cooked in lemon grass. The noodle selections are vast; one can span the spectrum of noodle preparation, lightly sautéed to boiled. Authentic Burmese noodle dishes are served cold, but in order to accommodate more of the American palate, there are many hot dishes on the menu. Also notable are the exotic salad creations from their homeland, like mango, ginger or grapefruit.
Green Tea Leaf Salad, made from fermented tea leafs, garlic, tomatoes, onion and broad beans, is an utterly mysterious dish and the most unique offered by Moe and his family at Myanmar.
"That dish is only served in the country of Myanmar and nowhere else," Moe said. Well, except here, it seems.
Many soups include coconut milk and fresh egg noodles. Hot and Spicy Lemongrass soup is a delightful concoction of Tilapia fish, shrimp, tomato, tofu, mushroom, green bean, cauliflower, fresh lime and cilantro in a fish broth with chili lemongrass paste. Their wide selection of seafood is seasoned with pumpkin, mango, tamarind, sour mustard, okra and coconut, of course. One cannot feel guilty to indulge on many different courses offered at this small restaurant that is big on flavor and very healthy.
"Our meals are full of vegetables, spices and either grilled or baked meat," Moe said.
Make sure to leave room for dessert, Golden Shweji is a classic cream of wheat cake, baked with coconut cream, raisin, brown sugar and topped with poppy seeds. Tapioca pearls are offered at the restaurant in coconut cream. Burmese Tea (a sweet tea with condensed milk and evaporated milk) is delicious to sip on while digesting lunch or dinner.
Myanmar Restaurant Burmese Cuisine
7810 C Lee Highway, Falls Church, Virginia 22042
Open Daily 11 a.m. – 10 p.m.
703-289-0013