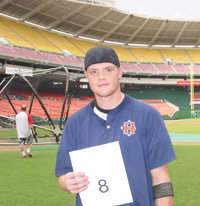 DAVE KIRKLAND, Pastor of Dulin United Methodist Church in Falls Church, recently taught an adult Sunday School on World Religions. He challenged the class to support Homestretch, a Falls Church-based organization that supports families of many ethnicities. $10,000 was raised to involve Dulin disciples in a project at Homestretch. Pictured with the giant check are Marc Hosmer, Child Services (left), Dave Kirkland (center) and Christopher Fay (right), Executive Director of Homestretch.
(Photo: Courtesy Dulin United Methodist Church)
Local Make's Dean's List at Washington University
Congratulations to David Hall who was named to the Dean's List for the Fall 2006 semester at Washington University in St. Louis.
Fairfax County to Honor Two Women Firefighters
The Fairfax County Fire and Rescue Department will honor two women firefighters for reaching a milestone of 25 years of service, Tuesday, March 27, 2007 at 8:30 a.m. Christine N. Woodard and Barbara G. Schumacher will be recognized for being the first women to reach this significant achievement with the organization. For more information about the event, call 703-246-3801.
Atlantic Realty to Meet With Residents

Representatives of Atlantic Realty will meet with residents of the Winter Hill/ Cherry Hill Community, to receive their views on development of the Falls Church City Center Project. The meeting will be held from 7:30 to 9:00 p.m. on Thursday, March 22.
Local Makes Deans List at Wilson College
Congratulations to Brittany Smith, who was named to the Dean's List at Wilson college of Pennsylvania for the Fall 2006 semester.
Peer Support Group to Meet
A peer support group for survivors of clergy abuse and others affected by the abuse will meet on Wednesday, March 28 at 7 p.m. in the downstairs meeting room of the Dolley Madison Library (1244 Oak Ridge Rd, McLean). Free to attend, with no registration required. For directions and information, call 703-538-6128.
Spring Consignment Sale
Northern Virginia Parents of Multiples (NVPOM) will offer many gently used items for purchase at its Spring Consignment Sale. March 24, 9 a.m. – 1 p.m., at Marshall High School near Tyson's Corner on Leesburg Pike.
Benedictine College Announces Deans List
Congratulations to local resident Mary Brock, for making the fall 2006 deans list at Benedictine College of Atchison, Kansas.
Congratulations to Leah Roth
Congratulations to Leah Roth, a 7th grader at Mary Ellen Henderson Middle School in Falls Church, who was named Most Valuable Player for the Fairfax County Youth Basketball League's Girls 12 and under division for her play on the Falls Church Flames.
Silent Auction
Graham Road United Methodist Church Preschool's second annual silent auction will take place from 5:30 – 8:00 p.m. on March 24 (2929 Graham Rd., Falls church). There will be free food, games for the kids and possibly a bargain or two.
'Making Crime Pay' Library Event
The Fairfax County Public Library will host "Making Crime Pay", a panel discussion with three local authors who write mystery novels, at 7 p.m. on March 27 at the Pohick Regional Library (6450 Sydenstricker Rod., Burke).This event celebrates the 20th Anniversary of Sisters in Crime, an international organization for women who write mysteries.
Colonial Museum Opens 2007 Season
The Claude Moore Colonial Farm at Turkey Run welcomes the public for its 2007 season. The 2007 Season will begin April 1, at 10 a.m. – 4:30 p.m. They will be open Wednesdays through Sundays from 10 a.m. to 4:30 p.m. through December 9. The 2007 season features self-guided tours, seasonal Market Fairs, special events, apprentice and internship programs, and farm skills educational programs.
Art Exhibit Continues Through March
The Visions All Member Show & Sale sponsored by Falls Church Arts featuring 100 pieces of original art such as paintings, pottery, photography created by more then 50 local artists will continue at Falls Church Arts' Gallery (111 Park Ave) through March 31. Gallery hours are Monday- Saturday, 10 a.m. to 6 p.m. See www.FallsChurchArts.org o call 703-534-4202 for more information.
Stars Shoot Up to Local Varsity Rosters
Congratulations to the 11 freshmen girls who tried out for their local area high school varsity teams from the Vienna Stars '92 Travel Softball Team, for all making it on their local area high school varsity teams.
Shakespeare Comes to GMHS
This week "As You Like It," a comedic play for all ages, will be showing at George Mason High School. The performances start on Thursday then continue Friday and Saturday in the High School auditorium at 7:30 p.m.
Local Residents Graduate From Kaplan University
Congratulations to Jaclyn R. Picard and Sharon J. Doucette for graduating from Kaplan University in Coral Springs Florida.
Local Retired Colonels Targets of Fraud
Six retired military colonels were targets of fraud after their wives died in Annandale Virginia.
To avoid being scammed, avoid these six scams used on the elderly all over the United States:Prizes and sweepstakes scams, Home improvement frauds, Phishing schemes and Internet fraud. Identity theft. For additional information on how to avoid, these scams visit www.nasdfoundation.org/research.asp.
Book Sale Slated
Falls Church Rec. Center (223 Little Falls St., Falls Church) will be holding a bargain book sale featuring hard-cover books, fiction, nonfiction, and other genres.
All proceeds will benefit Women's Scholarship Programs. The book sale will be on Friday and Saturday April 13, 14 from 9 a.m. – 9 p.m. and 9 a.m. – 4 p.m. respectively. For more information, call 703-534-1494.
Trinity Boys Lacrosse Starts 1st Season
Trinity School at Meadow View fields its first Division III sports team: varsity lacrosse will open its season on March 28 at 6 p.m. at J.E.B. Stuart High School. This small school located in Falls Church has high hopes for the upcoming spring season.
Community Yard Sale
A community yard sale will be held at Haycock Elementary School Gym on Saturday, March 26.
The event will raise money for three charities that were selected by the school's third grade class. Sale items include household goods, books, toys, baby items and clothes. The school is located at 6616 Haycock Rd. in Falls Church.