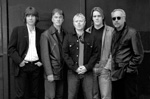 It wasn't the album Steve Berlin expected. When Berlin and the rest of Los Lobos entered the studio to record the album that became The Town and The City, he expected a more folkloric album, something that would behoove the band's current acoustic tour.
When the creative process wasn't offering up tunes of that kind, what they found initially was frustration.
"Some albums [Los Lobos have 15 to their credit] are easy, some are hard," Berlin says. "This one was tougher because it didn't reveal itself to us initially. When we finally realized what it was about, it helped."
The direction the music took, the band found, paralleled the immigration saga playing out in the southwestern states and felt here in D.C. As Los Lobos honed in on that theme, the music came easily. So easily, in fact, that in recent interviews lyricist Louie Perez has compared the writing experience to their seminal 1992 release Kiko.
"Dealing with the pitch of the immigrant situation was not something we felt like we had to comment on," Berlin says. "But as we came together, it became [about that]."
Out came songs like "Road to Gila Bend," whose fuzzy, toe-tapping, top down rhythm belies lyrics that speak the mind of someone dashing across the border and through the desert. "The Town," a nod to the albums title, tells the tale of a boy in L.A. falling asleep to gunshots and dreaming about his father's town in Mexico, where everything is alright. The tracks hammer home a saddening, ironic theme that would make liars of those that call this side of the border the "promised land."
The skill with which Los Lobos convey the message has made a fan of many a music critic ("The Town and the Country" found itself on several "Best of 2006" lists), even if it won't particularly endear the band to Lou Dobbs.
"He's not exactly the guy we're talking to," Berlin says of their target audience.
Los Lobos will be playing songs from across their widespread catalog when their aforementioned acoustic tour makes a stop in Falls Church at the State Theatre this Friday, March 9.
"It's been a pleasure," Berlin says of the tour. "We've just got a handful of amps and some of them go unused. The places we're playing are more intimate and you can hear the interplay. That's what it's about. To be honest, rock shows can be sleep walks. You just sort of turn the volume up."
• For more on Los Lobos, visit www.loslobos.com. . Tickets for Friday's show are $49.