'Rising' by Len Harris, made of laminated wood strips.
'Equinox' Through March 31 at Arlington Art Center. 3550 Wilson Blvd., Arlington, Virginia. Gallery Hours: Tuesday through Saturday 11 a.m. to 5 p.m. Call (703) 248-6800, or see www.arlingtonartscenter.org.
'Equinox' might be best thought of as the warp and woof show. Despite the wide range of materials and working methods, etc. there is a pervading sense of weaving throughout the show. Which shouldn't be too much of a surprise considering the judge's background. Juried by Lorie Mertes the Director (not currently listed as such on the web site, so might be past tense) of the The Fabric Workshop and Museum in Philadelphia, PA ( www.fabricworkshop.org). The Fabric Workshop's main calling is the creating and exhibiting of new work in fabric and experimental materials.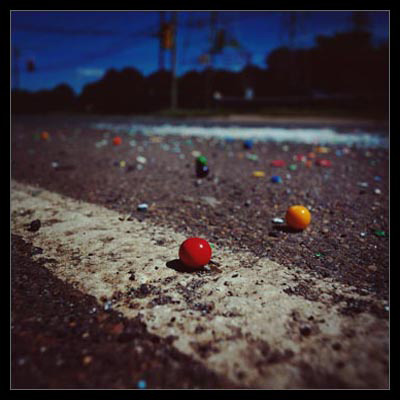 When you see a show of this sort you half wonder if it's simply the judge's bias, or was it the judge's bio on the entry sheet that attracted a certain type of work? A little of both is probably as close to the truth as we can get, without having sat in on the process and seen what the juror had to pick from.
Materials used range from sections of milk bottles, illuminated wax, horse hair, laminated bent wood, paintings, photography, and of course fabrics. Despite this eclectic diversity it all seems unified by a sense of weaving. The pieces that fail to hit on that theme feel peripheral, and out of place. Which is not to say that they are bad, just not really at home in this context.
The most imposing of all the pieces would have to be Millicent Young's 'Vessel' in the main corridor. It's hard to pin down what exactly the vessel is, and where it's going, but it has an ethereal air to it. A sort of wooden ladder type structure in the cross sectional form of a canoe. Dangling from the rods are lengths of white, or gray horse hair, which look like long gray human hair. Thinly placed throughout, it has a near diaphanous, lighter than air quality to it. It's proximity to the stairwell reinforces this quite dramatically. It's a striking presentation to be sure. I'm not exactly sure what it's all about, but best I can gather it's a vessel to transport an elderly woman's soul heavenward. Whatever it is, it's quietly contemplative and interesting to be sure. This one is just about impossible to photograph well, you really need to go see and experience it in person.
I also found Ardyth Davis' 'Field1/Green' quite interesting. Made of painted and pleated silk, it seems as much as anything a landscape of rolling hills at sunset. One of my favorite Len Harris pieces is also here. A retired NASA engineer, Harris' wood laminate sculptures are more often than not about flight trajectories. Those are quite nice to be sure, but Rising has a different vibe to it with interwoven strips that, if flight trajectories, you wouldn't want to be on board for.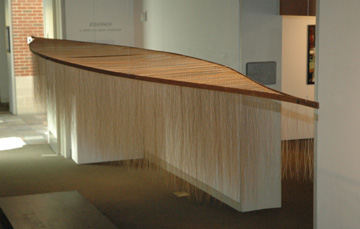 'Schoechle's Studio: Students and Friends' Through May 30 at Winter Hill Clubhouse, 330 B South Virginia Ave., Falls Church. This winding display of local artists can be seen during normal business hours Monday through Friday 9 a.m. to 4 p.m. See www.fallschurcharts.org, or call (703) 280-2014 for more information.
'Vision' Opening in the Don Beyer showroom on Friday March 9, at 7 p.m. The show will then move for the rest of March to the FCA gallery in 111 Park Avenue, Falls Church. Traditionally this is Falls Church Arts biggest show of the year, and a packed house affair opening night.

Artist Opportunities ————–
News Flash…. Artomatic is GO! This one just barely making it in before deadline. To be held on the 8th and 9th floors of the Old Patent Office Building in Crystal City. That's two floors, 45 thousand square feet each. Ninety thousand square feet of amateur dentistry… I mean art. All in Virginia! Artist and Performers interested in participating should beat feet to www.artomatic.org and sign up for the 'e-newsletter'. Then in about a week the call to sign up will go out. First-come first-pick for places to hang your work.
Auditions for The Ghost Sonata To be held Sunday, March 11, from 6 to 9 p.m., and Monday, March 12, from 7 to 9 p.m.
Vpstart Crow Productions, at the Crammer Center, 9007 Church St., Manassas, VA. See www.vpstartcrow.com or call (800) 660-8580. Production will run on Friday and Saturday nights, and Sunday afternoons from May 4 through 20.
'arts council @ grace' Postmark deadline is March 30. Up to 5 entries for $35, with the entry fee waved for members of Greater Reston Arts Center, or the Arts Council of Fairfax. I need to double check on this for myself as well, but I think if you entered last year this short cycled show should have you paid up…I think. The juror for this one will really get your motor humming. Irene Hofmann, the Executive Director of the Contemporary Museum in Baltimore. Has a resume like the phone book… Orange County Museum of Art, Cranbrook (!!!!!) Art Museum, Art Institute of Chicago, Walker Art Center, New Museum of Contemporary Art in NY. Has a masters degree in Modern Art History, Theory and Criticism from School of the Art Institute of Chicago. Oh yea, you'll be able to blow smoke past this one, good luck. This was a good show last year, and looks to be off to a fabulous start already. High quality jurors tend to draw out high quality work.